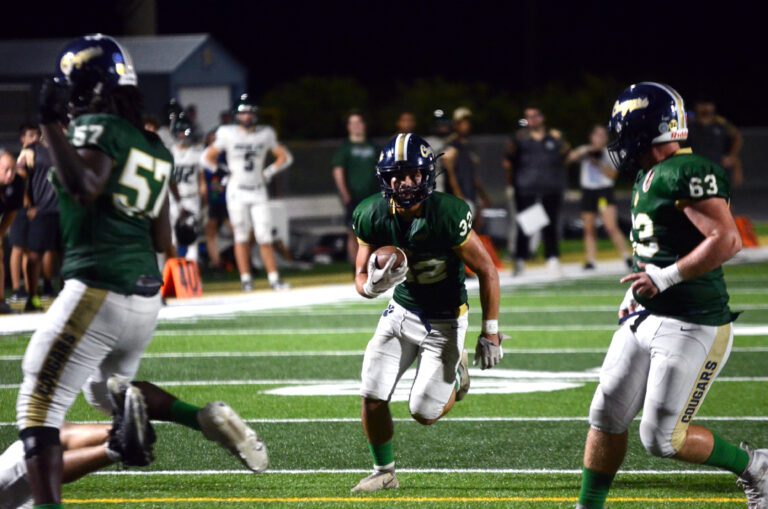 The Cougars moved to 6-1 on the season with a 44-15 victory over the Gryphons.
Just one week removed from their thrilling and chaotic comeback win over district rival Sumner, Durant played host to Sickles as the Cougars ran away with a big 44-15 victory over the Gryphons.
To open the contest, Durant kicked off to Sickles as the Gryphons' return set them up at their own 32-yard line, but the drive would be short-lived as the first play from scrimmage resulted in an interception by the Cougars – giving them possession quickly at the Sickles' 42-yard line. Following a six-yard run on first down and a 10-yard completion from quarterback Mike Ryan to sophomore receiver Treon Williams, Ryan dropped back and hit Damari Styles over the middle on a post route for the game's opening score, giving Durant a 7-0 lead just one minute and 50 seconds into the first quarter.
Rallying for their second drive, Sickles' return brought them all the way out near midfield to their own 45. A first down carry gained seven, but an incompletion and a short scramble from quarterback Brandon Royal left the Gryphons with two yards to gain on fourth. Dropping back in the pocket, Royal was able to find his receiver for a first down completion up to the Durant 39. A short completion on the following first down gained just two but a miraculous effort by Royal to spin out of the Durant pressure kept the play alive before he escaped up the left sideline for a first down at the 28. Sickles was moved backward as the first down run was blown up by the Durant front, losing three, and a swing pass on second down gained six up to the 25. With an incompletion deep downfield on third, Sickles was looking for their second fourth down conversion of the drive as Royal launched a pass deep over the middle, hauled in by a diving effort from tight end Truitt Brown to knot the game up at 7-7 with 6:13 left in the first.
Wasting no time punching back, Durant opened their drive at their own 42 following a kickoff return from Styles, gaining just on one the first down carry from Kendrick Jean before Ryan hit a wide open Jayden Cornelius up the right side for a 57-yard touchdown to take a 14-7 lead.
Looking to keep pace, Sickles' next drive started at 35 and they were able to move just across midfield before a quarterback keeper on third-and-four marked the end of the Gryphons' drive with a turnover again as the ball was punched out at the end of the play and recovered by Durant linebacker Hunter Smith at the Cougars' 43-yard line. A pair of short carries from Parker Klangthamniem and Ryan left the Cougars with a third-and-five, but a catch and run from receiver Ajany Peavy moved the chains to the Sickles' 40. A swing pass to Cornelius gains 16 to the 24 and a strong run from Klangthamniem nearly found pay dirt as he was forced out at the one-yard line, immediately followed up by a one-yard touchdown run from Jean and a successful two-point conversion attempt on the quarterback keeper from Ryan as the Cougars extended their lead to 22-7 with less than a minute remaining in the first quarter.
The two teams exchanged punts and Sickles was set up at their own 13 looking to claw back into the deficit. A swing pass to the left gave Sickles a first down at the 24 and a four-yard gain set up a deep completion down the left sideline on second down that moved the Gryphons all the way down to the Durant 32-yard line. But despite giving up the explosive play through the air, the Cougars' defense would stand tall and force a turnover on downs four plays later to take back over at their own 28. And the following drive was nearly all orchestrated by strong runs from Klangthamniem as a pair of short completions moved the Cougars to the 40 before Klangthamniem broke free up the middle, running through tackles and dragging defenders all the way to the sickles 29, immediately followed by another tough run from him that moved Durant inside the red zone to the 18. And two plays later, set up at the 10-yard line, Klangthamniem took the pitch from Ryan into the end zone to give the Cougars a 29-7 lead.
"Parker was a guy that had to earn his carries," Varnum said. "We have a system here where you just can't walk in and tote the rock. Parker was a guy that was with us early on in his career and came back later so I'm proud of him for the effort tonight. He's still got a long way to go mentally, physically and with maturity, but I'm proud of how he came in and all the guys that ran it."
After yet another Sickles punt, Durant flew downfield once more with completion after completion from Ryan, culminating in a 35-yard touchdown pass to Williams and a successful two-point on a rush from Cornelius to put Durant up 37-7 heading into halftime.
"We challenged Mike after the Plant City game to sit in the pocket and be a quarterback," Varnum said. "Go through your reads, understand where you have to be and understand that you might take some shots but you want to be a quarterback. Mike's done a great job of trusting his reads and trusting his guys and we've got some electric receivers, so he knows that if he just sits in there and puts it up they're going to go and get the football which was evident tonight."
Up 30 points to start the second half, the Cougars would need just one score to kickstart a running clock for the remainder of the contest, coming in the form of a massive 91-yard touchdown run from Emmanuel Lee to give Durant a 44-7 lead with 3:13 left in the third quarter. And as Durant deployed their second-string units, the Gryphons tacked on one more touchdown late in the fourth quarter but it was far from enough to overcome the offensive onslaught orchestrated by the Cougars, sealing the 44-15 win and moving to 6-1 on the year.
"I love homecoming," Varnum said. "I love this school, I love what it means, I love these green jerseys and kind of the pageantry that comes with it so we were fired up already. Then Sickles came over here a little disrespectful to start the game, which was a horrible decision by them, so that fired us up from the jump, it fired me up, and the kids responded."
Offensively for the Cougars, Ryan completed 15 of his 18 attempts for 237 yards and three passing touchdowns while adding six rushing yards on two carries. In the backfield, Lee led the charge with 103 yards and one touchdown on three carries, followed by 91 yards and a touchdown on eight carries from Klangthamniem, 12 yards on three carries from Christian Gambrell, six yards on four carries from Jean and three yards on one carry from Cornelius. Out wide, Cornelius totaled 92 yards and one touchdown on three catches, followed by 39 yards and one touchdown on two catches from Styles, 39 yards and one touchdown on two catches from Williams, 33 yards on four catches from Jaylin Torres, 27 yards on three catches from Peavy and seven yards on one catch from Chris Lankford.
Defensively, linebacker Brant Bovee led the unit with eight total tackles while Wyatt Zinke finished the contest with a team-high two tackles for loss and the defensive line duo of Jamaar Hilton and Jerome Parham each notched one sack each. Jayden Forte hauled in one interception while Hale Sollmann forced one fumble, recovered by Smith.
Next week the Cougars will make their way to Lithia for this year's installment of the annual Alafia River Rivalry matchup between Durant and Newsome, with the Cougars claiming their first district title since 2014 with an overtime win over Newsome last year — also marking their first win over the Wolves in four years.
"The team down the road is always tough to beat, it doesn't matter what their record shows." Varnum said. "Coach (Christian) Yockey is a good friend and does a good job over there so we know that we're in for a battle, any time you go over there it's a challenge because they also have a great home environment as well. We're excited for the opportunity. It's playoff football again for us this week and we understand that, we're going to prepare for that this week and be ready to roll next Friday."
Across town, Strawberry Crest moved to 4-2 with a 20-7 victory over Middleton.
For the Chargers offense, quarterback Zy Floyd returned to action from a collarbone injury to complete six of his 11 pass attempts for 75 yards while adding 13 yards and one rushing touchdown on eight carries. In the backfield, Devin Blunt totaled 128 rushing yards and two touchdowns on 20 carries, followed by 28 yards on seven carries from Gage Reibsome, five yards on one carry from Stevie Parkmond and four yards on one carry from Trey Revoy. At receiver, five different players notched receptions as Thomothee Woods led the way with 45 yards on two catches, followed by 15 yards on one catch from Hunter Hall, eight yards on one catch from Rodney Addison, five yards on one catch from Blunt and two yards on one catch from Parkmond.
Defensively, Didier Godonou Dossou, Hunter Hall and Jace Eldridge led the Chargers with five total tackles each, while Oscar Valdez and Malachi Johnson notched a team-high two tackles for loss and one sack each. Additionally, Johnson added a fumble recovery while Zayveon Springfield and Hunter Hall each had one interception.
Strawberry Crest will return home to take on 5-2 Alonso this week while Plant City will host 5-2 Plant.