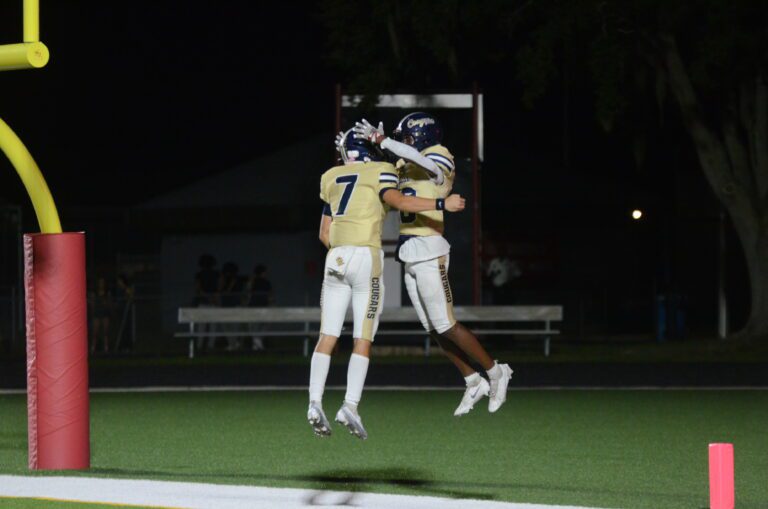 The Cougars moved to 3-0 with a 38-7 victory over the Bulls on Friday.
The Durant Cougars made their way to Bloomingdale on Friday night, coming away with a 38-7 victory over the Bulls to stay undefeated and move to 3-0 on the season.
Withy Durant winning the coin toss and deferring to the second half, a short kickoff left the Bulls opening their first drive at the 43-yard line. A short pass to the left was moved up the left sideline across midfield as Bloomingdale immediately found a first down at the Durant 43 and they kept churning upfield with a short carry on first and a hard carry up the middle that gave them another first down at the Durant 30. But after a big tackle for loss put them behind the chains on the ensuing first down, back-to-back sacks led by defensive lineman Jerome Parham and Caleb Waters put an end to the Bloomingdale drive. Lined up to punt, the snap went high over the head of the Bulls' punter who scrambled to recover and broke to the sideline to make up whatever yards he could, only to be forced out of bounds at the Durant 43-yard line where the Cougars took over.
Durant's offense was immediately moved backward as a tackle for loss on the first down carry set up a second-and-long, but a run from quarterback Mike Ryan to set up third-and-one and a completion to junior Damari Styles converted a first down to the 35. A first down carry from junior Emmanuel Lee gained eight before he picked up five more on second to move the chains up to the 23. The next first down carry resulted in a loss of one, but another completion to Styles put the Cougars down at the nine-yard line for a first-and-goal. Another pair of carries from Lee put the Cougars on the board as he fought his way down to the two on first down and hit the right edge for a score on second, giving Durant a 7-0 lead with 4:23 left in the first quarter.
Taking over at the 32 for their next drive, Bloomingdale once again found a way to keep the chains moving as they cruised across midfield with a number of strong runs from sophomore Otis Reed and some short completions from quarterback Dillon Rose-Bailey mixed in, to set up a first down at the Durant 35. But once again, the Bulls couldn't sustain the full drive before being moved back for a first-and-20 following a holding penalty. A short completion for a gain of three followed by an incompletion on second once again set up a third-and-long before an incompletion once again put an end to another promising Bloomingdale drive as they punted away to the Durant 31.
An unsuccessful series for the Cougars left them quickly punting back to Bloomingdale. The Bulls took over at their own 24 for their next drive, but for the first time on the night, Durant's defense would allow no room for the Bulls to move. A short pass on first gained five, a short pass on second gained two and an incompletion on third marked a quick end to the Bulls' third drive. Once again lined up to punt the ball away, this time from deep in their own territory, another high snap left the ball bounding for the Bloomingdale end zone. As the punter once again looked to recover the rolling ball and make something out of nothing, he was immediately hit by senior linebacker Brant Bovee which sent the ball out of the back of the end zone for a safety to pout the Cougars up 9-0.
On the ensuing safety kickoff, Styles hauled in the kick and broke free for a huge return up to the Bloomingdale 30 to instantly put the Cougars in a promising offensive position – and they cashed in just a few plays later. A first down carry from Lee moved the ball up to the 21, followed by a second down carry to the 16 from Christian Gambrell. Another strong run from Lee gave Durant a first-and-goal at the four and on the next play he punched in his second touchdown of the night. The two-point conversion attempt that followed was thwarted by the Bloomingdale defense, but the Cougars had none-the-less found themselves up 15-0 in the second quarter.
An onside kick attempt was unsuccessful from Durant, giving the Bulls the ball at midfield to start their next drive, and Bloomingdale immediately broke off a big chunk play as Rose-Bailey found Reed streaking down the middle of the field for a huge completion inside the 10 and down to the Durant five-yard line. A first down carry put the Bulls just inches from pay dirt and they appeared to find the end zone on a quarterback sneak on second, but a false start penalty moved them back to the six instead. A huge sack from Parham moved Bloomingdale back to the 18 to set up a long third-and-goal, but Rose-Bailey was able to rectify the big loss with a touchdown completion to senior receiver Darien Martin as the Bulls cut into the Durant lead at 15-7 with 5:34 left in the first half.
Another big return on the next Bloomingdale kick, this time from Lee, moved the Cougars into Bulls territory at the 48 as they looked to answer back, but a big run on first down was nullified with a fumble – recovered by Bloomingdale at their own 20-yard line. And with a chance to move down the field and potentially tie up what was now just a one-score game, Bloomingdale's offense was unable to move the chains as they punted back to the Cougars three plays later.
Opening their drive at the 50, Gambrell kickstarted the series with a 12-yard run to the 38. And following a six-yard completion to Styles, Ryan dropped back in the pocket and fired deep over the middle as he found junior Jayden Cornelius in stride for the 32-yard touchdown pass to give the Cougars a 22-7 lead heading into the half.
It was a slow start to the second half as both teams were held scoreless throughout the third quarter, but moving in Bloomingdale territory to start the fourth, the Cougars extended their lead to 25-7 with a field goal from junior Isaiah Sawyer.
After Bloomingdale began their following drive at the 35, a fumbled snap was quickly picked up and thrown away on first down before a sack on second moved the Bulls back to the 23. On the resulting third-and-long, linebacker Hale Sollman flew into the backfield and got to the quarterback for a strip sack as the ball was recovered by Waters and taken to the Bloomingdale 21-yard line.
As an incomplete pass and a short carry for just one quickly set up a third-and-nine for the Cougars, Cornelius took over at quarterback and darted to the right edge and up the sideline for a 20-yard rushing touchdown to put the Cougars up 31-3.
"He's a coaches son," head coach Claybo Varnum said. "His dad was a high school quarterback and then he was a receiver at the University of Florida, so football is in his blood. Some of it I don't even think he has to think about it, it's just natural. So to have a guy that's a six-tool player that can play receiver, he can play running back, he can play safety, corner, quarterback, you can put him anywhere, he doesn't get tired, he never wants to come out and he's got some serious swag about him. So to have a guy like that where you can fit him in wherever you want is immense."
Durant added one more score on a picture perfect 30-yard touchdown pass from Ryan to sophomore Treon Williams as their defense kept Bloomingdale off the board for the remainder of the contest and moved Durant to 3-0 on the year.
"It's been a long time coming," Varnum said. "This is a hot rivalry between these two teams, it's getting hotter by the day, and tonight was about us kind of rectifying and proving that we're in this thing. We're not some fluke, we don't care what the past looks like or what people have said, we're here to play hard, to play fast and to beat people. Huge win for us as a program."
Offensively, Ryan completed 12 of his 17 attempts for 155 yards and two touchdowns while adding two carries for 16 yards. In the backfield, seven different Cougars registered carries on the night, led by Lee with 97 yards and two touchdowns on 17 carries. Behind Lee was Jean with 44 yards on nine carries, Gambrell with 36 yards on six carries, Parker Klangthamniem with 14 yards on six carries, Kristien Cook with 12 yards on two carries and Cornelius with 20 yards and one touchdown on his lone carry of the night.
"It's so nice to coach a team where it really is, 'next guy up,'" Varnum said. "It's not fake, it's not something that you just say, it really is that the next guy is up and he runs. We had a lot of guys tote it tonight and they all did really well. They're all guys that we have faith in, that we love, that come to work every single day. They're guys that might have thought, before Dominic Jones got hurt, that they might get 10 touches this year but now they're getting 10 per game. It's a committee group, coach Vincent Buggs does a great job with them and they really showed up and ran it right down their throat tonight."
At receiver, Cornelius paced the unit with 51 yards and one touchdown on four receptions, followed by Ajani Peavy with 22 yards on three receptions, Jaylin Torres with 27 yards on two receptions, Damari Styles with 25 yards on two receptions and Williams with 30 yards and one touchdown on one reception.
Defensively, Sollmann and Bovee each registered double-digit tackles with 11 and 10 respectively while Sollmann, Bovee, Wyatt Zinke and Parham each notched two tackles for loss, accounting for eight of the team's 12.5 registered tackles for loss on the night. Additionally, Sollmann, Bovee and Zinke each notched two sacks to account for six of the team's 9.5 registered sacks on the night.
"Huge props to (defensive coordinator Bruce Gifford) this week, hammering home that we had to tackle," Varnum said. "We saw Reed on film against Sumner and Armwood and he ran really hard against them and broke off some runs so we knew that he'd be tough. We knew that Rose Bailey would be tough from last year. So a heck of a job from coach Gifford to come with the mindset of, we're not going to do anything crazy, we're just going to tackle well, we're going to slant well, we're going to get to our spots well and it resulted in a huge win."
Across the Plant City area, Plant City moved to 2-1 with a 34-23 win over Steinbrenner and Strawberry Crest dropped to 2-1 with a 34-9 loss at the hands of Robinson.
For the Raiders, quarterback Chris Denson completed 12 of 19 attempts for 259 yards, a pair of touchdown passes and one interception while adding 110 rushing yards on 14 carries. In the backfield, Tony Marshall led the charge with 184 rushing yards and three touchdowns on 27 carries, followed by 25 yards on three carries from Jaden McCants and six yards on one carry from Josh Gueh. At receiver, Zykee Joyce crossed the 100-yard mark with 113 yards and one touchdown on five receptions, followed by Gueh with 81 yards on three receptions, T.J. Knighten with 41 yards and one touchdown on two receptions and C.J. McClain with 24 yards on two receptions.
Defensively, Dillan Sumner paced the unit with non total tackles while Davin Stone-Grant led the defense with one sack, one interception and three tackles for loss, followed by a pair of tackles for loss each from Michael Bell and Chase Dexter.
The Chargers' offense was led by their run game on Friday night as Blunt totaled 101 rushing yards on 21 carries, followed by 11 yards on two carries from Arnulfo Castillo and four yards on one carry from Stevie Parkmond, with their lone touchdown coming on a six-yard touchdown reception to Hunter Hall – also marking the only catch of the night for Crest's receivers.
Defensively, Zayveon Springfield led the unit with one interception and six total tackles while the Chargers also racked up 13 total tackles for loss, with Oscar Valdez, Quintin Walker, Malachi Johnson, Didier Godonou Dossou and Troy Eskew notching two each.
The Chargers will look to get back into the win column next week as they return home to host Leto while the Cougars and Raiders will meet at Durant for the annual Redman Cup rivalry matchup.
"It's going to be a bloodbath," Varnum said. "There's bad blood between us, there always is and that's what a rivalry is about. I love it and I hope they love it as well. I love the competition, I love the feeling I get when I'm working to get ready for that game. I know they'll be ready, I never think that the score of that game will be a wide margin, I know it's always going to be close and that's what I want. I want their best effort, I want their best, I hope they're healthy because we're going to be healthy and we're ready to roll."