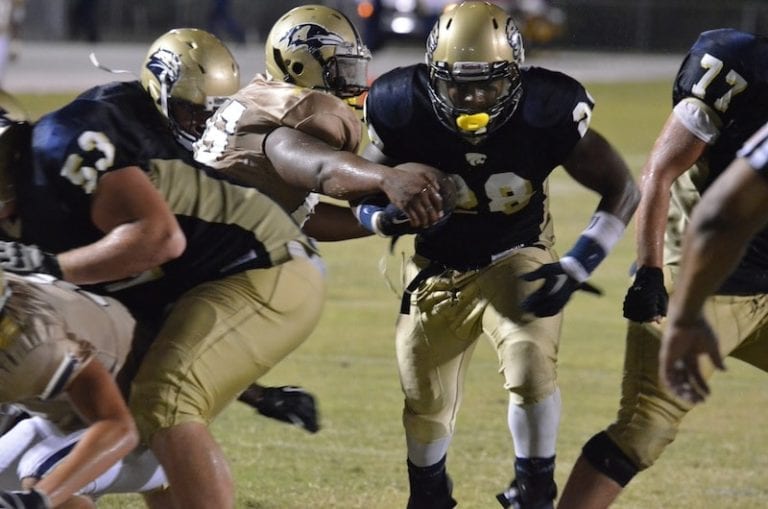 By Matt Mauney | Staff Writer
PLANT CITY — The Durant offense rushed for 231 yards, with most of it coming in the second half, as the Cougars rolled 29-0 over Alonso Friday at home.
Penalties at key times plagued the Cougars in the first half, hampering their ability to get the running game going. After a stalled first possession, Durant put together a drive that was capped off by a 1-yard run by quarterback Trey VanDeGrift.
After an offsides penalty against Alonso on the ensuing PAT, Durant brought the offense back on the field as running back Jamarlon Hamilton powered the ball in to put the Cougars up 8-0 with seconds to play in the first quarter.
That would be the most offense for either team in the first half as the Cougars led 8-0 after two. Alonso would mount a drive just before the half, but it would end with a missed 28-yard field goal.
"In the first half, I felt like we needed to tackle better," head coach Mike Gottman said about his defense giving up big yards on just a few plays in the first half. "If we would have tackled better, they wouldn't have had those big plays and would't have had that shot at the field goal. On offense, we got penalties that backed us up and put us in a hole," he said.
The Cougars came out looking more focused in the second half. After having just around 70 yards of total offense in the first half, the Cougars got their running game going – and they didn't look back.
Hamilton finished with 120 yards rushing on 15 carries, including two scores in the second half – one to give the Cougars a two touchdown lead and the other to seal the deal on a 19-yard run with a minute and a half to play.
VanDeGrift didn't need to throw the football much, but did make some key runs for first downs in the second half to keep scoring drives alive.
Tailback Chris Atkins also had a big night, being the other end of a one-two punch with Hamilton. The sophomore finished with 95 yards put the Cougars up 21-0 in the fourth off a 7-yard run.
"He's shifty and he runs hard," Gottman said. "He's run hard every game, but he did a real good job tonight."
According to Atkins, it would't be possible without the blocking up front.
"I couldn't do it without my offensive line," he said. "Without them, I wouldn't be standing where I'm standing. I saw the open holes and it was there all night."
Gottman said he was pleased with the way his team responded in the second half and was happy to see his defense perform well against a "pretty decent offense."
"We ran the football and pounded the rock. Our defense bent a little bit, but we hung in there and got a goose egg."
Durant will be off next week with a bye before a road game against Brandon Sept. 21.