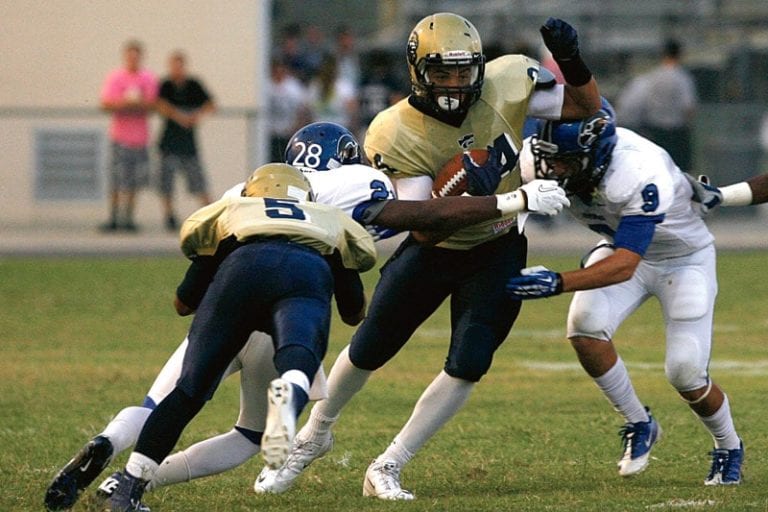 The Durant Cougars head into tonight's game against Tampa Bay Tech hoping to put an end to their early-season nightmare.
Durant comes into the third week of the season 0-2, scoring only six total points in its first two games against Armwood and Sickles.
The last time Durant faced Tampa Bay Tech, the Cougars were a perfect 10-0, and they defeated the Titans 34-7 last fall in the region quarterfinals. TBT once will again visit Durant, this time looking for revenge and to continue the Cougars losing streak.
TBT comes into the game 0-1 after a bye week, losing 23-12 Aug. 30, to Newsome, the team that ended Durant's season in the 2012 region semifinals.
"It was a good ball game and was a battle from start to finish," said Durant head coach Mike Gottman of TBT's game with Newsome. "They (TBT) are very athletic and they run very well, so it's going to be a war."
The game with TBT will be a non-district match. Durant will open the Class 7A District 8 schedule next week at rival Plant City, which is off this week.
"The big thing is that we have to get better every week," Gottman said. "If we can do that, when we get into district play, we should be a fairly decent team."
GROWING PAINS
Durant has been adjusting to its new offensive identity since the graduation of standout fullback Jamarlon Hamilton.
Durant's lone score this season came late in an Armwood blowout in the season opener, when Newsome High transfer John Hendricks ran for a 20-yard touchdown. Last week, in a 28-0 loss at Sickles, Durant was limited to just 19 passing yards and was forced to turn the ball over on downs three times.
"We're just making way too many mistakes right now," Gottman said, adding that his team was in the red zone three times and came away with zero points against Sickles. "It's been just one mishap after another. It's a struggle to get consistency with a young and inexperienced team."
Junior running back Cris Atkins had a big play on a screen pass that went for a touchdown against Sickles, before the play was erased by a penalty. Durant had 14 penalties on the night, compared to Sickles' 22.
"Everything that happened well for us, got brought back," Gottman said. "That probably negated a 100 yards of offensive
production."
Gottman added he and his staff feel they can play better, despite the youth and inexperience.
For offensive coordinator Mike Bradley, blocking up front continues to be a work in progress. Durant is breaking in several new starters on its offensive line.
"It's almost to the point that you've got to think their doing it on purpose," Bradley said. "One play, they'll block it perfectly, and then on the same exact play on the same exact front, we'll mess up our scheme somehow."
Bradley said there are several players getting quality field time on varsity that never saw much action on JV.
"They're just struggling to get out of our own way," he said. "We're close to being good, but we're shooting ourselves in the foot at every opportunity."
YOUNG D
Although Durant lost talent in Hamilton and some other offensive positions, the Cougars defense took the biggest hit.
The Cougars have been breaking in young and inexperienced defensive units, especially the secondary and linebacking core.
"We just have to get better in a lot of facets of the game," Gottman said.
Durant allowed less than 10 points per game last season. So far, in games against Armwood and Sickles, they have 76 points, a mark they didn't reach until Week 9 last fall.
Gottman said improvements tackling and getting pressure up front also are imperative moving forward.
"Tackling is the key," he said. "Squeezing gaps up front and the pass rush are all things we have to get better at."
Despite an 0-2 mark, Durant still can make it back to the postseason by winning the district. Playing a tough non-district schedule is something Bradley feels will benefit the Cougars moving forward.
"I went and talked with the coaches at Newsome that went through the same thing, and they said it's a tough road, but once you get through it, you're going to be ready for district competition," he said. "You're going to know who you are after that."
THURSDAY NIGHT LIGHTS
Kickoff for Hillsborough County teams will be pushed up a day because Friday is Yom Kippur, a Jewish holiday. All area games will kick off at 7:30 p.m. tonight. Strawberry Crest will play Friday night as they are on the road at Leon (Tallahassee). Be sure to follow us on Twitter (@PlantCitySports) for scoring updates.
OTHER AREA ACTION
Strawberry Crest at Leon
Last Week: Strawberry Crest topped Spoto 28-14, while Leon fell to Rickards 42-14.
Notes: Strawberry Crest will make the long trip up to Tallahassee Friday for a non-district meeting with Leon High School. SCHS will be the only Hillsborough County team playing this Friday.
Like Strawberry Crest, the Lions are 1-1 on the year but are coming off a lopsided loss to Rickards (Tallahassee). Leon defeated Mosley (Lynn Haven) 38-21 in its season opener. This will be Leon's homecoming game.
Strawberry Crest feared their game with Spoto wouldn't happen, after it was delayed 90 minutes because of lighting. When the game finally kicked off, Strawberry Crest was stout on defense, only allowing one first down all night. Spoto's only completed pass of the game came on a 70-yard touchdown. Spoto scored first on a Tristan Hyde fumble, returned for 86 yards.
The Chargers were led offensively by running back Chris Perez, who rushed for two scores. Hyde threw two touchdown passes in the win — one to his brother, Josh, and one to Clay Cullins.
According to Strawberry Crest head coach John Kelly, the school is sending two charter buses full of student fans on the trip. The team will head up to Tallahassee early Friday morning and take a tour of Florida State before their game that night.
Plant City – BYE
Last Week: Plant City defeated Wharton 33-0.
Notes: Plant City (2-0) is off this week after a dominating performance at home against Wharton.
Raiders quarterback Landon Galloway had a hand in all three offensive touchdowns in the 33-0 win, running for one (3 yards) and throwing for two (10 and 43 yards). Both touchdown passes went to Tavares Chase, who also came away with two interceptions on defense. Reaquavious Young also had a pick, intercepting a pass on a tipped ball that he returned for a 65-yard touchdown.