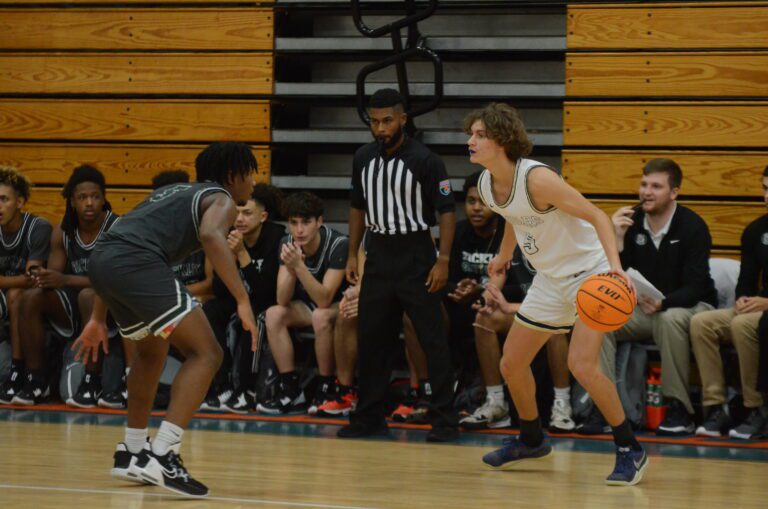 Durant and Plant City got basketball season rolling early as they faced Sickles and Plant in the area's annual preseason event.
Durant and Plant City basketball returned to action this week at the Peewee Callins Preseason Classic, facing off against Sickles and Plant.
On Monday they played back-to-back contests, with the Cougars beating Sickles before Plant City fell just short against Plant.
Durant enters the preseason classic off of a 12-14 record in 2021, a year in which the roster was filled with sophomore and junior talent, most notably leading scorers Austin White and Xavier Peavy. Their most impactful senior from last season was Douglas Blackwood, Durant's third-highest scorer at 13.2 points per game last season and one of only two seniors on the roster.
As for Plant City, they finished the 2021 season with a 20-8 record en route to a district final and regional quarterfinal appearance. And despite a relatively young roster of their own last season, Plant City will enter 2022 without their most impactful player from last year in D.J. Haynes. As a senior in 2021, Haynes led the Raiders with 17.1 points per game while also leading the squad in rebounds per game, assists per game and steals per game. But despite the loss of Haynes, Plant City will see four of their next five scoring leaders return in Damian Jones, Elijah Dawson, Mike Bell and Taylor Teeden.
Tipping off the exhibition game, Durant immediately fell behind Sickles 4-0 but kept pace with Sickles as they entered the second quarter trailing 19-15. Durant opened the second quarter with a bucket to cut the lead to 19-17 and one free throw from senior Cam Cotal brought them within one. A single free throw from junior Isaac Correa knotted the contest at 15-15 but Sickles answered with a three-pointer of their own to take the lead. Correa hauled in an offensive rebound on their next possession and got the putback layup to draw within one again and a free throw from senior Abiola Adyemo once again left the game tied at 22-22. Durant was able to get a defensive stop and responded with a corner three from White, giving the Cougars their first lead of the night, a lead they would build to 33-27 heading into halftime. The third quarter was contested as Durant clung to a 46-39 lead but the Cougars would ultimately pull away in the fourth quarter as they downed the Gryphons by way of a 64-50 final to open preseason play with a win.
Immediately following Durant's contest, Plant City took the court against Plant. After Plant took a 2-0 lead on their opening possession, eight early points from senior Ray Cowen built the Raiders a 12-5 lead, but Plant would continue to battle. A three-pointer from Plant narrowed the gap to 12-8 but a three-point response from Bell and a free throw from Teeden had Plant City right back out in front 16-8. But an ensuing three from Plant, followed by a pair of free throws, quickly narrowed the gap to 16-13 at the end of the first quarter. Plant would immediately pull even at 16-16 with yet another three-pointer to start the second and Plant City would respond with a bucket of their own. A barrage of three-point shots from Malachi Morris and tough inside buckets from Jones pushed the Raiders' lead to 31-18 and Dawson capped Plant City's 17-6 second quarter run by going coast-to-coast for a huge dunk as the Raiders held a 33-22 halftime lead. Despite the strong first half from Plant City, Plant immediately rattled off a 12-0 run to start the third quarter, taking their first lead since the game's early minutes at 34-33. And despite both teams battling point-for-point throughout the second half, Plant was able to ward off the Plant City comeback attempt and take the 57-54 victory.
All four teams returned on Wednesday night as Plant City faced Sickles and Durant took on Plant, however these games were played after the Plant City Observer had gone to press.
Plant City and Durant both open their regular season with non-district matchups on Nov. 29 as the Raiders head to Newsome and Durant hosts Sumner.