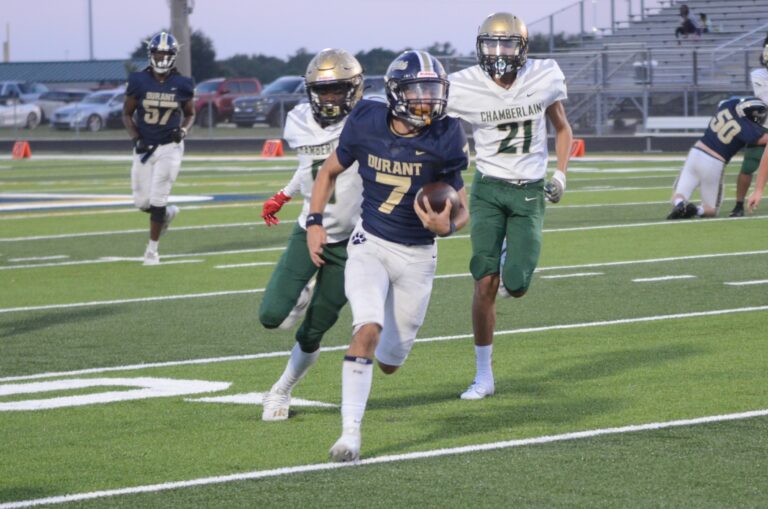 The Cougars opened their season 1-0 with a 48-6 victory over the Storm
The Durant Cougars opened their football season before a huge home crowd on Friday night with a massive 48-6 win over the Chamberlain Storm.
With excitement around the program abundantly evident following back-to-back eight-win seasons under head coach Claybo Varnum, attendance was through the roof on Friday night as fans packed the stands for the Cougars' first win of the year.
"I've told my story a lot, I've been here for a lot of games and it's been a long time since I've seen a crowd like this," Varnum said. "The stands were packed, then having that 2003 team back and being able to honor them so I know that their families were here with a lot of Durant alum. Our student section stayed until the end, we challenged them to stay in here with us, so it was just an unbelievable atmosphere tonight… I think it took two years of us winning and two years of us proving that we're not a fluke for people to say, OK, this thing's for real, we're going to show up and we're going to watch. I think that just coming out of COVID in general, our school spirit is in a great place right now. We've got a great student section, the band, the cheerleaders, the ROTC, everyone involved. The energy's high, you can feel it in the halls and we saw that tonight."
And in addition to Friday's contest being the first played in a new-look Ron Frost Stadium after Durant was one of several Hillsborough County schools to have a new turf field installed this past summer, around 30 former Cougars football players were in attendance as Durant honored their 2003 Regional Championship-winning football team after the game's first quarter.
"Those are the guys that I watched when I was a 10 year old, they're the ones that got me excited about Durant football when I didn't know what it was," Varnum said. "So to be able to meet a lot of them for the first time, shake their hands, look them in the eyes as we came out as a team, that meant the world to me."
Lined up to receive the opening kickoff, Durant senior Jayden Forte fielded the short kick and gave the Cougars solid field position at midfield for their opening drive. A first down carry from senior running back Dominic Jones moved the chains up to the Chamberlain 40-yard line and quarterback Michael Ryan followed the carry up with a five-yard completion to junior receiver Damari Styles. After an incompletion on second, Jones picked up just enough for another first with a five-yard carry to the right, putting the ball at the 30. After a false start set the Cougars up with a first-and-15, Ryan found Styles again for a five-yard gain up to the original line of scrimmage. A carry for no gain left the Cougars with a third-and-10 when Ryan dropped back, escaped the pressure and broke the pocket for a 30-yard touchdown run to open the scoring. After a missed extra point, Durant led 6-0.
After a strong return from the Storm, setting up shop at the Durant 44-yard line, a high snap over the quarterback's head was recovered by senior linebacker Brant Bovee at the Chamberlain 40.
Durant opened their second drive with an 18-yard completion to Styles down to the 22-yard line, followed by a 10-yard run that set Durant up with a first down at the Chamberlain 12. Jones moved the ball inside the five with a carry down to the three and punched in the three-yard score one play later. A fake extra point was converted by junior Hunter Smith and just minutes removed from their opening score, the Cougars had extended their lead to 14-0.
After Durant's kickoff sailed out of bounds, giving Chamberlain the ball at their own 35-yard line, the Storm chugged their way down the field and ultimately set themselves up with a first-and-10 at the Durant 25 before the Cougars' defense broke through. A false start immediately pushed the Storm back to the 30 and Bovee met the Chamberlain running back in the backfield for a loss of two on the ensuing first down run. A gain of two on a quarterback keeper left Chamberlain with a third-and-15 before a sack from sophomore Caleb Waters on third and an incomplete pass on fourth turned the ball back over to Durant at their own 32-yard line.
Out of an empty backfield on first down, Ryan connected with junior Ajani Peavy for a first down to the 45, followed by a seven-yard completion across midfield on the next first down. A pass to Forte followed by a pair of completions to Peavy set the Cougars up just outside of the Chamberlain red zone before Jones broke free for a 21-yard rushing touchdown, his second score of the night, to put the Cougars up 21-0 in the second quarter.
"Gosh man, (Jones) is so hard to tackle," Varnum said. "He looks 20 pounds heavier in pads, he's got a great north and south mentality getting down the field, he did a great job."
Chamberlain opened their next drive at the 35-yard line but after a one-yard gain on first, yet another errant snap was recovered by Durant's senior linebacker Lucas Bowlin and the Cougars' took over at the Chamberlain 22. Durant nearly struck for six on first down as Ryan's pass over the middle fell incomplete just off the fingertips of his intended receiver, but Ryan wasted no time making up for the narrow miss with a 22-yard completion to Jayden Cornelius on the next play.
After Durant's defense forced another turnover on downs the following series, giving the Cougars the ball back at the Chamberlain 45, it took just three consecutive completions on three straight plays for Durant to strike once more as Ryan found sophomore Treon Williams deep down the left sideline for a 20-yard touchdown pass to push the Cougars' lead up to 35-0 heading into halftime.
"There was incredible effort tonight across the board," Varnum said, "There's always going to be some jitters with the home opener and we looked at Chamberlain on film and knew they were going to be better — coach (Joey) Jaime's doing a great job over there — so we just wanted to come out strong, come out consistent, because last year we didn't. I was watching the film earlier today and we kind of fumbled out of the start so tonight we saw our guys come out and punch fast, Mike (Ryan) on all cylinders, Dominic (Jones) on all cylinders, Brant Bovee on all cylinders, Hale Sollmann, our leaders stepped up and played well and the things that we worked on in practice this week worked. It's such a joy to practice something during the week, you see it, and then to come out and execute it and it works, It really reinforces you as a coach and not only gives you faith in yourself but faith in your players."
With a rolling clock and a huge lead heading into the second half, the Cougars were able to deploy their second string for the entirety of the third and fourth quarters, picking up two more touchdowns by way of a punt return from Forte and a short rushing touchdown from Kendrick Jean as the Cougars opened their season 1-0 with a commanding win over the Storm.
Across town, both Plant City and Strawberry Crest opened the year with big wins of their own as the Raiders upset Newsome 20-18 and the Chargers beat king 28-7.
Offensively for the Raiders, junior quarterback Chris Denson completed 14 passes on 20 attempts for 207 yards and a pair of passing touchdowns while adding 71 rushing yards on nine carries. In the backfield, junior Tony Marshall took 10 carries for 29 rushing yards while senior Jaden McCants added one lone carry for five yards.
Out wide at receiver, junior Josh Tyson-Gueh hauled in just two passes but both of them went for touchdowns as he finished the contest with a team-high 86 receiving yards. Behind Tyson-Gueh, Zykee Joyce totaled 80 yards on seven catches, C.J. McClain totaled 26 yards on two catches and T.J. Knighten totaled 13 yards on two catchers. In addition to his two receiving touchdowns, Tyson-Gueh also added a third touchdown on a 90-yard kickoff return.
Defensively, linebacker Dillan Sumner led the unit with five total tackles, middle linebacker Michael Bell and defensive linemen Davin Stone-Grant and Dacoby McDonald each notched one tackle for loss and Stone-Grant and McDonald each had one sack.
Offensively for the Chargers, junior quarterback Zy Floyd completed eight passes on 14 attempts for 112 yards and one touchdown while adding 35 rushing yards on six carries. In the backfield, running back Devin Blunt combined for a team-high 91 rushing yards and three rushing touchdowns on 14 carries, followed by nine yards on three carries from Steven Parkmond, seven yards on one carry from Arnulfo Castillo and six yards on one carry from Kyle Cherry. Out wide, Calvin Francis led all receivers with 64 yards and one touchdown on three receptions while Rodney Addison added 25 yards on two receptions, Thimothee Woods added 17 yards on two receptions and Hunter Hall added six yards on 11 receptions.
Defensively, linebacker Abe Craig led the unit with six total tackles while Quintin Walker, Zayveon Springfield and Billy Vaughn each notched one tackle for loss.
Looking ahead to this week's contests, Durant will hit the road as they take on 0-1 Middleton, Plant City will host 0-1 Wharton and Strawberry Crest will head to Riverview as they take on 0-1 Spoto.