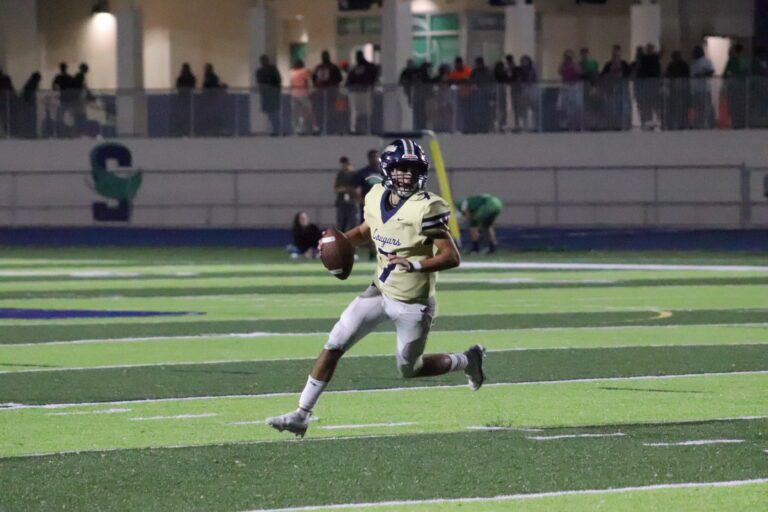 The Cougars moved to 1-0 in district play with a 14-13 victory over the Stingrays on Monday.
After all Hillsborough County varsity football games were re-scheduled due to the effects of Hurricane Ian last week, Durant made their way to Riverview where they narrowly escaped with a 14-13 win over Sumner to move to 5-1 on the season and 1-0 in district play.
"I asked our kids on Saturday how many guys had power and only about half of them raised their hands. We didn't even have power at the fieldhouse on Saturday," head coach Claybo Varnum said. "We had to persevere and we told them, we're built for this. We're built for storms, we're built to weather things, we're built for adversity, we're adaptable. We're extremely adaptable and our kids showed that again. They were extremely resilient, tough, they don't quit, they don't pout, they just show up and work."
Sumner won the opening coin toss and elected to defer to the second half. Durant receiver Jeremiah Gines brought the opening kickoff out to the 23-yard line, but the Cougars were quickly backed up to their own nine-yard line following a tackle for loss and a holding penalty. The third down pass was incomplete and Durant quickly punted the ball to Sumner, giving the Stingrays possession right at midfield for their first drive.
It took no time for Sumner to capitalize on their plus field possession as running back Devin Spencer broke free for a long first down carry to the right, eventually being brought down inside the red zone at the 18. After moving the ball up to the five-yard line, Sumner punched in the short touchdown run up the middle but a holding penalty negated the score and pushed the Stingrays all the way back to the 15. But on the very next play, quarterback Layton Kennison hit receiver Tyler Williams on a fade to the back of the end zone for a touchdown, officially giving Sumner a 7-0 lead.
Durant started their ensuing drive at the 24-yard line. On first down, quarterback Michael Ryan pitched the ball to running back Calub Connell on a run to the right, but Connell looked downfield and fired a strike to a wide open Gines, down to the Sumner 48-yard line. The Cougars fumbled on the next play but were able to save the drive with a recovery, losing just four yards, and Ryan took advantage as he rolled out to his left on second down, tucking the ball and breaking free for a 52-yard touchdown run up the sideline. Ryan converted the extra point and the Cougars knotted the contest at 7-7 with 6:47 remaining in the first quarter.
Sumner got great starting field position on their next drive, starting at their own 45-yard line, but were pushed back to the 35 following a sack on first down. The Stingrays looked to flip the field on second down with a shot play down the left sideline but the pass was intercepted by junior defensive back/receiver Jayden Forte and Durant quickly took back over at their own 45.
The Cougars moved up to near midfield when they found themselves facing a fourth-and-one. They lined up in punt formation but a direct snap to senior linebacker Jacob Reed had them searching for a first down, only to be stopped short of the marker, turning the ball over on downs to Sumner at the 48-yard line.
Two plays later, Durant's defense came up big again as sophomore Jayden Cornelius hauled in a pick of his own over the middle of the field, but the Cougars were unable to capitalize as they quickly went three-and-out.
Three consecutive punts from the two teams left Sumner with one final chance to pull ahead before halftime, taking over deep inside their own territory with 4:05 left in the second quarter. An encroachment penalty on Durant quickly gave Sumner a first-and-5, but they gave the yards right back on two incompletions and a holding penalty on third down, setting up third-and-11. Despite lining up behind the sticks, the Stingrays converted with a completion across midfield and up to the Durant 33-yard line. Sumner continued to lumber forward up to the 25 but were ultimately backed up for a third-and-17 when Durant came up with their third interception of the half as senior Xavier Peavy notched a pick of his own on a deep pass downed at the Cougars' five-yard line.
Despite all of the action and turnovers forced by the Durant defense, the two teams went into the half all tied at 7-7.
Sumner started their first drive of the second half at the 40, once again bringing in a short kickoff to give themselves great starting field position. A quick series of runs moved them across midfield and up to the Durant 47-yard line before breaking off a big carry to the right side that set them up at the 15-yard line and threatening once again. A quarterback keeper on first down moved them down inside the five-yard line to the four, another first down carry moved them to the two and in an attempt to get the next play off quickly they were flagged for too many men on the field as they couldn't get players off quick enough and were backed up to the seven. Despite charging down the field with relative ease, Durant's defense once again came up with a potentially game-saving play as Cornelius hauled in his second interception of the night and Durant's fourth of the game at the goal line, returning it all the way up to the 35-yard line.
"Jeremiah Gines, Xavier Peavy, Zaevion Jordan, Jayden Forte and Jayden Cornelius played the whole game on both sides," Varnum said. "We knew that we had to have them at our skill positions and we knew that we had to use our best guys, this is district play, we've got to go out and use the whole roster. So those guys played pretty much the whole game and they caught passes, ran routes, blocked, got interceptions, made tackles, a couple times there were some plays where a play's about to break and we make a shoestring tackle to keep them out of the end zone, that happened two or three times. So I'm most proud of their effort tonight and not quitting. We talk about being right in the middle, not getting too high, not getting too low, just ride the middle, keep our emotions intact and we were able to do that tonight."
But despite the massive stand, Durant would fumble possession back to Sumner two plays later and the two teams would exchange punts.
After missing a sure chance at points earlier, Sumner wouldn't take long cashing in on their ensuing drive. After taking over deep in their own territory at the 17-yard line, a first down carry moved them quickly up to the 35, then a short carry pushed them to the 38 before a sweep to the left side broke free for a huge 62-yard touchdown run to secure the lead once again. They were unable to convert the extra point but clung to a 13-7 lead with 10:27 remaining.
Durant started their next drive at the 29-yard line and an offside penalty on Sumner immediately gave them a first-and-five. On the next play, Ryan escaped the would-be sack and scrambled up the middle into a pile of bodies that churned forward for a first down at the 42. Ryan then rolled out to his left and fired down the sideline for Gines. The pass fell incomplete but a defensive holding penalty moved Durant across midfield to the Sumner 48-yard line. Ryan rolled out to his left again, finding Cornelius for a 16-yard completion to the 24. Durant started the next series with an incomplete pass and a short gain of one on second down leaving them with a daunting third-and-9, but Ryan once again came up big as he found receiver Zaevion Jordan wide open over the middle of the field for a completion to the two-yard line. A tackle for loss on first and second left Durant facing a third-and-goal from the five-yard line with the game hanging in the balance, but Ryan dropped back and fired a fade to his top target Gines in the back of the end zone, hauling in the jump ball through defensive pass interference for a late touchdown to tie the game once again. The extra point attempt was good and Durant had clawed back to take a 14-13 lead with 7:10 remaining.
"I'm beyond proud of Mike Ryan and his maturity," Varnum said. "We've talked about it all year, we're watching him go through growing pains and grow and tonight was a major growth moment in running, in throwing and just in decision making. Tonight was maybe his most complete game by far."
Ryan completed eight of his 14 passing attempts on the night for 89 yards and a touchdown. On the ground, he led the team with 101 yards and a touchdown on 15 carries as starting running backs Connell and Alex Daley were both dealing with injuries.
Sumner needed to get the offense rolling one last time but Durant's defense was able to make one final huge stand. After starting at the 40, Sumner gained six on a first down carry before a holding penalty pushed them back to second-and-16 on the next play. Then Greg Smith got to the quarterback for a sack to force third-and-22 and the Cougars forced an incompletion on third down to set up an insurmountable down-and-distance, leading to one final punt from the Stingrays before Durant was able to run out the clock and secure the narrow victory to move to 1-0 in district play.
"These games teach your kids in adverse moments how not to panic," Varnum said. "Our pregame talk today was about how the Bible talks about how not to panic when trouble comes, being patient, trusting in the Lord and trusting that you know what you have to do. Foolish men panic, wise men stay patient. So in these tough, tight games our kids – two years in a row – our culture's being set where we don't flinch, we don't flinch at all. We look them right in the face and we don't give up until the end, win or lose."
Behind Ryan offensively, Connell had four carries for 12 rushing yards and Jarelle Franklin totaled two carries for 11 yards. Cornelius led all receivers with 59 yards on five receptions, followed by 38 yards and a touchdown by Gines, 18 yards on one reception from Jordan and three yards on one reception from Peavy. Forte, Peavy and Cornelius all brought in interceptions – with Cornelius notching two – while Smith had the Cougars' lone sack. Jacob Reed paced the defense with 13 total tackles and led the unit with three tackles for loss, followed by 2.5 from Brant Bovee, one each from Smith and Luther Scarlett.
Across town, Strawberry Crest dropped their first game of the season in a 17-0 loss at the hands of Plant High School, falling to 5-1 on the season.