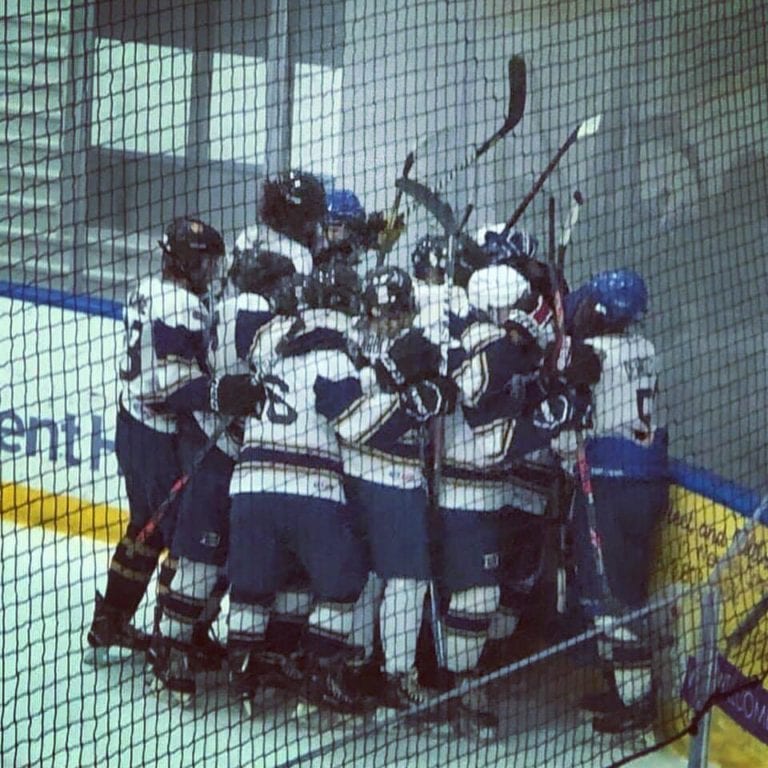 The Cougars are first-time qualifiers for the tournament in their third season of existence.
Three years ago, Durant's hockey team was just a dream. This season was like another dream come true, maybe even quicker than anyone expected.
Durant's resume is pretty strong. It's got two playoff appearances in its three seasons, one 30-point season in the books after the 2019-20 Lightning High School Hockey League regular season came to a close and recently put three players in last weekend's 2020 Honda High School Hockey All-Star Showcase — in which freshman goalie Ryan Putnam was named third star.
Most importantly, though, is that the Cougars qualified for the upcoming Statewide Amateur Hockey of Florida (SAHOF) State High School Championships tournament in Fort Myers.
"When we got the invite, we were just ecstatic," head coach Todd Comunale said. "We felt last year we had a team that could qualify, but we got knocked out in first round."
Hungry after last year's early playoff exit at the sticks of West Manatee, Durant clawed its way to a 12-4-6 record this year and made the playoffs again. The Cougars pride themselves on a tough-as-nails defensive identity: they have five junior defensemen who rotate through the lineup and every forward is expected to contribute on defense just as well as offense. The team has also had strong play from an extremely young, yet skilled, goaltending tandem of Ryan Putnam and sophomore Will Chabalowski that's combined to allow just 2.23 goals per game, second-fewest in the league behind LHSHL champion Seminole.
Durant's approach to scoring is to capitalize on chances when they get them, but junior Jordan Putnam has proven more than capable of lighting up the scoreboard with 21 goals and 19 assists (37 points) in 19 games, which has him tied for fifth-most in the league. He, along with versatile senior C.J. Comunale, also played in the Honda showcase over the weekend.
This year's playoff run started with a gutsy 6-3 win over Jesuit, in which the Cougars scored twice in each period and stopped a Tigers rally. It ended in the next game with a 7-5 loss to LHSHL runner-up George Jenkins.
"We fell behind, but these kids don't give up," Todd Comunale said. "Jenkins totally outplayed us in the first period. We fell behind 5-1 and came back."
The Eagles outshot Durant, 25-6, in that period but only had one goal to show for it. C.J. Comunale, Ethan Carstens and Michael Romeo cut Jenkins' third-period lead to a 5-4 score, but the Eagles answered with two goals in three minutes and held Durant to nothing else but Xander Wise's even-strength goal.
Still, the loss didn't keep the Cougars from qualifying for SAHOF's Tier II bracket with Plant and East Manatee.
"Three years ago, we didn't have a team," Todd Comunale said. "Here we are, three years later, we've done it… I'd like to thank coaching staff, parents, players, everybody that put the time and energy into this because it's a total program effort. Not just one person. I'm really thankful."
The SAHOF championships will pit teams from Tiers I and II in the LHSHL and the Florida Panthers Scholastic Hockey League against each other for three games, and then the best teams from both divisions will face off on Feb. 23. Durant's first three opponents are Boca Raton (8:45 p.m. Feb. 21), Miami Dade (12 p.m. Feb. 22) and Southwest Broward (8:45 p.m. Feb. 22). Tier II semifinal play (LHSHL 1 and 2 seeds) is scheduled to start at 11:15 a.m. Feb. 23 and the Tier II LHSHL/FPSHL championship showdown closes out the tourney at 3 p.m. that afternoon.
"I expect to be one of the final two teams in the state championship," Todd Comunale said. "I'm not gonna hold back and tell them we're underdogs — I expect us to be one of the better teams in the tournament."
The tournament will be held in Estero at Hertz Arena, the home of the ECHL's Florida Everblades. Visit sahofhockey.org/ssc for more information.