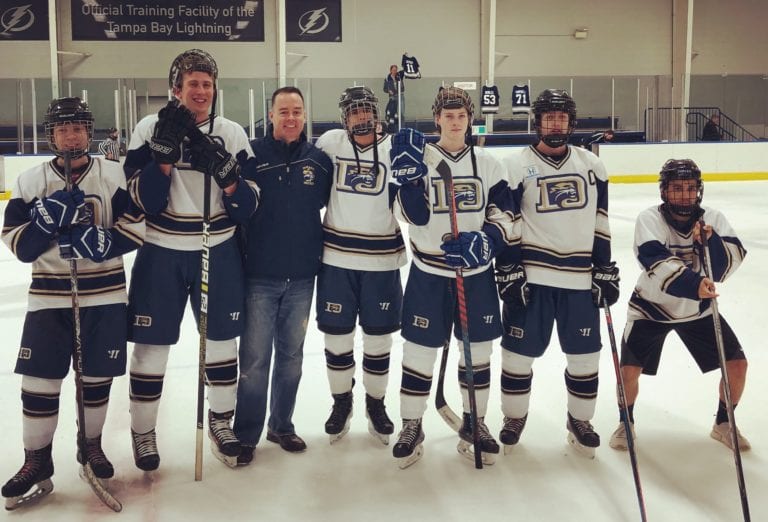 Anyone interested in playing high school hockey can try out on March 18 and 25 in Brandon.
Students from Durant, Plant City, Strawberry Crest and Brandon high schools can take their talents to the hockey rink starting later this month.
The four schools unite on the ice under the Durant Hockey Club banner in the Lightning High School Hockey League, which is currently comprised of teams from Hillsborough, Pinellas, Pasco, Manatee, Sarasota and Polk counties. Boys and girls looking to give hockey a try, or looking to keep their skills sharp when not playing at the club level, are asked to come out to the Brandon Ice Sports Forum from 4:45 to 5:45 p.m. on March 18 and 25 to assess their skills.
"It's really an evaluation," head coach Todd Comunale said. "We typically don't cut anybody.
Anyone interested in being evaluated for the team must first become registered by USA Hockey. That process costs $40 per person and can be completed online at usahockeyregistration.com/register_form_input.action. Comunale said the cost to play in the 2018-19 regular season was approximately $675 per player, which covers 22 games and 20 practices.
Many programs in the league have a history of fielding rosters made up of students from several different schools in a designated area — or "catchment" in LHSHL terms — and this iteration of Durant's hockey club sprouted in 2017 to help kids from the easternmost area of Hillsborough County stay local.
"(Some players) were asked to play in Sarasota because Brandon wasn't part of Bolts' catchment area," Comunale said.
Last season, Durant fielded a roster of 27 and, led by 19-goal scorer Jordan Putnam of Strawberry Crest, made the playoffs with a 13-7-2 record. Durant finished second overall in a tough Modin Division race led by 2017-18 league champion Manatee, but was knocked out of the playoffs in the first round with an overtime loss to third-place West Manatee.
"Crushing loss, but we'll get over it someday," Comunale said. "It's tough. High school hockey's tough. We had two players who also played for Tampa Bay Juniors missing our playoff game. Our leading scorer was in Buffalo for a travel tournament. It was very tough to get through that game and we did not do it."
Durant is hoping to use last season as a stepping stone for bigger and better things in the 2019-2020 season. The team currently fields 34 players, seven of whom are seniors, and is hoping the growth of hockey in the area will help more talent turn up. Between the sustained success of the Tampa Bay Lightning in recent years and more families looking to hockey as an alternative to football — Comunale said "concussion headlines that have dominated football recently" have helped the sport grow in Florida at the club and high school levels — the program has two goals in mind. First is to stick around for the long haul and not dissolve as other teams have done in the past. Second, which only happens if the sport keeps growing, is for Durant's team to consist solely of Durant High School students — which means every other school in the LHSHL of the future would also have their own team with their own students rostered.
"We're hoping that with the growth of hockey in the area over the years… this will be a sustainable program," Comunale said.