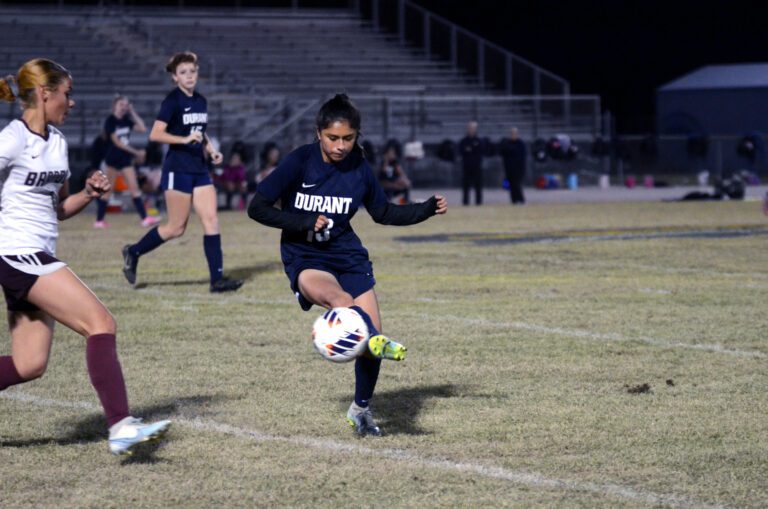 The Cougars moved to 4-0 on the year with an 8-0 mercy rule victory over Brandon last week.
The Durant girls soccer team defeated Brandon convincingly by a final score of 8-0 on Friday, reaching the mercy rule mark early in the second half to remain undefeated and move to 4-0 on the season.
"They're pretty exciting to watch," Durant head coach Melissa Brown said. "We've got quite a few new freshman and the veterans, they're just connecting well, playing well together and communicating well together."
The Cougars opened their season with a 4-1 victory over crosstown rival Strawberry Crest on November 8 and returned a week later to move to 2-0 with a 5-0 win over Sumner. On Friday, it didn't take long for Durant to impose their will on the visiting Eagles.
By the 12th minute, Durant had already jumped out to a commanding 3-0 lead on the heels of goals from freshman Kendal Vician – the team's leading goalscorer with five goals through their first four matches – and sophomores Karlie Collens and Alexa Cottrell. The Cougars dominated the contest in all fashions, consistently producing quality chances in front of the net, gathering rebounds in the box and continually keeping possession in the offensive third. In the 16th minute, sophomore defender Belinda Posadas netted her first goal of the season to make it 4-0 and freshman Kayla Tellefsen followed it up with a goal of her own in the 24th minute, extending the Cougars' lead to 5-0.
By the end of the first half Durant was up 7-0 with a pair of goals coming from Kayla DuBose in the 28th and 35th minutes, with the Cougars narrowly missing on a number of chances just before the break that would have eliminated a continuation into the second half. But nevertheless, Durant burst into the second 40 minutes with the same aggression in which they carried throughout the first, ultimately ending the contest on a second-chance score from Cali Sampson in the 51st minute.
The Cougars dominant stretch to start the season is far from a surprise if you consider the amount of talented players that have returned from a young squad that finished the 2021 season with a 14-4-2 record. Despite all of their success last year, Durant was able to do so with just three seniors on the roster. And while the team's leading scorer from 2021 in Jenna Jorgensen was lost to graduation this past spring, their next six leading scorers remain on this year's roster.
"It's very valuable to bring back so many players," Brown said. "It's unbelievable how excited I am to see these girls connect together and how they're already playing so well together, including the freshmen with the veterans. They're just exciting to watch and see making those connections together."
In addition to their three regular season wins, the Cougars also opened Champions League play with a 2-0 win over Pasco County's River Ridge High School last Wednesday. The Tampa Bay Top 10 Champions League draws its inspiration from one of the most prestigious tournaments in professional soccer, the UEFA Champions League (UCL.) The UCL is an annual tournament held each summer in which top-division European clubs battle through group stages and advance through a knockout format to ultimately determine the year's top club in European competition. In similar fashion, the Tampa Bay Top 10 was introduced in 2018 by Jim Harte and Rob Nugent to provide an invite-only competitive tournament between some of the Tampa Bay Area's top high school soccer teams. The event has evolved to feature four groups, each including a Pasco County, Pinellas County, Hillsborough County private and Hillsborough County public school. And in 2022 the organization added a girl's league for the first time, with Durant selected to join the field of elite competitors.
"I think it's so exciting to be a part of that tournament," Brown said. "It's good experience to play those teams, even just to have a chance to play them at that level, and I think it'll only prepare us more to go to districts and regionals and who knows. It's just really exciting times."
The Cougars will return to action on Monday, Nov. 28 as they hit the road to take on 3-0-2 Bloomingdale before turning right around on Tuesday and heading to Clearwater where they will face 2-1-1 Calvary Christian in their second Champions League match.