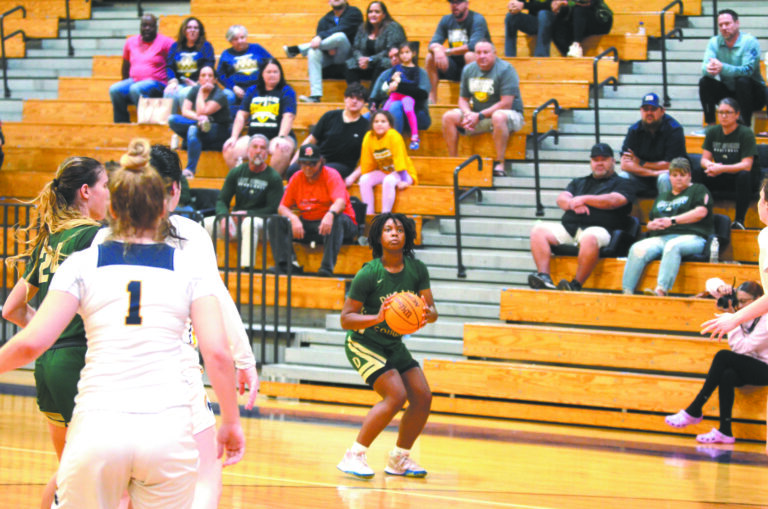 The Cougars moved to 17-4 on the year with a 60-53 win over Steinbrenner on Tuesday.
Durant's girls basketball team made their way to Lutz on Tuesday as they extended their nine-game win streak and moved to 17-4 on the year with a 60-53 win over the Steinbrenner Warriors.
And while Durant could potentially head into district tournament on the heels of a 10-game win streak if they can come away with a win over Sickles on Friday, the Cougars' most recent losses came in back-to-back tournament games in late December as they fell in narrow contests against Riverview Sarasota and Tampa Prep. With only two losses outside of tournament play, Durant hasn't lost a regular season matchup since falling just short against 22-2 Bloomingdale on Dec. 6.
Additionally, these past two weeks have brought more than just team victories as three different players in Maggie Lauber, Sophia Flair and Ki'Ajanae Gordon all entered the 1,000 Point club for Durant, with Gordon reaching the milestone in a 64-18 win over Plant City on Jan. 11, Lauber doing so in a 68-16 win over Leto on Jan. 18 and Flair doing so in a 76-11 win over Brandon on Monday. The senior trio became the first players to reach 1,000 career points under the coaching duo of Constance and Al Mitchell.
"This is the first time that it's happened in our coaching history so it just means a lot to see them grow from freshman year to now," Constance Mitchell said. "They've put a lot of work into this and it's just nice to see that hard work pay off."
Durant opened the contest on an inside layup as Gordon found senior Miani Mejia cutting to the basket. On the next possession they scored in similar fashion, with the assist going to Lauber before Mejia again came up with a steal on the defensive end and took it to the basket herself to give Durant a 6-0 lead. Steinbrenner answered with their first score before Mejia hauled in a defensive rebound and found Lauber open for an easy layup in transition as the Cougars once again brought their lead up to six at 8-2. After a three from Steinbrenner cut the Durant lead, Flair converted two free throws after drawing a foul in the paint and took advantage of crisp ball movement from the Cougars to finish at the rim and put them up 12-7. Steinbrenner answered with another three to end the quarter and Durant headed into the second with a 12-10 lead.
After a collision forced Lauber out of the game momentarily to open the second quarter, Mejia came up with a steal and again finished the possession herself as a pull-up three put the Cougars up 15-10. Steinbrenner drew shooting fouls on their next two possessions and hit all four free throws to narrow the Cougars' deficit to 15-14, but Durant quickly responded as Flair drove the baseline and found Mejia inside where she converted the layup through contact, hitting the subsequent free throw to move their lead back up to four at 18-14. Steinbrenner converted on their next possession but Flair immediately followed up the Warriors' bucket with a three. The Warriors converted one free throw on their next trip down the court and it was Lauber's chance to keep the offense rolling along with a three of her own. Another foul on Durant led to two more free throws for Steinbrenner at the end of the quarter and the Cougars headed into halftime with a 26-21 lead.
Coming out for the second half, Durant opened the scoring with back-to-back buckets as they built their largest lead of the night at 30-21, but Steinbrenner continued their trend of staying alive with trips to the line as they drew yet another foul — hitting both free throws — to cut the deficit to 30-23 for the moment. Gordon responded with a three on the other end for a 33-23 lead and the Warriors began to rally. With a three of their own, two more free throws and an inside layup, Steinbrenner cut their double digit deficit to a one-score game at 33-30. Mejia ended the Warriors' run with a layup and Steinbrenner answered right back. Another back-and-forth quarter ended with the Cougars still clinging to a 45-40 lead.
And in the fourth the fight never cooled off as the two teams battled shot for shot down to the wire, with Durant now forced to work around foul trouble as the Warriors were repeatedly able to earn trips to the free throw line throughout the night. A final pair of free throws brought Steinbrenner back to within five as the contest sat at 55-50 with a minute left but the Cougars were able to ward off the Warriors' comeback attempt to escape with a close —but never quite in doubt — victory. Despite their largest lead sitting at an 11-point advantage midway through the third, the Cougars never trailed as they moved to 17-4 with the win.
"I'm going to be as positive as I can," Al Mitchell said. "We came out really slow, we did not play well tonight but we have a couple days of practice where we're going to try and put the wheels back on and get this thing rolling."
While the contest may not have been a perfect performance, it was a chance for the Cougars to find their form against tough competition after a string of dominating performances. In fact, Durant's average margin of victory over their past seven regular season wins heading into Tuesday was a jaw-dropping 55 points. So as Durant cruised through a two-week span without much of of a challenge, focus and consistency become key factors heading into their district tournament, crucially finishing the year with two tough opponents in Steinbrenner and 17-5 Sickles.
"It's extremely tough to go through those stretches because you have to maintain focus and these aren't grown women that always understand
that focus," Al Mitchell said. "These are young women where sometimes it's hard to always keep them focused so that's what we've tried to do. These past seven games haven't been a whole lot of a challenge, but the focus has been the most difficult part and that's why I'm so happy that we'll have a couple days of practice to get ready. [Finishing the year against tougher opponents] is extremely important because now it kinds of resets us and gives us a chance to refocus and get ourselves ready for that run. Because if we're looking for a district championship, we know that we have to go through Winter Haven. And if we're going to play Winter Haven and have any chance of competing and beating them, we have to be laser focused."
Following their regular season finale against Sickles on Friday, Durant will advance straight to the district semifinals as the second seed in 7A District 9, facing the winner of third seed Haines City and Ridge Community. On the other end of the bracket the winner of fourth seed George Jenkins and fifth seed Plant City will play for a chance to face top seed Winter Haven in the semifinals.