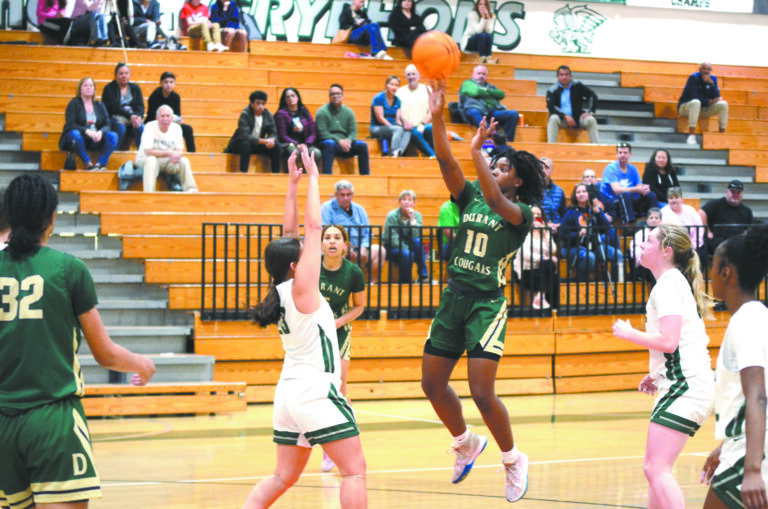 The Cougars ended their regular season with an 18-4 record following a 76-43 win over the Gryphons.
Durant girls basketball made a long trip over to Sickles on Friday to face a tough Gryphons squad, ultimately heading home with a convincing 76-43 win as the Cougars now prepare for district tournament play this week on the heels of an 18-4 regular season record and a 10-game win streak to finish the year.
After seven consecutive dominant victories throughout the month of January, Durant faced some stiffer competition in 15-10 Steinbrenner last week, narrowly escaping with a 59-53 win over the Warriors. Following the contest, head coach Al Mitchell spoke about the importance of consistency and remaining focused as playoff basketball creeped closer, and how those hurdles can be tough for a young team when they face stretches where the competition on their schedule isn't quite as challenging. He added that he was grateful to have a pair of tougher opponents on the back end of their schedule and Sickles — entering Friday night at 17-5 — provided an ideal matchup for the Cougars to rise to the occasion and regain focus.
From the opening tipoff it was clear that Durant was playing some of their best basketball of the year, opening the scoring with crisp ball movement as senior Maggie Lauber found senior Ki'Ajanae Gordon open, followed up by a pass inside to senior Sophia Flair where she finished at the rim to give Durant a quick 2-0 lead. On the ensuing defensive possession, senior Miani Mejia came up with a steal on the defensive end and found sophomore Elani Randall in transition for another score. Sickles got on the board and cut into the Cougars early lead with a three, but Gordon immediately answered with a three of her own for a 7-3 advantage. On their next trip down the court, Randall kept the ball in Durant's hands with a pair of offensive rebounds that led to a floater from the free throw line from Gordon. Sickles answered with another three to make it 9-6 and Flair forced another Sickles turnover into points as she raced down the court and finished the layup herself as the Cougars went up 11-6. A bucket for Sickles was followed up by a tough layup from Mejia, finishing through the foul and hitting the lone free throw to give Durant a 14-8 lead before the Gryphons' shooters caught fire for the remainder of the quarter. In a run that would be underestimated if it was called "red-hot," Sickles hit four three-point shots throughout the remainder of the first to take a 20-14 lead in the second on the heels of a 12-0 run to end the period.
"That's the run and it's like boxing," Mitchell said. "You have to take that flurry, you cover up, protect, protect, protect and when they run out of gas, that's when you go to work and that's what we did. We took all their blows and once they ran out we went to work."
Gordon finally ended the Cougars' cold stretch with a three to start the second quarter, cutting the Gryphons' lead to 20-17, but Sickles responded with a pull-up jumper on the other end to make it 22-17. Flair found Gordon for a layup to cut the Cougars' deficit to one score, but the Gryphons once again caught fire and rattled off an 8-0 run to take a 30-19 lead before Durant punched back. A free throw followed by a corner three followed by a layup, all from Gordon, quickly had Durant back within single digits at 30-25 before Lauber came up with a steal and layup in transition to make it 30-27. Two more buckets from Lauber at the end of the half effectively erased the deficit and put the Cougars back on top 31-30 heading into half time.
In the third quarter Durant took complete control of the matchup, outscoring Sickles 23-4 in the period to take a 54-34 lead where they were able to cruise to a decisive 76-43 victory by way of an absolutely dominant second half.
"After a couple days of practice the girls were able to refocus and get themselves back together," Mitchell said. "We struggled a little bit in the first half, we were a little out of sync, but we went into the locker room, had a little conversation and they came out ready to play. They put the wheels on and we played much better. We aren't there yet, but we're back on the road."
Gordon led all Durant scorers with 19 points on 60 percent shooting from behind the arc and 56 percent shooting from the field while adding a team-high eight assists. Lauber followed with 18 points on 56 percent shooting as well, adding six assists of her own, and Flair notched a double-double with 17 points and 11 rebounds while adding six assists and four steals. Behind the senior trio all in double-digit scoring, Mejia had nine points with eight rebounds, five assists and a team-high six steals.
"I loved that we were able to show what the girls are capable of and I'll say, this isn't their best ball," Mitchell said. "We can play much better than that and it's what we'll have to do. I keep pushing them and I keep telling them, ladies, we must continue to improve every single game. You can't say that we've arrived, we haven't arrived, we'll never arrive because we can always find something to improve upon and that's what we're striving for. We know that we'll never be perfect but we'll strive for perfection every game."
As the second seed in the 7A District 9 tournament behind top-seeded Winter Haven, the Cougars opened tournament play in the district semifinals against Haines City on Wednesday night. On the other side of the bracket, Winter Haven faced fourth-seed George Jenkins. The winner of both semifinal matchups will meet in the district championship on Friday, Feb. 3.
UPDATE: Durant beat Haines City by a final score of 53-40 on Wednesday, advancing to the district championship against 19-4 Winter Haven on Friday.