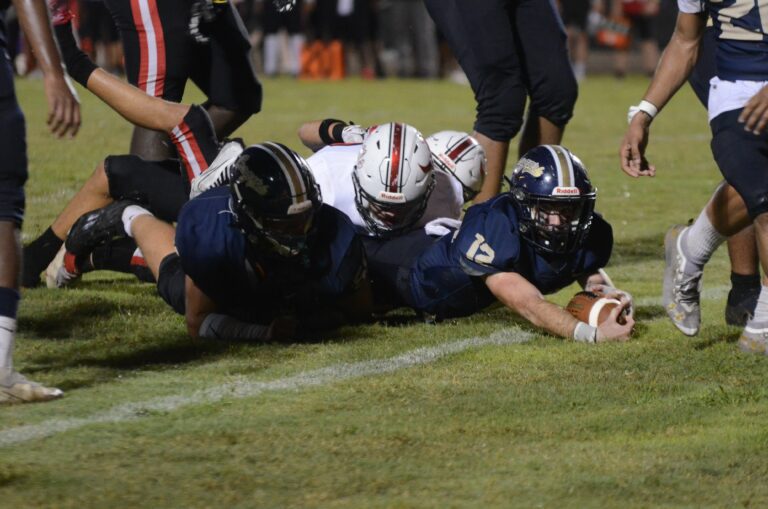 The Cougars moved to 2-1 with a 15-14 loss to Bloomingdale on Friday night.
Durant hosted Bloomingdale on Friday, looking to remain undefeated and move to 3-0 but ultimately fell just short as the Bulls came away victorious in a 15-14 final.
Bloomingdale took the opening kickoff up to the 30-yard line and started the game with a fumble on their first play from scrimmage, but they were able to jump on the loose ball and avoid potential disaster to start the game. On the very next play, starting quarterback Dillon Rose-Bailey connected with receiver Kendall Jones deep down the left sideline to quickly put Bloomingdale all the way down inside the red zone at the Durant 10-yard line. A holding penalty on first put them behind the chains to set up a first-and-20, and three short runs only got the Bulls back up to the 9. Facing fourth-and-long, a false start penalty set up fourth-and-14 and an incomplete pass allowed Durant to take over on downs deep inside their own territory.
In a move that defined much of their offense for the evening, senior running back Calub Connell entered the game at quarterback with junior running back Alex Daley manning the running back spot. A pair of holding flags on the drive ultimately left Durant with a fourth-and-long, without converting a first down, and they would punt to their own 47-yard line.
A second down carry for Bloomingdale moved them up to the 30-yard line and a penalty pushed the ball up to the 15. Two plays later, facing a third-and-one at the six-yard line, Rose-Bailey took a QB keeper down to the two-yard line and into the end zone for six on the next two plays, giving Bloomingdale a 6-0 lead in the first.
On the following kickoff things began to spiral for Durant. The kick was sent down the field and rolled toward the Durant end zone, picked up by Daley who took a knee in the end zone for what appeared to be a touchback, only for officials to rule that he gained possession inside the one and downed the play in the end zone for a safety, extending the Bloomingdale lead to 8-0. On the safety kickoff, Bloomingdale receiver/defensive back Derek Owens raced up the sideline and returned the kick for another Bulls touchdown, building their lead to 15-0 in just a matter of seconds. But Durant would fire back on their next drive.
After taking over at the 26-yard line, a series of carries from Daley, Connell and starting quarterback Mike Ryan moved Durant up to midfield before Ryan fired a rocket up the left sideline to a diving Jeremiah Gines, hauling in the spectacular catch to put the Cougars at the seven-yard line. A holding penalty backed Durant up to first-and-goal from the seventeen, but Connell would ultimately put Durant on the board three plays later as he hauled in the screen pass on third-and-goal from the 12 and battled through tacklers and into the end zone for the Cougars' first score of the night, cutting the deficit to 15-6 before the first half came to an end.
Durant took the kickoff out to the 40 to begin the second half and Connell took the first carry for five yards before Ryan fired deep downfield again, hauled in by senior receiver Elian Gonzalez at the Bloomingdale 25. Connell took yet another carry for five yards on first down to keep the Cougars on schedule and passes on second and third down fell incomplete, but a defensive holding penalty on third gave Durant another chance and moved them up to the 12. Connell took over at quarterback again and took a carry down to the five on first down before once again plowing through traffic and diving for the goal line to give Durant another touchdown and cut the Bloomingdale lead to one score. Ryan found receiver/defensive back Jayden Forte on a screen pass to the left on the two-point attempt and converted, leaving the score at 15-14 with 8:29 left in the third quarter.
Connell finished the evening with a team-high 91 rushing yards and one touchdown on 22 carries, adding one completion on one attempt for 29 yards and hauling in his lone target for the 12-yard touchdown in the first half.
"We thought we had a look," head coach Claybo Varnum said on Connell playing so much of the game out of the wildcat formation. "We watched a lot of film and liked the look we got, putting him in there for that look, so we trusted it and it was good for us. We drove up and down the field, we just couldn't close in the red zone so that's tough."
Both defenses dominated most of the second half from that point, with Bloomingdale coming up with stop after stop and Durant doing the same, along with two crucial interceptions from Forte and Zaevion Jordan.
"I think that outside of Xavier Peavy, everyone has an interception already this season," Varnum said. "And those came in crucial moments too. Those guys, they're all returners from last year. It's the same four in the back end and they played extremely hard tonight. We told them at halftime too, we said that we have to get turnovers and dang it, we did. They really answered the bell and I'm extremely proud of these guys. Now we didn't do everything that we wanted to do in the second half here to win the game, but I'm extremely proud of these guys."
The Cougars finally got a chance to take their first lead of the night in the fourth. Following the interception from Forte, giving Durant the ball at the 28, the Cougars worked their way into the Bloomingdale red zone and left them with first-and-10 at the fifteen. A false start penalty immediately put them behind the chains and they were ultimately forced to settle for a field goal, facing fourth-and-12 from the 17. But in another turn of fate, the field goal sailed through the uprights before officials ruled that the play was blown dead for an offside penalty on Bloomingdale and the repeated field goal attempt rattled off the right goalpost, turning the ball back over to Bloomingdale.
Despite keeping the Bulls off of the board entirely in the second half, the clock ultimately ran out on Durant's comeback attempt and they fell just short, moving to 2-1 on the season.
"When you come into a game like this, you're going to get shell shocked in the first half," Varnum said. "Bloomingdale's played two tough teams so they've been through these snafus early. But we responded well in the second half, they scored 15 points to start the game and they didn't score again. That's a testament to our defense playing well. Our offense drove up and down the field, we just didn't execute at a high level. So I feel good, I feel good that our guys are resilient. We had another chance there late, the defense got a big stop, but it's early. It's Week 3. You want to beat these guys, they're right down the road, they're a good football team but at the end of the day I'm extremely happy with how our guys responded in the second half and we have a long season ahead of us."
Offensively, Ryan completed eight passes on 22 attempts for 73 yards and one touchdown. Senior receivers Jeremiah Gines and Elian Gonzalez led the team's receiving unit with 38 and 33 receiving yards, respectively, both coming on two catches each. Behind Connell, Daley added 26 rushing yards on 26 carries and Ryan totaled 17 rushing yards on his three carries.
Defensively, senior linebacker Jacob Reed led the unit with 10 total tackles, followed by sophomore Hale Sollman with nine. Sollman, Gonzalez, Peavy, senior defensive end Ty Merkle and senior defensive lineman Greg Smith each notched one tackle for loss. In addition to the interceptions from Jordan and Forte, Peavy added a forced fumble and two pass breakups while Merkle blocked one field goal.
"When you're playing a good football team you can't spot them anything," Varnum said. "You have to win all three phases and Bloomingdale won two of them."
Durant will look to get back in the win column next Friday as they head across town to Plant City and face the 0-3 Raiders in the annual Redman Cup rivalry matchup.
Across town, Strawberry Crest moved to 3-0 for the first time in school history with a commanding 42-8 win over Robinson High School, following a 28-7 win over King in Week 1 and a 21-0 shutout victory over Spoto in Week 2.
Offensively, senior quarterback Jordan Lewis completed two of his three attempts for 44 yards, both going to sophomore running back Gage Reibsome. But Lewis' arm wasn't needed much in the big win as the Chargers totaled 358 rushing yards and six rushing touchdowns as a team, with six different players registering a rushing touchdown in the contest. Junior Devin Blunt led the charge with 158 rushing yards and one touchdown on 10 carries, followed by Reibsome with 83 yards and a touchdown on 10 carries, senior Ryan Weeks with 79 yards and one touchdown on eight carries, senior Coby Burger with 20 yards and a touchdown on four carries, Lewis with six yards and a touchdown on four carries and senior Marcus Springfield with five yards and one touchdown on two carries.
Crest's 42 points scored is their largest single-game total since rattling off a 46-0 September victory over Brandon en route to a 7-5 season in 2012.
Plant City fell to 0-3 this past week following a 52-14 loss to Steinbrenner. No stats were made available following the contest.
While still without a win, the young Raiders' roster will host a major rivalry matchup against Durant this week as they look to get their first win under new head coach Michael Clayton and reclaim the Redman Cup following a 29-6 loss at the hands of the Cougars in 2021, Durant's first Redman cup victory since 2017. Prior to the contest, Plant City High School will celebrate 50 years at their current campus with an open house beginning at 5:30 p.m., allowing any community members that wish to attend an opportunity to come back to PCHS and walk the halls ahead of the big game. Following the open house, Plant City will then move out to the athletic complex where they will christen their new field turf football field as "Raider Field" with a field dedication at 6:45.