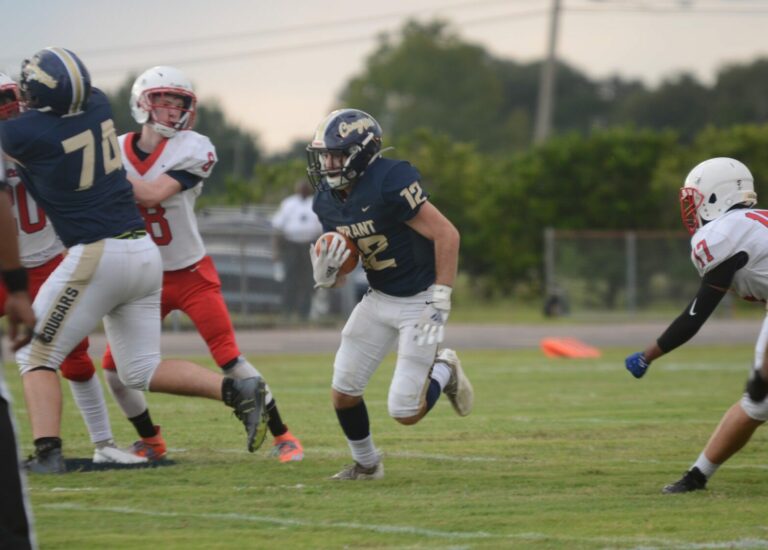 The Cougars rolled to a shutout victory as they prepare for the regular season.
Durant football hosted the Freedom Patriots last Friday for their preseason matchup ahead of the 2022 football season's opening game this week, rolling to a definitive 61-0 victory.
Durant returned the opening kickoff to their own 45 and sophomore quarterback Michael Ryan took over under center for the Cougars, a transfer from Newsome and one of three second-year quarterbacks that entered the offseason battling for a starting role. On the first play from scrimmage, senior running back Calub Connell took the handoff for a first down across midfield and on the ensuing play Ryan found junior wide receiver Jayden Forte on a swing pass to the left. Forte raced up the left sideline and was finally brought down inside the Freedom five yard line. Connell took the first down carry up the middle and into the end zone on the next play and gave Durant a 6-0 lead to end a quick three-play, 55-yard drive.
In quick succession, Freedom went three-and-out on their first drive and punted the ball back to Durant, but the Cougars would fumble the return and give possession right back to the Patriots in their own territory.
Facing a third-and-7, the Patriots converted for a first down on a pass over the middle, their first conversion of the game. But on both first and second down, senior edge rusher Ty Merkle came away with sacks on back-to-back plays to pin Freedom back on third down. Two plays later, facing a long fourth down around midfield, Merkle got to the quarterback again with a quarterback hit that forced a wobbly throw downfield, resulting in an interception by senior defensive back Tyler Wiggins and Durant took back over inside their own 25 yard line.
Merkle showed flashes of brilliance off of the edge on Friday night, something that could prove extremely valuable for Durant's defensive front. A legitimate 6-foot-7 defensive lineman, towering over both lines at over 225 pounds, Merkle has big shoes to fill as Durant lost one of their most productive defensive players in Leo Tabakovic this season – a senior in 2021 that racked up a team-high 11.5 sacks and 19 tackles for loss last year.
Connell took the first carry of the drive and broke tackle after tackle as he scampered up near midfield for a first down and Ryan found freshman wide receiver Treon Williams-Scott for another first down inside the Freedom 30. Ryan broke the pocket on the next play and scrambled inside the red zone to the 17 and junior running back Alex Daley took the next two carries up to the one yard line before the Cougars subbed in defensive lineman Jerome Parham to punch in the goal line carry for a 13-0 lead.
Freedom would be once again held without a first down on their next drive and Durant took back over as the Patriots fumbled the snap on the first play of the second quarter, giving the Cougars possession at the 30 yard line. Three plays later, facing a third-and-10, Ryan found Daley out of the slot, streaking wide open over the middle of the field for a 30-yard touchdown completion and a 20-0 lead.
Freedom would start the next drive from deep inside their own territory and punt from inside their own 10 to give Durant possession just inside the Patriots' side of midfield.
Durant made their way into the Freedom redzone quickly by way of a swing pass to Daley, breaking tackles and battling up to the 11 yard line, and on 3rd and long from the 12, Connell found the end zone again after making multiple defenders miss on a run to the right side as the Cougars extended their lead to 27-0
Connell was previously a quarterback for Durant's junior varsity team, also serving as the backup quarterback behind senior Marcus Miguele last year, but was forced to step in as the Cougars' lead running back early last year when a preseason injury to Daley left the running back position group thin. As a senior that's played for the program all four years, head coach Claybo Varnum said that he talked to Connell in the spring and asked what direction he wanted to go this year, and Connell ultimately settled in on staying at the running back position, bringing back the two-headed monster that Connell and Daley formed once the latter returned to action in 2021.
"In the spring we talked to Calub – he's a senior, he's been here four years, I've coached him every year – so we asked him what he wanted to do and he said, 'I want to do whatever helps the team,'" Varnum said. "Straight up, that's what he told us, and we pretty much decided that he was a running back. Then once we realized that we had these other three quarterbacks that could play it was almost a relief to say, Calub, go play running back, focus on one position. And when you've got him and Alex coming at you, there's no relent. It is a force to be reckoned with. We're very thankful for his selflessness and happy to see him play so hard tonight."
And Durant wouldn't waste any time tacking on more. After Freedom coughed up the kickoff return one play later, Ryan uncorked a bomb up the middle to sophomore receiver/defensive back Jayden Cornelius for a 40-yard touchdown completion and a 34-0 lead.
Former Durant junior varsity quarterback Hunter Smith entered the game on Durant's next drive and ultimately found pay dirt as his pass over the middle was tipped up into the air and hauled in by Daley for a 21-yard touchdown, Daley's second receiving touchdown of the night, giving the Cougars a 41-0 lead.
"Daley is a true H-back in our offense," Varnum said. "He's a guy that's going to run jet sweeps, he's a guy that's going to run seam routes, he's a guy that's going to run bubble screens and then also, in two-back, he's going to get in the backfield and run. Alex is a complete running back and he's a college football player, he's going to be one day, and we're excited that he's embraced that role. He's getting older and understands that playing in the slot doesn't mean that he isn't a running back, because he is, but that just gets him out in space more where there's more opportunities to get him the ball. We're really happy with his maturity and to see him get out there the way he did."
After a fumbled snap on the ensuing punt attempt from Freedom – recovered inside the Patriots' 20 by junior linebacker Luther Scarlett – Durant added one more score as quarterback Xavier Irazarry entered the game and found Forte on back-to-back completions for a first down and subsequent touchdown as the Cougars took a 48-0 lead into the half.
Coming out for the third quarter, the second half flew by as Durant held a commanding lead and the game moved to a running clock. Durant would tack on seven more as Williams-Scott came away with a third quarter interception and Smith scrambled for a 30-yard touchdown run, giving Durant a 55-0 lead. Scarlett then forced a fumble on kickoff coverage, also coming away with his second special teams fumble recovery of the night, before Parham punched in one last touchdown as the Cougars sealed a 61-0 final.
"I learned that we're young," Varnum said. "We knew that but we had some guys make some youthful mistakes tonight. Little things that may not show up in the scoreboard but they're things that we need to clean up with a good Chamberlain team coming up next week. I really liked Mike Ryan's composure at quarterback, I thought all three quarterbacks had a good night. It was nice to see Calub (Connell) and Alex (Daley) running hard, hitting holes, being explosive, we know those two are going to be good. And defensively, Ty Merkle. We knew we had something there if he was going to bring it to the party and he brought it early, so we're really excited about how the whole defense played but especially how Ty played tonight."
The Cougars will open their season this Friday at Chamberlain, facing a Chiefs team that finished 2021 with a 3-8 record.
Around Plant City, the preseason games for both Strawberry Crest and Plant City were ended early due to lightning, with the Chargers leading 7-6 over George Jenkins when the game was ruled final at halftime and Plant City trailing Lake Gibson 14-0 when the game was ruled final late in the second quarter. Strawberry Crest will open their season at home against Spoto this Friday while Plant City will head to Newsome.