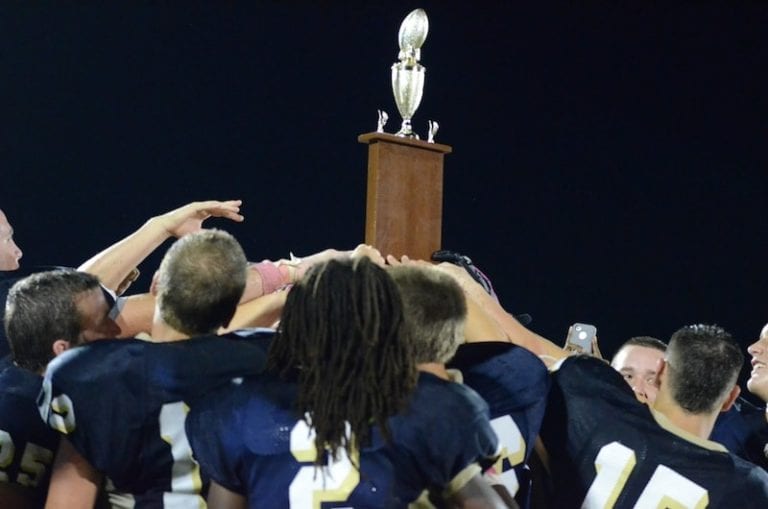 By Matt Mauney | Associate Editor 
For the first time in four years, the James L. Redman Memorial Cup is going back to Durant. The Cougars beat rival Plant City 22-7 Friday for the first time since 2008 in the sixth installment since the rivalry trophy was introduced in 2007.
"It feels good looking at the scoreboard knowing we beat our arch rival," said Cougars head coach Mike Gottman after the game. "I know it makes our guys feel good and I know our fans feel good."
After a lighting delay postponed kickoff for an hour, the game itself turned into another grind it out affair, which plays right into what the Cougars thrive on.
"I think we wear teams down because we run the ball so much," Gottman said.
The Cougars (5-0, 2-0 7A District 8) were led by another solid performance by sophomore running back Cris Atkins, who finished with 102 yards and a touchdown, which came in the fourth quarter to put his team up 22-7. Senior Jamarlon Hamilton finished with more than 80 yards and scored the first points of the game on a 3-yard run early in the first quarter after Plant City coughed up the ball on their first play from scrimmage.
Danny Bowers nailed three field goals for Durant from 39, 29 and 30 yards out.
"We would have liked to have gotten touchdowns on those drives but Danny came in and did a great job for us tonight," Gottman said.
Plant City's Colby Diers filled the void of injured freshman running back Ervin Micheal. Diers didn't disappoint, rushing for 88 yards. Austin Fernandez gave the Raiders their only score of the game on a short run up the middle early in the second quarter. Quarterback Nick Rodriguez threw for 137 yards.
Plant City (3-2, 1-1 7A District 8) mounted a drive late, down to the Durant 1-yard-line, but penalties and a sack led to a turnover on downs, as Durant then used its rushing attacked to drain the clock.
Durant hosts Chamberlain next week for its homecoming while Plant City visits Alonso.