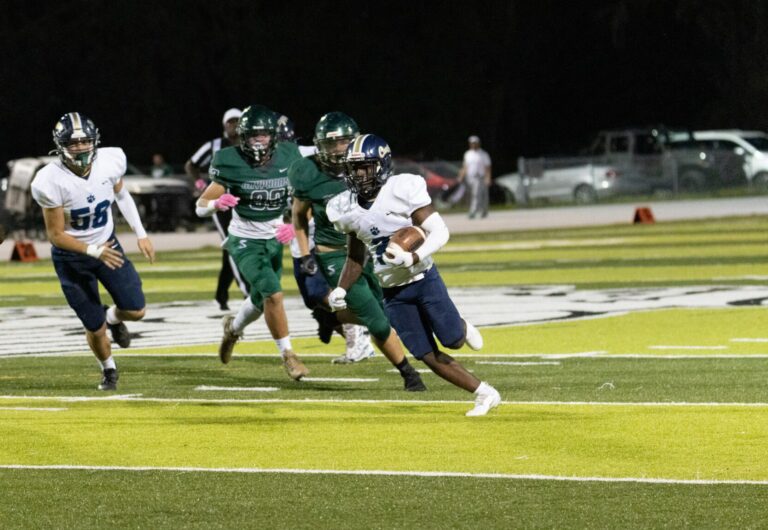 The Cougars moved to 6-1 with a 24-7 win over Sickles on Friday.
After a narrow win over Sumner to open district play last week, Durant headed over to the western side of Hillsborough County this week and cruised past Sickles with a 24-7 victory to move to 6-1 on the year.
"We knew that we were going to have to come over here and claw one out," head coach Claybo Varnum said. "We definitely knew that. We played Sickles last year and they were very physical, they threw the ball extremely well, Brandon Royal is a heck of a quarterback and I hate that he's only a junior. We had to get gutty. We had some injuries and some guys stepped up to the plate and answered the call. We weathered the storm in the first half, came out swinging in the second half and came out with another win."
Sickles lined up to receive the opening kickoff following the coin toss but Durant was able to steal a possession early by recovering an onside kick. They took advantage of the opportunity and cashed in with points, driving right into Sickles territory and ultimately converting a field goal attempt off the foot of Mike Ryan to take a 3-0 lead.
On the ensuing kickoff, Sickles hauled in another short kickoff attempt to take over at their own 38-yard line. Despite a holding penalty pushing the Gryphons back on second down and a tackle for loss moving them even further back on third, they were able to convert for a first down on a long completion to the Durant 46-yard line. But that would be it for Sickles' offense as they punted back to the Cougars three plays later.
On their second drive of the night, Durant would take over at their own 24 and immediately break off a big completion to Jayden Cornelius up to the 45. Cornelius would then take a first down carry across midfield for six yards, followed by a three-yard carry from Jarelle Franklin to set up a third-and-one. On third, Gines ran a curl route passed the sticks to beat his defender but was unable to haul in the pass from Ryan, he made up for it on fourth down however as he got another target and converted with a reception up to the Sickles 37. Zaevion Jordan added nine yards on the next carry and Ryan kept the chains moving on second down with a quarterback keeper for 10 yards, taking Durant into the red zone and down at the 18-yard line. Three plays later, facing a first and goal from the six, Ryan once again kept the ball on a read option and scampered untouched into the end zone to give the Cougars a 10-0 lead. The two teams would go on to exchange punts before Sickles tacked on seven to get themselves on the board late in the second quarter. After taking in the short kick and working their way right down the field and into Durant's red zone at the 14, an illegal substitution penalty on the Cougars set Sickles up with a first-and-goal at the nine. One play later, Royal found receiver Isaiah Hudson in the back of the end zone for the score, cutting the Durant lead to 10-7 with under six minutes remaining in the half.
Each team would stall out on two more short drives before heading into the locker room at the break with the game still sitting at 10-7.
In the second half, Durant would begin to pull away. The Cougars began their second drive of the third quarter at the Sickles' 48-yard line, gaining five yards on a first down carry before Ryan dropped back on second and found Gines sailing over the middle of the field for a 43-yard touchdown to extend their lead to 17-7.
The touchdown catch capped a big offensive showing for Gines, hauling in four receptions for a team-high 74 receiving yards on four receptions.
And late in the fourth, after Durant moved all the way down to the seven-yard line before missing the field goal attempt and turning the ball over to Sickles deep in their own territory, Gines would come up with a huge defensive play as well as he intercepted the pass from Royal and returned it to the 13-yard line.
"Jeremiah's a good athlete," Varnum said. "We think he's just as good as a defensive back as he is a receiver. He's just got some natural ability, he knows how to get open, he's natural to the football and good things happen when you're a guy that's used to the game."
One play later, Franklin would battle through tacklers and into the end zone to put a cap on Durant's 24-7 win.
With injuries to the starting running back duo of Calub Connell and Alex Daley, Franklin has been thrust into a major role in Durant's offense as a sophomore as he has split backfield duties with Jordan over the past two weeks. After two fumbles against Sumner – one lost – he bounced back with a strong performance, finishing the contest with a team-high 78 rushing yards and a touchdown on 15 carries, also adding one reception for 21 yards. Alongside Franklin, Jordan totaled 61 rushing yards on a team-high 16 carries.
"Both of those guys have stepped up," Varnum said. "Last week Jarelle had a bit of a fumbling problem, he had four carries, two fumbles and he came to us Monday and said, 'Coach, I will not fumble.' You have to trust your guys at the end of the day, you can't pull them out of the ground so I'm very proud of Jarelle's effort tonight but I'm really proud of him emotionally, keeping it together. I thought he matured this week and he ran hard, he's going to he hard to handle one day."
But Durant is dealing with injuries far beyond just their two top running backs as starting middle linebacker Jacob Reed left the game with an injury on the opening kickoff. They once again had to also battle through the absence of starting wide receiver Elian Gonzalez and offensive lineman Alex Smith. With a big Alafia River Rivalry matchup against Newsome coming up this Friday, Varnum hopes to have Connell, Gonzalez, Smith and Reed back and healthy in time while Daley is not expected to be active.
Offensively, Ryan completed 12 of his 19 attempts for 159 passing yard, finishing the game just off of his season-high mark of 160 yards against Plant City earlier in the season. On the ground, he added another 17 yards on six carries. Behind Gines, Cornelius totaled 52 yards on a team-high five receptions. Jayden Forte and Treon Williams each added one catch of their own for nine and three yards, respectively.
Defensively, linebacker Brant Bovee and edge rusher Ty Merkle paced the unit with a team-high six total tackles and two tackles for loss each, along with defensive lineman Gage Aroz who totaled five tackles and two tackles for loss of his own. Linebacker Luther Scarlett and defensive linemen Greg Smith and Jovan Ortiz added one tackle for loss each while Ortiz and Bovee each notched a sack, followed by a half-sack each for Smith and Aroz. In the defensive backfield, Gines and Peavy each had an interception on the night.
The win moves the Cougars to 6-1 on the season as they prepare to host Newsome on Friday.
"I was kind of hoping that we'd be 6-1 here," Varnum said. "We circled some games on the calendar and we lost one, we won one, we won at Plant City so that was another one too, but I don't project a whole lot. I kind of take it day-by-day with what we have and I like to take it day-by-day because when you project you typically get upset and if you overperform then it's whatever. Our phrase is ride middle. Stay right here in the middle of it, don't get too over the top, don't go underneath, just go out and play and I'm just very proud of these guys and guys stepping up and continuing to battle.
Across town, Plant City had the week off following two consecutive wins over Hillsborough and Alonso to leave the Raiders at 2-4 while Strawberry Crest hosted Middleton, falling 12-8 in their second straight loss after a school record five straight wins to open the season, moving the Chargers to 5-2 on the year.
Offensively for Crest, quarterback Jordan Lewis completed eight of his 20 pass attempts for 78 yards while also leading the Chargers' rushing attack with 68 yards on 15 carries. Behind Lewis on the ground, Ryan Weems totaled 36 yards and a touchdown on three carries, Devin Blunt totaled 29 yards on 10 carries and Gage Reibsome totaled 10 yards on two carries. On the outside, Marcus Springfield led all receivers with 58 yards on four receptions, followed by 11 yards on two receptions by Quincy Hart and 10 yards on one reception from Grayson Haynes.
Defensively, Steel Craig led the unit with a team-high seven total tackles and two tackles for loss while Malachi Johnson, Quintin Walker and Didier Godonou Dossou notched one tackle for loss each. Craig had 1.5 sacks on the night and Johnson had the team's other half-sack.
This Friday Plant City will be on the road as they look to extend their winning streak to three games against 5-2 Plant High School while Crest will be looking to get back into the win column against a 5-2 Alonso High School that enters the week off of back-to-back losses to Plant City and Riverview.