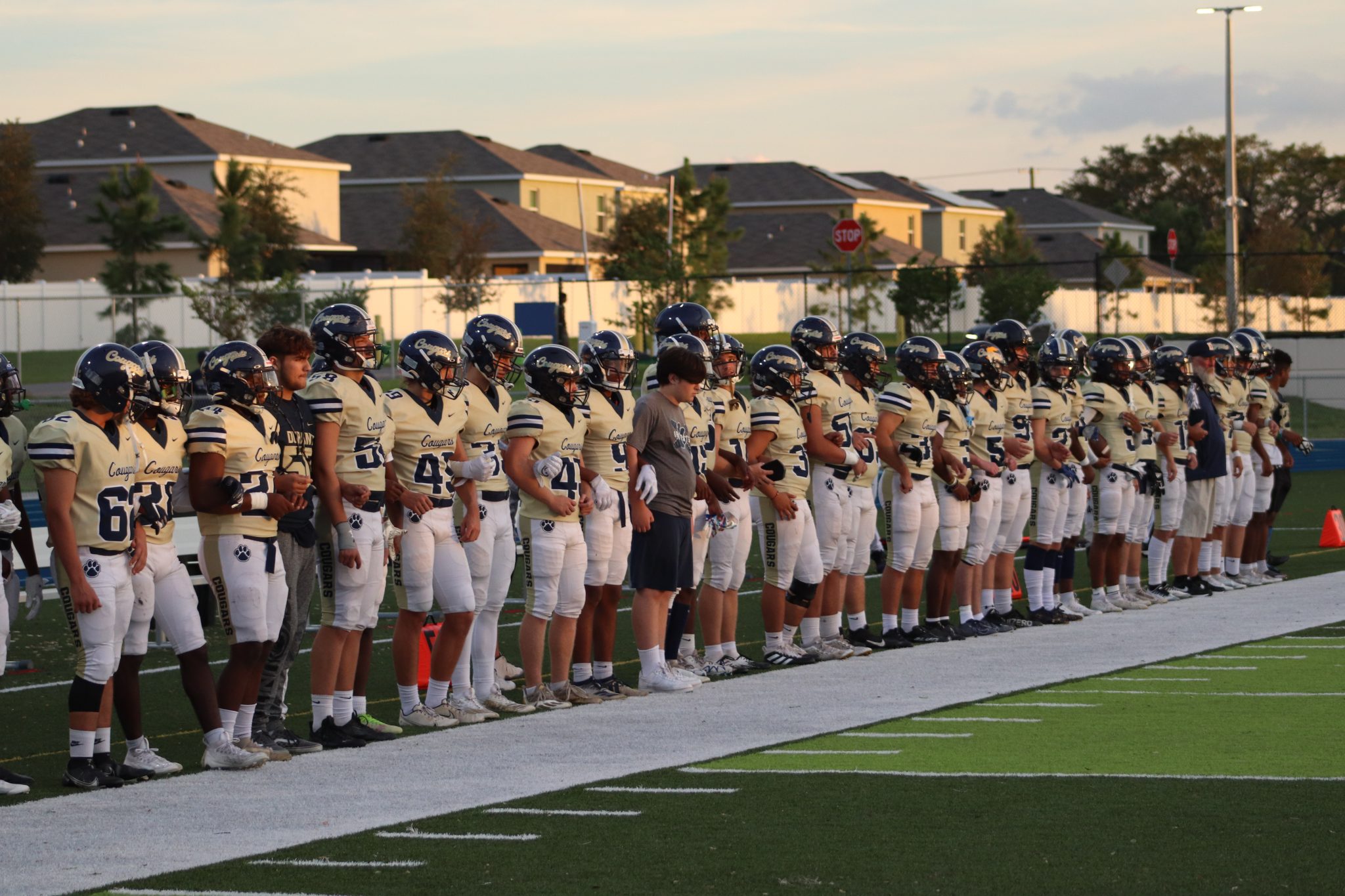 2023 Football Preview: Durant
After 18 years with Mike Gottman at the helm for Durant football, Durant finished their first season under head coach Claybo Varnum at 8-3 in 2021 – the program's highest single-season win total since 2016. In 2022, Durant bounced back with another eight-win season as they also claimed their first Alafia River Rivalry win over Newsome since 2017 and their first district championship since 2014.
As Durant's football program prepared for their second season under Varnum last fall, the major story entering the season was an influx of young quarterbacks following the graduation of starting quarterback Marcus Miguele the year before. To help fill the void left by Miguele – who made his way to DIII football powerhouse Mount Union – the Cougars found themselves with a positional battle that featured three sophomore quarterbacks.
Rising to the top was Newsome transfer Mike Ryan. In his first year as a starter, Ryan led the Cougars to eight wins behind 1,655 passing yards with nine passing touchdowns and just three interceptions, adding 230 rushing yards and seven rushing touchdowns on the ground.
"I love Mike's consistency, he's the same kid day in and day out," Varnum said. "I don't think it's gone to his head. He's continued to stay humble, he's continuing to work hard, he puts in the reps, he does a nice job and has good chemistry with our players. I asked some of the seniors the other day how they felt about him and they were all extremely complimentary and happy with how he's been so I'm really excited about his maturity as he grows into his junior season and he's our guy. He had a great run last year and we hope that he can replicate that and do even better this year."
A position that was a question mark just a year ago may now be a crucial strength for the Cougars as Ryan enters his junior year with a season of experience as a starter in Durant's system under his belt, on top of adding 15 pounds of muscle to the slender frame he played with as a sophomore. And for the Cougars, stability at the quarterback position may be more important than ever as you look across the rest of the offense.
In the backfield, it will be a completely new crop of rushers for the Cougars as all three of their leading rushers from 2022 will not be with the team this fall, losing Calub Connell to graduation after he paced the unit with 483 yards and nine rushing touchdowns on 113 carries as a senior, while Alex Daley and Jarelle Franklin are no longer with the program, totaling 473 yards and eight touchdowns and 155 yards and one touchdown on the ground, respectively. To fill the gap left by a trio that combined for over 1,000 rushing yards and more than half of the Cougars' offensive touchdowns last year, Varnum says that Durant will likely lean on Plant City transfer Dominic Jones alongside a committee of backs that continue to battle for their roles.
"We had Dominic Jones come over from Plant City last year and we really like Dom's attitude and the effort and how he's done, and behind that it'll be by committee," Varnum said. "We started Kendrick Jean in the spring game, he's a guy that will have to continue to earn reps, we had a couple of other guys that didn't play their sophomore year that have come back out for junior year, we had a young man move in from Sumner that's going to try and give us some looks. It'll be a committee but we're really excited about Dominic. He's a senior, he's powerful, he's got a couple of Division II offers and we're hoping that he can step into that role. He's a do-it-all back, he can catch, he can block, he can catch, he's elusive and we're hoping that he'll be that five-tool back for us."
Last year the Cougars were blessed with experience and size up front on the offensive line, a group led by seasoned players that had grown and developed through Durant's program. And while there have been some key departures, Durant will once again lean on a pair of incoming senior leaders alongside a group of fellow upperclassman that are finally stepping into their opportunity to anchor a pivotal part of the offense.
"We lost Ajai Brown, he was a big one. We lost Tanner Pierce, that's another big one for us. So that's crucial not having those guys anymore," Varnum said. "They were four-year players in the program, legacy players and guys that we really leaned on so it's up to our seniors now, Alex Smith and Luke Machristie, who have been in the program for a long time and it's their time to step up and go. We'll be a little bit younger on the other side. At center we have a little bit of a battle going on between two guys but that position group will probably determine a lot of our season. We've got the skill guys, we've got the backs, but it's going to be crucial for that offensive line to step up and not take the mentality that we're too young and that we can't do it but to step in and say that we pride ourselves on great offensive line play here and continuing that."
And at receiver, the Cougars lost two of their three top receivers in departing seniors Jeremiah Gines and Elian Gonzalez but will look for big years from a fully-loaded group of returning pass-catchers to carry the weight. The same goes for defensive back, where Durant no longer has the dynamic trio of 2022 seniors in Xavier Peavy, Zaevion Jordan and Gines, but will turn the page toward experienced upperclassman in the form of two-way players Jayden Cornelius and Jaden Forte alongside safety Luther Scarlett to lead the way.
Varnum spoke about how Durant will adjust to some major losses at skill positions on both sides of the ball.
"We started Treon Williams at receiver last year as a freshman so he's coming into his sophomore year and he's done a nice job," Varnum said. "Jayden Cornelius and Jaden Forte are both back. We got Jaylen Torres back, he went to Tampa Catholic but came back to us and we're really excited to have him, he kind of knows how we do things. So it's almost like we've lost a couple in every room but it's not empty, the cupboard's not bare. We have some guys that know how we do it and I think they'll do well, we have some guys that have got to grow into leaders. Obviously we're losing a record-breaking receiver and a four-year starter in Elian but these guys know what we expect. This is year three for us, we've had a couple of kids move in that I think will do a nice job. There's going to be a lot of proving early on, when the rubber hits the road, who's going to stand up and be the guy we go to but I'm excited about that. I love seeing that type of stuff and developing those people."
On the other side of the ball it all begins up front on the defensive line, where the Cougars will likely face their largest hurdle in replacing last year's production. With a strong and experienced front seven last year and that was headlined by Valdosta State commit Ty Merkle and his team-leading 4.5 sacks, the Cougars also lost defensive tackles Gage Aroz and Greg Smith who totaled 3.5 and 2.5 sacks respectively. But despite so much production graduating, Durant is moving forward by filling those spots with upperclassman and young depth pieces that are familiar with the program and the system and are now getting the chance to step up.
"We've got several guys that have been in the program for a while, now it's just their time to go make it happen," Varnum said. "Jovan Ortiz is a guy that we want to step up, he's a senior now and he's been with us all four years, A.J. Hancock's the same way, Jerome Parham. We've got some seniors that have been here, they've kind of been roleplayers in some situations but now's a chance to step up and earn a job. We've got a couple of sophomores, some juniors and no one's listed as a 'one.' They're all fighting it out and trying to win that job and I'm ok with it being by committee as long as those guys go 100 miles per hour to make it happen. It's nice to have some youth but also nice to have some older guys that know the expectation."
At linebacker, Durant will return impact players from last year's defense in Hale Sollmann and Brant Bovee, with one huge gap left by program staple Jacob Reed in the middle linebacker spot. Sollmann, entering his junior year, led the Cougars' defense in total tackles with 75 and tackles for loss with 13 across 11 games played last season while Bovee wasn't far behind with 66 tackles and 11.5 tackles for loss in 10 games. But Reed's absence as the quarterback of the Cougars' defense will be felt, much as it was last season when he missed three games late in the year due to injury while still racking up 71 total tackles and 11 tackles for loss.
"Losing Jacob's huge," Varnum said. "I've coached Jacob since he was a freshman here and he's our all-time leading tackler in program history so he leaves a huge void and you saw that down the stretch for us last year – against Newsome, against Riverview, it was tough without him. But one of the guys that replaced him last year, Wyatt Zinke, is going to step in. He's a junior, played two years of JV, he's kind of taken the normal progression a guy takes here where he's been in the system, he knows what to do and now he's stepping into it. We had Lucas Bowlin move over from Plant City, Cole Castle over from Newsome, we've had some guys that have come in that have got to figure out what it's like on Friday nights for us, they haven't seen that side of it. But then Hale and Brant have done a great job. They're both legacy players, both of their older brothers played here, they've been with us since our youth camps back in the day so they've been great. They're both good students, they're both good people and they're the ones I look at when things need to move or I don't like things defensively. I can go to them and it's, 'yes sir, no sir,' and they take care of it. I'm really proud of their leadership and how they've done this offseason."
All-in-all, Durant will certainly have some big shoes to fill on both sides of the ball but luckily for the Cougars, they appear to have built a solid culture that affords them the ability to regularly find production from familiar players that have developed within the program.
"We've set goals and we have to continually chase them," Varnum said. "We can't get complacent at all and I don't feel complacency from these guys. We coach hard, they play hard and I don't sense any complacency there but they've got to go earn it. We won the district last year by like six combined points and we know Sumner's better, Riverview's better, Newsome is always tough, so they understand that if we want to go back and win the district and do what we have to do, we have to show up in games again. We're not just going to be there and it'll be given to us, they understand that. We kind of beat that mentality into them and they do a nice job taking to it… As far as how we look, it'll be pretty similar. We have the same offensive coordinator, same defensive coordinator, the same system we're running and obviously new guys to fill the roles but with that 'right in the middle' mentality we have, as soon as a guy comes in he fills it quickly. If he doesn't feel it, they kind of drift off and they aren't with us anymore, or they buy in. We've got great buy-in from our young guys, our guys that have come in and joined us and our leaders have just continued to implement it. I think that if we do that and we stay emotionally stable in those big games, we're going to play to the finish and you had better play all four quarters if you want to beat us."
SCHEDULE
Note:All games are scheduled to start at 7:30 p.m. with the exception of Sept. 14 which will begin at 7 p.m. Games are broadcast live online at NFHSNetwork.com
8/25: Chamberlain
9/1: @ Middleton
9/8: @ Bloomingdale
9/14: Plant City
9/22: @ Lennard
9/29: Sumner
10/6: Sickles
10/13: @ Newsome
10/20: Gaither
10/27: Riverview
ROSTER
(from MaxPreps.com)
1 Hunter Smith LB Jr.
2 Dominic Jones RB Sr.
3 Jayden Forte DB Sr.
4 Christian Gambrell RB/WR Jr.
5 Jaylin Torres WR Sr.
6 Jayden Cornelius FS/WR Jr.
7 Michael Ryan QB Jr.
8 Damari Styles WR Jr.
9 Ajani Peavy WR Jr.
10 Treon Williams WR So.
11 Jesse Donnell WR Sr.
12 Kendrick Jean RB Sr.
14 Isaiah Sawyer K Jr.
15 Chris Lankford WR Jr.
20 Brant Bovee LB Sr.
21 Quentin Pope DB Sr.
22 Lucas Bowlin LB Sr.
23 Mohammed Elsharkawi LB Sr.
25 Charles Williams Jr. DB Jr.
26 Kaidyn Taylor DB Jr.
27 Luther Scarlett WR Sr.
28 Cole Castle LB Jr.
32 Parker Klangthanmien RB Jr.
33 Garrett Bowmer LB Jr.
35 Jovan Ortiz DL Sr.
36 Kristien Cook RB Jr.
40 Jerome Parham DE/OLB Sr,
42 Jeremy Cannon LB So.
44 Hale Sollmann LB Jr.
45 Wyatt Zinke LB Jr
48 Landon Snapp LB So
49 Michael Gibson RB So.
50 Cade Long OL Jr.
51 Raymond Smith OT Jr.
52 Julio Constanzo So
53 Josh Alderman OL Sr.
55 Luke Machristie OL Sr.
56 Paul Dilley DL So.
57 Michael Everhart T Jr.
58 Caleb Waters DL So.
59 Colin McClellan OL So.
62 Jontrel Washington OL Fr
63 Blake Chancey OL Sr.
66 Gavin Pinner OL So.
68 Hunter Rose DL Jr.
71 Dylan Livernois OL Jr.
72 Landon Collins OL So.
74 A.J. Hancock DL Sr.
77 Jahmari Thompson OL Jr.
78 Alexander Smith G/DT Sr.
80 Zackary Desimone LB Jr.
85 Ryan Porter WR So.
88 Mark Cadwallader WR Jr.
89 Isaiah Hench DB So.
90 Colton Knitz DT So.
92 Josiah Dennis DL So.
97 Steven Russell DL So.
99 Aidan Piatt DL Jr.
N/A Emmanuel Lee DB Jr.