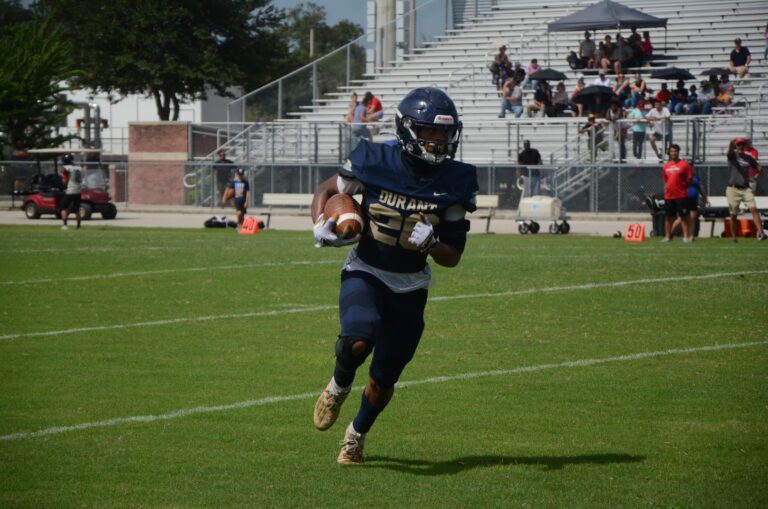 Football Preview 2022
2021 marked Durant's first season under new head coach Claybo Varnum following 18 years with Mike Gottman at the helm. With a young defense and a reshaped offense, Varnum led the Cougars to an 8-2 regular season record, the team's highest single-season win total since 2016, and a playoff appearance.
"In the summer there wasn't as many nerves, there wasn't as many things that I was geeked up about," Varnum said about heading into his second year as head coach. "If anything, I just feel more comfortable with this group. There are little habits that I'm noticing where last year I had to instill them early and work on them but now these guys are already doing them without me having to say anything. So our culture is being set and these guys are falling in line, they're buying in. We lost one starter but outside of that, they all stuck around and that's what I wanted to build here. I wanted to build guys where you come in as a freshman and leave here as a senior. And if you come in later, fine, but you end here as a senior. I want a culture with guys that want to be here for the right reasons. And we've had some bumps in the road this offseason, we've had some guys that aren't with us anymore, but the guys that are here and the guys that are working have bought into what we want. They're speaking the same language, there's consistency across the board, there's positivity across the board and it's cool to see my vision for it happening. It's way less me being on top of them and more just them adapting to it, it's theirs now. And before too long it won't even be my vision, it'll be theirs and they can take it and run with it."
This fall the Cougars will be looking to build on the success of last season, with a roster that will keep many of their impact players in place from the year before, despite some glaring differences on offense. Up front, Durant had a huge offensive line comprised of mostly seniors, a position group that will look very different this year. But all-in-all, the Cougars have done a serviceable job of replacing that production as best they can with some players moving up to the varsity level and some backups that will now assume starting roles.
"Our offensive line coaches kind of have to be a little more on guard because we had a crew last year where, on top of being huge, they were all smart," Varnum said. "They were all high-academic guys and two of them are playing collegiately. So it's tough but all three of the guys that are in now started on JV last year and our JV runs the same offense that our varsity runs so they can step in and they know most of the stuff. Tanner Peirce was the backup center and good night, he's standing 6-foot-3, 240, he's a horse. And obviously Ajai Brown. Having Ajai, and him sticking it out with us for his fourth and final year, was huge. He's the guy that galvanizes that group. He's a front locker guy, he's vocal, he's a presence and he's the guy that when all of those babies are swimming, Ajai's the one that can tighten them up, say let's go and they listen. So having him as the anchor really helps."
And at quarterback Marcus Miguele transformed the team's offense in 2021, now heading to Mount Union as a wide receiver.
"You don't realize the impact of losing an offensive line and a quarterback like we did until it's in front of you," Varnum said "Even in the spring you can't quantify what the fall looks like but I think we've done a good job. We've got three guys competing at quarterback as sophomores and they're all doing a pretty good job, but there's some youth there. Four new guys on the offensive line so there's some youth there. Skill-wise, we look pretty tough but again, there's some youth in some positions where we didn't think we'd have it so offensively we're a little young."
With a huge percentage of Durant's offensive production leaving in the form of Miguele, the opening under center has created a three-way competition between a trio of sophomore quarterbacks in former junior varsity quarterback Hunter Smith and transfers Mike Ryan (Newsome) and Xavier Irazarry (Armwood.)
"They're three really good kids," Varnum said. "They have a great time, they're friends, they've done a really good job. And Mike has kind of shown the most so far, we've seen the most out of him, but those other two guys are playing hard and when there's three sophomores you're all battling for a job and it's hard knocks because there's some youth there and there's some growing pains but they've done well. I'm excited as the season goes to see how they push each other and whether it becomes a three-way battle down the stretch or does one guy take it and run."
Ryan started in the spring game for Durant and it wouldn't be a surprise to see him take the reins for Durant, at least to start the season.
In the backfield, senior Calub Connell and junior Alex Daley will be the primary duo for Durant once again. Formerly a junior varsity quarterback and the second-string signal-caller behind Miguele last season, Connell stepped into the starting running back spot after a preseason injury to projected starter Alex Daley forced him out of Durant's lineup to start the year. Connell took the job and ran with it — no pun intended — leading the team with 747 rushing yards and 13 rushing touchdowns on 123 carries last year, but Daley was a significant factor in his return as well, ending the season with 595 yards and four touchdowns of his own on 71 carries.
Defensively the Cougars will look very similar, losing a couple of crucial pieces but gaining size and experience across the board. Their two largest losses come in the form of middle linebacker Austin Bovee and defensive lineman Leo Tabakovic. The duo finished second and third on the team in total tackles last year, with Tabakovic pacing the team with 11.5 sacks and 18 tackles for loss.
Seniors Greg Smith and Gage Aroz will maintain their presence along with defensive line, with senior Ty Merkle stepping in following a phenomenal offseason, according to Varnum. To fill Bovee's role, Hale Sollman will move back inside from outside linebacker and Luther Scarlett will move from safety to linebacker to step into his spot.
Durant's young secondary will be identical, led by senior Xavier Peavy, sophomore Jayden Cornelius and junior Jayden Forte.
"We're excited about our defensive side especially and early in camp the defense has looked good," Varnum said. "They've kind of outshined the offense so I'm excited to see the offense out here the past couple of days playing a little better and getting after it but it's just going to take time, it's going to take reps."
SCHEDULE
Note:All games are scheduled to start at 7:30 p.m. Games are broadcast live online at NFHSNetwork.com.
8/26: @ Chamberlain
9/2: Middleton
9/9: Bloomingdale
9/16: @ Plant City*
9/23: Lennard
9/30: @ Sumner
10/7: @ Sickles
10/14: Newsome*
10/21: @ Gaither
10/28: Riverview
* Denotes a rivalry game
THE DETAILS
Location: 4748 Cougar Path, Plant City
Established: 1995
Head Coach: Claybo Varnum (second season)
2020 Record: 8-3 (2-2 district)
ROSTER
3 Jayden Forte DB Jr.
4 Elian Gonzales LB/WR Sr.
6 Jayden Cornelius WR/DB So.
7 Michael Ryan QB So.
8 Xavier Peavy DB/WR Sr.
9 Ajani Peavy WR So.
10 Hunter Smith QB So.
11 Ty Merkle DL Sr.
12 Calub Connell RB Sr.
14 AJ Elliot K Sr.
15 Treon Williams-Scott WR Fr.
20 Brant Bovee LB Jr.
21 Xavier Irizarry QB So.
22 Corbin Keiser DB So.
24 Landon Snapp LB Fr.
25 Rashad Joyner DB So.
26 Alex Daley RB Jr.
27 Luther Scarlett WR/LB Jr.
28 Tyler Wiggins DB Sr.
32 Kendrick Jean RB Jr.
36 Jacob Reed LB Sr.
40 Jerome Parham DL Jr.
44 Hale Sollmann DL So.
45 Justin Zinke LB So.
48 Anthony Giovenco DL Sr.
49 Connor Perkkio LS Sr.
50 Caden Miller OL Sr.
51 Steven Williams LB Jr.
52 Gage Aroz DL Sr.
55 Greg Smith DL Sr.
56 Tanner Peirce OL Sr.
57 Ajai Brown OL Sr.
58 Luke Machristie OL Jr.
62 Austin English OL Jr.
63 Blake Chancey OL Jr.
74 AJ Hancock OL Jr.
78 Alexander Smith OL Jr.
88 Jaden Padgett WR Fr.
99 Aidan Piatt DL So.