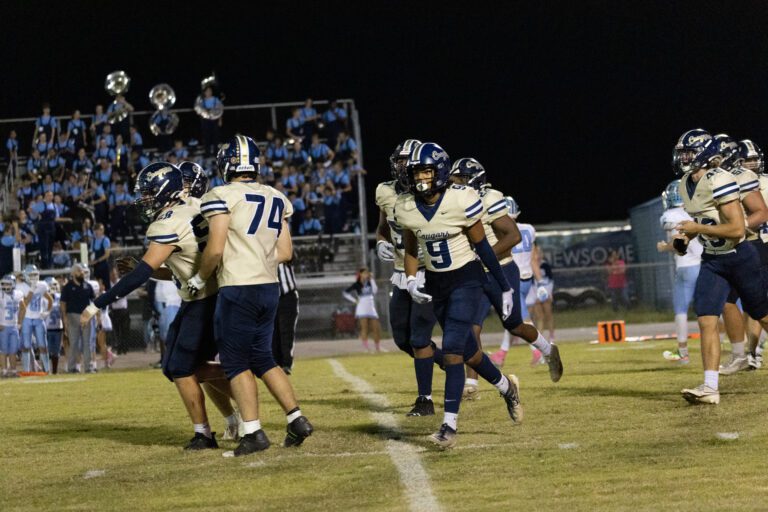 The Cougars clawed out a 34-33 win over the Wolves on Friday to claim their first district title since 2014.
Durant hosted Newsome on Friday night, escaping with a 34-33 win in overtime to claim their first victory over the Wolves in four years, along with their first district title since 2014.
After winning the opening coin toss, Durant deferred to the second half and Newsome took over to start the contest. After forcing a punt, the Cougars moved right down the field and down to the one-yard line on a long completion to receiver Jeremiah Gines before running back Calub Connell punched in the short touchdown carry two plays later to give Durant a 6-0 lead. On the ensuing kickoff the Cougars stole a second possession as they jumped on the short kickoff from A.J. Elliott, once again driving right down the field and putting another touchdown on the board to take a 13-0 first quarter lead.
But Newsome would respond quickly, scoring on their next possession to cut the Durant lead to 13-7 early in the second quarter. The Cougars were forced to punt on their following possession and Newsome battled back once again with a long scoring drive to take a 14-13 lead that they would carry into the locker room for halftime.
Coming out of halftime, Durant opened the half with a touchdown drive but were unable to convert on the two-point conversion attempt, leaving them with a 19-14 lead before Newsome responded with a scoring drive of their own, failing a two-point conversion themselves after a pass breakup from Gines to leave the score at 20-19. Both offenses failed to put points on the board for much of the second half but in the waning moments of the fourth quarter – still leading 20-19 – Newsome battled their way into Durant territory, inside the 10-yard line. With just over a minute left, Durant conceded a late touchdown to ensure that they get one more possession, now trailing 27-19. Durant recovered the squib kick and took over just short of midfield before quickly moving into Newsome territory on a pass to Connell out of the backfield. Two completions to Gines put Durant down near the Newsome goal line when quarterback Mike Ryan took the quarterback keeper through traffic and into the end zone with the help of his offensive linemen to leave Durant trailing just 27-25 and in need of a two-point conversion to force overtime. On the two-point attempt, Ryan rolled out to his right and dove into the end zone to tie the game at 27-27.
Heading to overtime, Newsome won the coin toss and deferred to give Durant the first offensive possession starting at the 10-yard line. On the Cougars' first play, Ryan tucked the ball and made his way down to the two-yard line before being tackled out of bounds and Connell subsequently punched in the go-ahead score on second down to give Durant a 34-27 lead following the extra point from Elliott. On their ensuing possession, Newsome found the end zone on three plays to bring the score to 34-33, an extra point away from extending the overtime period, but sophomore linebacker Hale Sollmann came up with a massive block on the kick to thwart the Newsome attempt and clinch the victory for the Cougars.
"I've been here for 16 years, my dad's been here for 20 and we've never seen a more improbable, 'what in the world, I can't believe this is happening,' game," Varnum said.
After transferring from Newsome to Durant to start this year, Ryan had quite possibly the most impressive game of his high school career against his former school on Friday as he finished the contest with 15 completions on 26 attempts for a career-high 249 passing yards – soaring past his previous high of 160 passing yards against Plant City earlier in the season – while adding 47 rushing yards and three rushing touchdowns on a team-high 14 carries.
"For being a sophomore, going along with our 'ride the middle' phrase, Mike just never gets excited, he never gets down, he just wears the same face all the time and I know this game meant a lot to him," Varnum said. "It's the same Mike that we've seen week after week. Even at Sickles we knew that we were so close offensively to just blowing the top off of it. And he's matured every week. His decision-making has gotten better and better, knock on wood he has no turnovers yet, he's really smart with the ball, he trusts his guys to be where they're supposed to be, to me he's playing beyond his years. I mean, for the first time ever starting as a quarterback, he's doing a phenomenal job. It's a combination because he's really athletic, he's really smart and things don't get to him."
Behind Ryan, Connell added 47 rushing yards and two touchdowns on 12 carries, complimented by 15 yards on six carries from sophomore Jarelle Franklin. For Connell, it was his first opportunity to handle a relatively full workload in the backfield since September as a groin injury left him extremely limited against Sumner and then forced him to miss the Cougars' contest against Sickles.
"In the game you don't really evaluate what his cuts look like or what he's doing but going back and looking at the film, it was just nice to see him running again," Varnum said. "We've been watching him run for four years but the cuts he makes, dragging people with him when he shouldn't, people hate defending him. He's so good, he's so strong so it was nice to have him out there but it's just nice to have him playing again. I know he was upset having that groin injury, it's his senior year and he wants to go out and get as many carries as he can so I think that his presence just picks everyone up."
On the outside, Gines paced all receivers with nine receptions for 110 yards, followed by Jayden Cornelius with 48 yards on two receptions, Zaevion Jordan with 40 yards on one reception, Connell with 26 yards on one reception, Jayden Forte with 13 yards on one reception and Elian Gonzalez with 12 yards on one reception.
Defensively, junior linebacker Brant Bovee led the unit with 13 total tackles in the absence of his counterpart Jacob Reed who is currently out with a knee injury, followed by senior defensive backs Elian Gonzales with nine tackles and Xavier Peavy with seven tackles.Defensive back Zaevion Jordan and defensive linemen Gage Aroz and Greg Smith all had one tackle for loss each while Aroz notched the Cougars' lone sack on the night.
Along with clinching the district title, Friday's win moves the Cougars to 7-1 on the season and gives the Cougars a legitimate chance to post their highest single-season win total in over a decade with two games remaining in the regular season. With an 8-3 record in Varnum's first season at the helm in 2021, it matched Durant's best record since going 8-3 in 2016. Two more wins would mark their highest win total since finishing the 2012 season at 11-1. Durant will return to action this Friday as they head to Gaither before returning home to finish their regular season against Riverview the following week.
"I'd say that last year our goal was to make the playoffs, this year our goal was to win the district," Varnum said. "Maybe it's the right time and the right place because it has nothing to do with me, it has everything to do with the people around, the kids, the mentality. Maybe we needed new life, maybe we just needed a fresh perspective and people to believe in this place again like I've always believed in it. I don't know, it's a crazy combination of a lot of things but most of all it's these kids and these coaches, the people in this place believing in what we're doing."