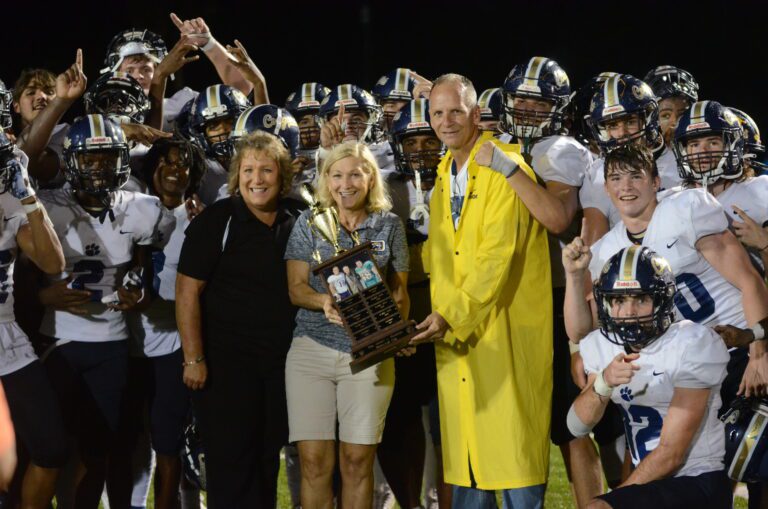 After Durant claimed their second consecutive Redman Cup victory on Friday, Strawberry Crest continued their historic run with a huge victory over Leto.
Before Friday's Redman Cup matchup between Plant City and Durant kicked off, Plant City High School celebrated the 50th anniversary since moving to their current campus as one unified community high school with an open house.
The school was filled with alumni as dozens of former students walked the halls at PCHS, enjoying refreshments and memories before heading out to the athletic facility as Plant City officially christened their brand new turf football field as "Raider Field."
"We can all identify as Raiders," principal Susan Sullivan said. "So I felt strongly about the new name being a sense of unity and a name that people can relate to 45 years down the road."
And despite weather delaying the game's start time, the annual rivalry matchup carried on as Durant battled back from a halftime deficit to take a 21-13 win over Plant City and a Redman Cup for the second consecutive year.
Durant won the opening coin toss and deferred to the second half, kicking off to Plant City as the Raiders jumped on the short kick to take over at their own 48-yard line. Defense would dominate the first quarter as neither team could find their rhythm on offense early, with both sides turning the ball over on downs in enemy territory as they failed to convert fourth down chances on each of their first drives.
On Plant City's second drive they ran just three plays before a third down fumble turned the ball back over to Durant, recovered by outside linebacker Luther Scarlett, and the Cougars started their drive at the Plant City 37-yard line. But despite the great starting field position, Durant was once again forced to punt just three plays later.
Durant opened the scoring in the second quarter. After taking over at their own 39-yard line, carries from running backs Calub Connell and Alex Daley set up a third-and-four at their own 45-yard line when quarterback Mike Ryan dropped back and found receiver Elian Gonzalez over the middle of the field for a big completion down to the Plant City 16-yard line. The Cougars would eventually work their way down inside the five and on a third-and-goal carry from the one, Daley took a carry up the middle, through traffic and into the end zone to give Durant a 6-0 lead.
The lead would be short-lived however as Plant City finally got their offense moving as well, answering back on the ensuing drive. Taking over near midfield, Jaylen Smith hauled in a pass and took it down to the Durant 35. Three plays later, following a pair of carries from running back Jaden McCants and a short completion to Smith, the Raiders were facing a fourth-and-two at the 27 when Donta Jenkins took a reverse to the right side for a first down at the 18. As quickly as Plant City moved up the field however, they were moved back. A holding penalty set up first-and-21 and a short gain left them with second-and-19 when receiver Trae'veon Smith went up and snagged a jump ball from quarterback D.J. Howard before finding some open field and streaking down the left sideline for a touchdown to give Plant City a 7-6 lead with just 33 seconds left in the first half, a lead they would carry into the locker room.
Durant received the kickoff to start the second half and both teams once again exchanged punts and on the Cougars' second drive of the half they worked their way down the field. After defensive back/receiver Jayden Forte fielded the Plant City punt deep in his own territory and worked his way up to the 24, 15 yards were tacked on due to a personal foul at the end of the play, starting Durant out at the 39. Daley immediately took a first down carry up near midfield and on third-and-six Ryan connected with receiver/defensive back Jeremiah Gines on a vertical route down the right sideline to the Plant City five-yard line. A pair of tackles for loss from Plant City, a holding penalty on Durant and a sack on third down set up a massive fourth-and-goal from the 32-yard line. Despite the distance, Durant lined up to go for it. Ryan's pass to the end zone intended for Gines fell incomplete but the Cougars ultimately were granted a first down at the 20-yard line and given new life following a roughing the passer penalty. After making their way inside the 10-yard line for yet another first-and-goal, Daley eventually found the end zone as he battled through tackles for a 10-yard touchdown run on second-and-goal, his second score of the night. On the two-point conversion, Durant lined up in the swinging gate formation, the offensive line lined up on the left side of the field, Ryan lined up out wide to the right and Connell at quarterback in the gun. Defensive back/receiver Jayden Cornelius went into motion prior to the snap, taking the handoff from Connell on a sweep to the right side before flipping the ball to a wide open Ryan in the end zone, converting on the two-point attempt and giving Durant a 14-7 lead.
As quickly as the Cougars took their lead back, they gained possession once again as Ryan (also a kicker for Durant) recovered his own onside kick on the ensuing kickoff to give Durant the ball right back at the Plant City 49. And on third-and-five from the 45, Ryan came up big again as he connected with receiver Treon Williams for a huge gain all the way down to the Plant City one-yard line.
While Durant had largely utilized a wildcat formation the previous week against Bloomingdale, with Connell handling 22 of the team's 33 carries and dominating the snap count at quarterback, Ryan stepped right back in under center and came up with a number of big throws for the Cougars when they needed them on Friday. Ryan finished the contest with nine completions on 12 attempts for a season-high 160 passing yards.
"Mike is kind of maturing right before our eyes," Varnum said. "It's really nice to see him in some pressure situations and not panic. He's really good with the ball, he doesn't turn it over, and he's a sophomore, he's only 15 years old, so he's got a bright future with us here."
One play later, Daley dove forward for his third score of the night to give the Cougars a 21-7 lead with 7:27 remaining.
"Alex Daley is a gamer," Varnum said. "Last week against Bloomingdale he blocked on every play, he only had about seven carries, and I talked to him Saturday morning and said be patient, trust what we're doing, trust us and it's going to pay off. It did, it really did."
While Connell still led the Durant backfield with 22 carries for 40 yards against Plant City, Daley shined bright with 36 rushing yards and three touchdowns over his 11 carries.
But despite suddenly finding themselves trailing by two scores in what seemed like the blink of an eye, Plant City wouldn't roll over as they marched right down the field late in the quarter, finding the end zone on a carry to the left from Jenkins to cut the Durant lead to 21-13 with 2:37 left.
Durant recovered the Raiders' onside kick attempt and looked to burn down the clock, but ultimately found themselves facing a fourth-and-two at the Plant City 38. Lining up for a punt, Durant attempted to convert a first down on a direct snap to Gonzalez as he lined up in punt protection, but the Plant City defense stood strong to thwart the attempt and give themselves one more comeback chance as they took over at their own 37 with 54 seconds and no timeouts remaining. But despite moving the ball up across midfield, Gines sealed the Durant victory with a diving interception on a pass over the middle of the field with 30 seconds left, allowing the Cougars to roll out in victory formation, take one final knee and run out the clock on their second consecutive Redman Cup victory.
"I'll tell you what, we're a second half football team," Varnum said. "These guys just refuse to go down without swinging in the second half. Last week we came up a little short but tonight it was a pure effort thing. We had our backs against the wall and got a little defeated. Plant City's been down a little bit, people wanted to say this week that we were going to kill them, but we knew that we would have a fight. You don't ever just show up here at Plant City and walk out with something, so we knew we had a battle but the resiliency from our guys is unmatched. Week in and week out we show up in the second half and play well."
The win not only moves Durant to 3-1 on the season as Plant City falls to 0-4, but Varnum is now 2-0 in Redman Cup games since taking over as head coach. Next week the Cougars will play host to Lennard as the Raiders head to Hillsborough High School.
While Plant City and Durant were ultimately able to play their game despite Friday's weather delay, Strawberry Crest was forced to push their Week 4 matchup with Leto back to Monday. Despite the inconvenience, the Chargers were able to continue their winning streak with a 43-0 victory over the Falcons this week.
Strawberry Crest successfully clinched their best start to a season in school history last week as they moved to 3-0 with a 42-8 victory over Robinson – a game in which six different players scored a rushing touchdown for the Chargers as they racked up their highest single-game point total since 2012, only to top it in Week 4 – and kept the ball rolling.
"We're doing a good job on offense and we believe that we can attack multiple defenses and that we can be very multiple on offense," head coach Phillip Prior said. "You're going to see something that's maybe a little bit different from us every week. The formations that we got into last week, we didn't even touch tonight. We can be very multiple because we can have so many guys touch the ball, that's what's going to make us so impactful."
Crest took the opening kickoff and started their drive all the way back at their own six-yard line after a rolling kick pinned them back. They would move the ball up past their own 40-yard line but ultimately turn the ball over on downs to Leto.
After both teams exchanged punts, Leto took over at the 24-yard line for their third drive of the night. On first down, receiver/defensive back Marcus Springfield swallowed up an attempted screen pass for a tackle in the Leto backfield, forcing the Falcons' back to the 19. Senior linebacker Daniel Cruz then got to the quarterback for a sack at the 10-yard line on second down and a tackle for loss on third left Leto punting from their own end zone, down at the five-yard line. A low snap on the ensuing punt attempt rolled out of the back of the end zone and Crest took their first lead of the evening at 2-0.
The Chargers' hauled in the safety kick at their own 42 and moved down to the Leto 25-yard line as the first quarter came to an end and quarterback Jordan Lewis found Springfield over the middle of the field to start the second quarter one play later, battling through two defensive backs to find the end zone and give Crest a 9-0 lead.
Leto was once again punting from deep inside their own territory following their next short drive and Crest was able to gain possession in Falcons' territory at the 37-yard line. Three plays later, after moving into the red zone and down to the 11-yard line, Lewis took a quarterback keeper to the right side for another Crest touchdown, extending the Chargers' lead to 16-0.
The Chargers' defense would remain steady, smothering any attempt from Leto to get their offense moving, and Crest tacked on one more first half touchdown as Lewis found sophomore receiver/defensive back Thomothee Woods open on a crosser over the middle of the field, dashing to the edge and up the right sideline for a 30-yard score and Lewis' second passing touchdown of the night as the Chargers took a 22-0 lead into halftime.
The second half picked up right where the first left off. On the Chargers' first drive of the third, quarter, Ryan Weems punched in a two-yard touchdown to extend the lead to 29-0. In the fourth, with senior Coby Burger in at quarterback, senior fullback Radek Shah hauled in a screen pass to the right side and plowed through a would-be tackler as he made his way into the end zone on a 39-yard touchdown. With a 36-0 lead, the game then moved to a running clock with 9:00 left.
Crest tacked on one last touchdown by way of a pick-six from senior Jaden Baker and sealed a 43-0 victory for their fourth straight win to start the season.
"It feels great," Prior said. "Hats off to Leto, those guys played really hard, they gave a lot of effort and made us earn that fourth win for sure. But I'll tell you, it means a lot to these guys. These guys have been working, they've worked hard, they've stuck together, we believe that we've built a great culture over here and being 4-0 has put us in position to try and achieve some of the goals that we've set for the season. A district championship, a playoff birth, all of those things are still on the table because we're 4-0."
While 4-0 is a massive accomplishment in and of itself, Crest has gotten there in impressive fashion. Outscoring their opponents 85-8 over the past two weeks, with one defensive touchdown and one on special teams over that span, the Chargers have averaged 33 points per game this season while allowing just 15 total points allowed and two shutouts.
"Our defense is playing at a very elite level and we play complimentary football," Prior said. "We pride ourselves on playing great defense, we want to win on special teams and commit to running the football. That's what we've built our program on, that's what we're going to stick to and we've done a great job of it."