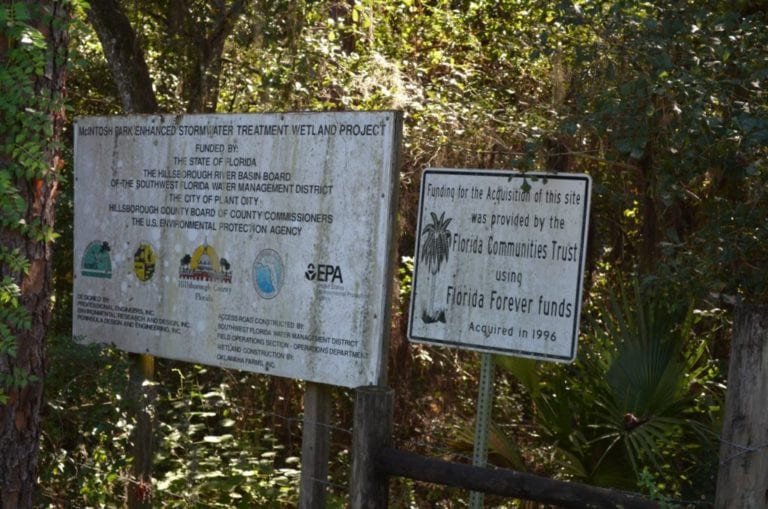 For years, the City of Plant City has eyed McIntosh Park as a future gem for the city. The first phase of designs is now officially underway.
The timeline is starting to materialize for the long-awaited renovations to McIntosh Regional Park.
City Manager Bill McDaniel said at this point he can readily share the vision, but the details are currently literally on the drawing board. Essentially McIntosh Park, a section of land off of Paul S. Buchman Highway and East Knights Griffin Road, will be split into two different projects. The upland phase along the northern edge of the property will be tackled first. Then the city will move into the wetland phase, which is the largest portion of the total development.
McDaniel said the wetland phase has "a lot of moving pieces still in place to bring that thing together," but he confirmed the upland aspect was more or less a straightforward development plan.
"It's going to essentially consist of a parking lot, a construction entrance, two miles of trails with some amenities and I'm wanting to build a canopy walk and observation tower as part of that project," McDaniel said. "This agreement is this part, in the upland phase. The wetland phase is when we start getting into like 120-acre lake/boardwalks and observation decks and docks and whatever you want to call them. That's the next big phase, but this one gets everything started."
The city entered into a contact with Hydro Solutions Consulting, LLC for all design, permitting, bidding, construction, administration and grant reporting support services for the planned improvements to McIntosh Regional Park following a commission meeting on Oct. 28. From there Hydro Solutions will take the vision and crunch it down to reality, making sure that the project can be feasible while still checking as many of the city's boxes as possible.
The upland phase will perfectly compliment the future vision of the wetland phase. A structured parking lot makes the entire area easily accessible and opens it up to the public while the construction entrance will support everything needed for the upland phase as well as help segue seamlessly into the wetland phase.
McDaniel joked that while he knows for sure trails will be going through the territory he is "just determined" to get a canopy walk on the property, which he believes will act as a major draw for the community. The dream is to have the longest canopy walk in the state, but he said they'll need to see what is feasible once they get more information back from designs and bids.
"I think it's going to be a great amenity for our city and I think it will also end up, even with this first phase if we're able to build the canopy walk and everything like I'm envisioning, it's going to become a regional attraction. I think it will bring people from all over the area that want to visit it. Then as we go forward, if we're successful in getting the wetland part, it's going to have so many benefits in water management, water quality, education and it will create a natural environment amenity for everybody to enjoy."