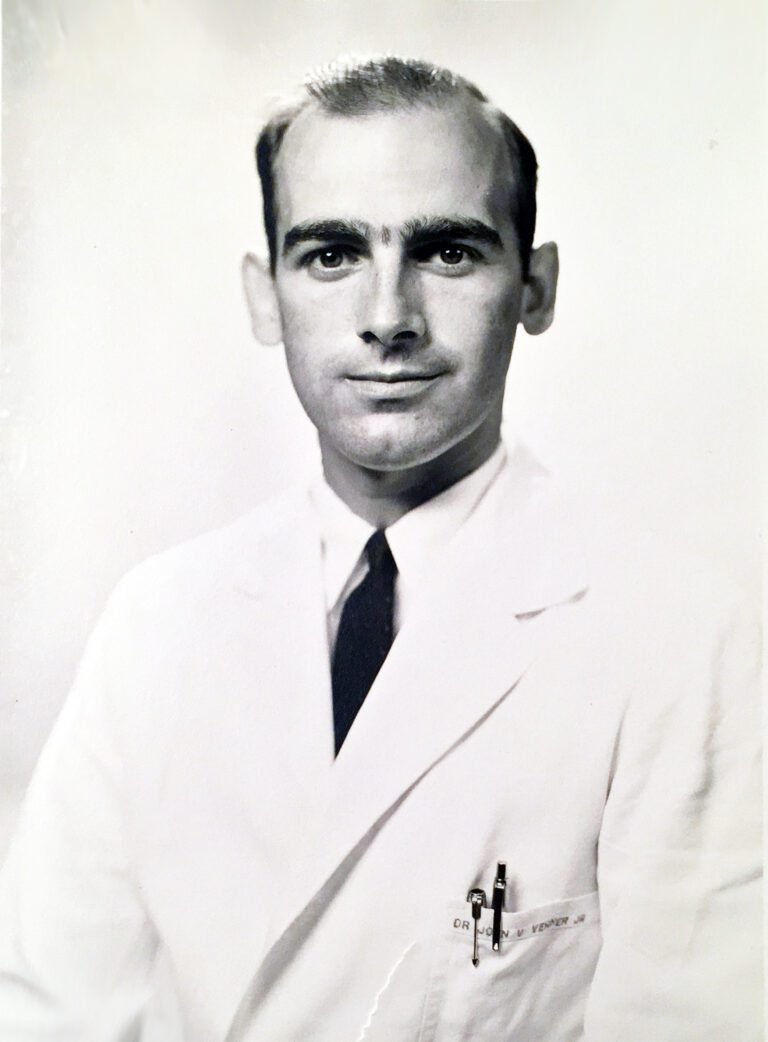 Local physician was known for community outreach.
Dr. John Victor Verner Jr., an accomplished physician and businessman who resided in Plant City, passed away on Friday, March 4.
He was born on April 26, 1927, in Greenville, South Carolina to John, Sr. and Ruth Groce Verner. After graduation from high school, he enlisted on his 17th birthday in the Army Specialized Training Reserve Program, during which he would be sent to college until age 18, and after which he would enter active duty in the infantry. He took double courses and got two years' credit in one year before entering basic training. Upon completion, he became the only one from his battalion accepted to Officer Candidate School. He was commissioned as a second lieutenant in the infantry at age 18, the youngest in his class. He served out the remaining years of active duty in the Military Government Operation in Seoul, Korea, working with the US effort to aid decimated Korea that had survived after long Japanese occupation.
After his service, he completed his undergraduate studies at Duke University, where he joined Sigma Chi fraternity and was on the Freshman Advisory Committee. He entered Duke Medical School in 1950, also the year he met and married his college sweetheart Sally Prosser at the First United Methodist Church of Plant City, Florida. He received his medical degree in 1954 as second in his class academically, having been elected to the honorary medical society Alpha Omega Alpha and winning the Mosby Award for scholarship.
"He read extensively," said Robert Trinkle, a friend of Verner. "In his profession, he was at the top."
Verner completed five years of postgraduate training at Duke and the University of Michigan, culminating as chief resident in medicine at Duke during the fourth year. After a year of basic research in endocrinology, he was selected to join the exclusive Private Diagnostic Clinic at Duke Hospital, and to become a member of the faculty. While still in training he published 25 clinical papers in medical journals, including one in which he described a heretofore unheard of new clinical disease which bears his name today (Verner/Morrison Syndrome) and will be found in medical textbooks. This paper was later listed as one of the "Classics in Medicine," signifying that it had been listed in other papers often enough to qualify.
Bob Madden was another longtime friend of Verner and wasn't surprised by all of his accomplishments.
"His mind worked like a machine gun," Madden said. "The breath and speed of which he could process information. Just a brilliant man."
After three years of research, teaching, and practicing medicine, he realized that his heart was in the practice. After 15 years at Duke, he joined Watson Clinic in Lakeland where he practiced for 35 years, serving as a member of the executive committee, chairman of the finance committee, chairman of the Department of Medicine at Lakeland Regional Hospital, president of the West Coast Academy of Medicine, and chairman of the Florida Society of Medicine.
At Watson Clinic, he treated the family of Ebbie Pou-Doherty, who knew Verner all of her life, since growing up in Plant City.
"He was our family's doctor, for my entire family," she said. "My parents, my grandparents, everyone."
After Pou-Doherty's father passed away, she began to refer to Verner as "Papa John."
For several years, Verner taught as a clinical associate professor of medicine at the University of South Florida. Additionally, he was a long-time member of the Lakeland Yacht and Country Club, serving on the board, and was a charter member of the Lone Palm Golf Club.
He was honored to receive a direct fellowship to the American College of Physicians and to serve two terms, or six years, as a governor of the Board of Internal Medicine, the national board which tests internists to certify them for excellence in the field. He also spoke at numerous meetings in the U.S. and three foreign countries, the latter being to present the syndrome which he had first described at Duke. He was quoted in a book by Pekkanen as one of the best doctors in the U.S. and was listed in "Who's Who in the South and Southwest" and "Who's Who in American Medicine." He was recalled to Duke in 1972 to receive the Distinguished Alumnus Award.
During his 35 years of practice in Lakeland he always had a listed telephone number and answered his own calls night or day, making him much loved by his patients. Many believed him to be, as Dr. Stead, the physician in chief at Duke Hospital had described him when asked for a reference. His short appraisal was, "John Verner is the best doctor Duke University has ever trained."
Twenty years before retirement from medicine, realizing that he would need to take over the family business interests eventually, he began to study economics and to make investments. He had an able mentor in his father-in-law, Lew Prosser. He said he was reprogramming his brain to be as filled with economic information and experience as it had been earlier in mastering the field of medicine. Knowing that doctors were noted to be poor businessmen, he was determined to be an exception to that rule, and he was.
He became successful in establishing a company for himself, erecting buildings for commercial and residential space.
"We developed office complexes and single-family subdivisions," Madden said. "My reporting was to Dr. Verner. He was a good boss. It was a delight to be able to work for him. Over the years he became a wonderful friend."
Verner and his wife formed the Verner Foundation which has grown to a point that the family can continue making gifts to charitable institutions in perpetuity. He agreed with John Templeton that, "If you're giving while you're living, you're knowing where it's going." This was his greatest joy in later years, being able to give back to the community and educational institutions that he loved. There were major gifts to South Florida Baptist Foundation, YMCA Building, Plant City Veterans Park, First United Methodist Church of Plant City, Plant City Photo Archives, the Salvation Army of Lakeland, which he served as president, and Florida Southern College, where he was on the Board and Executive Committee for many years, receiving an honorary degree as Doctor of Public Service. He was chairman of the board of the First Florida Bank of Lakeland, director of the First Florida Bank of Tampa, and CEO of numerous Plant City corporations.
He said his most important accomplishment was winning and marrying Sally in 1950. They celebrated their 71st wedding anniversary in August of 2021. He was predeceased by his eldest son, John Victor Verner III, and his eldest grandson, Robert Llewellyn German. He is survived by a daughter Sally Lew and her husband Jeff Rucker in Florissant, Colorado; a son James in New York City; and son Ed and his wife Amanda in Plant City; seven grandchildren, and one great grandchild.
John claimed to be a staunch Methodist and an aspiring Christian.
"Ed, your dad was the brightest man I ever knew, a great businessman, an excellent boss, a wonderful friend and a shining example to all," Madden said to Verner's son. "You are mightily blessed. "
A funeral service was held at the United Methodist Church of Plant City on Wednesday, May 9.
In lieu of flowers, consider a gift to the Care Group of First United Methodist Church of Plant City, 303 N. Evers St., Plant City, Florida, 33563.