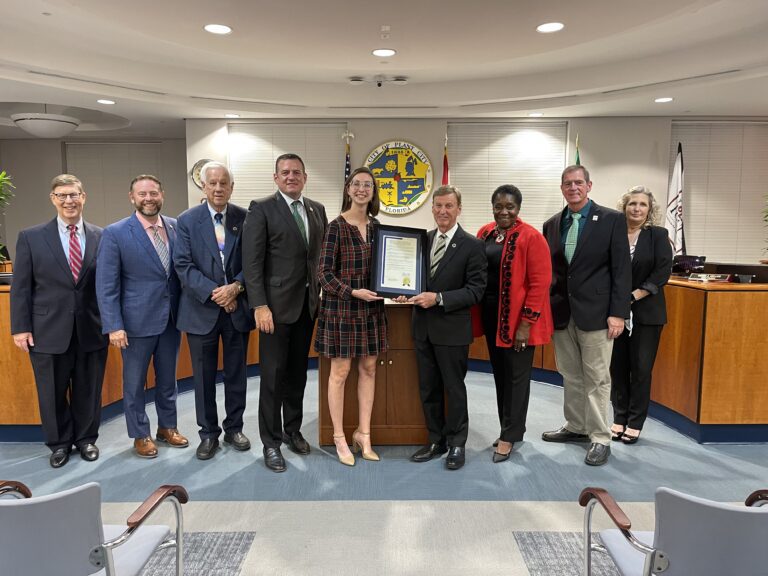 Florida League of Cities presented Dodson with a plaque at this month's commission meeting.
The Florida League of Cities presented Commissioner Bill Dodson with the Mayor John Land Years of Service Award at this month's commission meeting. Named in honor of long-time Apopka Mayor John Land, who served his city for more than 60 years, the award honors elected municipal officials who've reached 20, 25, 30, 35, 40, or 50 years of dedicated municipal service.
Eryn Russell with the Florida League of Cities presented Dodson with a framed resolution and lapel pin for recognition of 20 years continuous service as a city commissioner. "America's government has long relied on its citizens and we want to recognize you for dedicating so many years to this city," she said. "Being elected to serve so many terms on the commission is a high compliment."
Dodson's public service career spans much longer than 20 years. In the 1970's, he served as Plant City's assistant city manager, leaving after two years for terms as assistant city manager of Temple Terrace and then as a city manager of Enfield, N.C. while attending graduate school at N.C. State. Dodson returned to Plant City to join the family tile/brick manufacturing business Florida Brick and Clay Co. Inc. He was introduced to a local young woman and former Strawberry Queen, Silvia Azorin. Dodson fell head-over-heels in love and the couple married in 1976. Not long after, city leaders tapped him to accept an advisory appointment to the Planning Board, a seat he held for 23 years (20 as chairman). He was elected a city commissioner in 2002.
"It's been an honor serving the people of Plant City," said Dodson. He was pensive as he considered his years of service. "Time goes by so quickly especially when you're doing something that you truly love."
Dodson isn't the first commissioner to earn the award. Commissioners Mary Mathis and Michael Sparkman were recognized in 2020 for 20 and 25 years of service, respectively. He recognizes that the continuity of leadership has a positive impact on its success. "When you have people willing to serve that long, to gain experience, it allows the city to move forward in very positive ways," he said. "We've been able to obtain a lot of goals that haven't been easy to obtain."
Mayor Nate Kilton offered congratulations, calling service on the city commission a volunteer position that requires an election. "We really appreciate you as a colleague and friend, it's clear you have a real love for this community," he said.