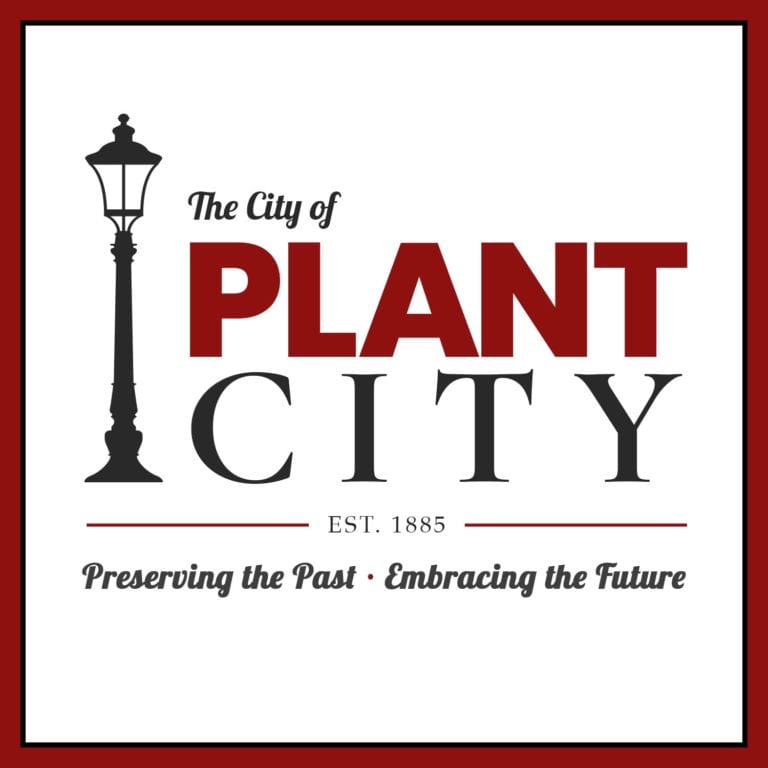 LAST COMMISSION MEETING OF THE YEAR YIELDS BUDGET APPROPRIATIONS, RESOLUTIONS, ACCOLADES AND REZONING.
There was a festive spirit in the air at the last City Commission meeting of the year. Though normally held twice a month, the Dec. 26 meeting was cancelled because of the holiday.
After the call to order by Mayor Nathan Kilton, invocation by Pastor David Delph of First Presbyterian Church of Plant City and pledge of allegiance, City Manager Bill McDaniel encouraged residents to make the most of this time of year. "Plant City is a great place to live, work and play and I hope everyone enjoys the holiday season to the fullest," he said.
During the presentation portion of the meeting, the Florida League of Cities was on-hand to recognize City Commissioner Bill Dodson for his years of municipal service as a city commissioner.
Routine consent agenda items were quickly approved, including approving bids for pump repair and services and awarding a contract with Rep Services, Inc. for the removal and installation of new playground equipment at Burchwood Park. The project, which will cost $57,202.81, is expected to take 32 weeks from the issued purchase order to completion. The new equipment will include ADA accessibility, auditory play elements, a saddle spinner and climbing panel.
A contract change order (increasing the contract fee by $33,630) was also approved with Kimbley-Horn and Associates, Inc., a planning and design engineering firm working on the Collins Street Complete Street Improvement project. The fee is for design modifications at Renfro Street right-of-way east of Collins Street, modifications to the Street & Pedestrian Lighting system and additional coordination of private utility relocation. The project is currently approaching design completion, including approval through the Florida Department of Transportation. Construction is anticipated to be bid in April 2023.
A resolution was approved to increase internet speeds for the Police Department. Its current contract with Spectrum Services includes 100 megabits per second (mbps) download and 10 mbps upload speeds, comparable to residential internet service, which is not sufficient for its infrastructure needs. The new service, which will cost $62,134 for a three-year contract, includes one gigabyte download (1,000 mbps) and one gigabyte upload speeds.
A resolution regarding the Wetland Impact Approval and Mitigation Agreement, related to road widening on Turkey Creek Road and the impact on 2.11 acres of wetland and potential stormwater runoff, was also approved. Although the property is owned by the city, the roadway improvements are being constructed by Hillsborough County. Under this Agreement, Hillsborough County will be responsible to perform construction of the wetland mitigation on the property.
The terms for Plant City Planning Board members John Haney and Jeremy Burris expire on Jan. 1. Members of the seven-person board serve three-year terms. Both members were reappointed to serve an additional term. The City Commission approved the appointments.
The terms for Plant City Housing Authority Board Commissioner Jon Poppell and Resident Commissioner Judy Picket's expire on Jan. 1. Members of the five-person board serve four-year terms. Poppell was reappointed to serve another term as Commissioner. Picket was not seeking reappointment. Florida law provides that the "Mayor, with approval of the governing body" makes appointments for Housing Authority members. Maribel Agosto was appointed as the new Resident Commissioner. The City Commission approved the appointments.
"We're grateful for anyone who wants to serve on these boards," said Mayor Nate Kilton.
A resolution ratifying a collective bargaining agreement with International Association of Firefighters Local 2103 was ratified.
City Hall will be getting a new rooftop chiller thanks to a resolution authorizing the City Manager to execute an agreement with Johnson Controls, Inc. for $173,994, the lowest bid for the project. The old units, one of which is inoperable, are 13 years old.
The next commission meeting will be held Mon., Jan. 9 at 7:30 p.m. in the City Commission Chambers within City Hall (Nettie Berry Draughon Municipal Building), located at 302 West Reynolds Street.