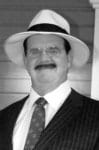 Plant City can't talk about its downtown revitalization without mentioning the work of David Hawthorne and his wife, Vicki. Mr. Hawthorne, responsible for renovating at least seven historic buildings, died from a self-inflicted gunshot wound Jan. 17. He was 62.
Pinellas County Sheriff's Office deputies responded to a welfare call made by neighbors at about 10:45 a.m., Jan. 17, in South Pasadena, where Mr. Hawthorne was staying. The case remains under investigation.
The impact Mr. Hawthorne made to Plant City through his work is undeniable. He, along with Heritage Construction owner Tim Martin, began downtown renovations in 1997. By the time they were done, they had breathed new life into the Pennisular Phone Building, Hookers Department Store, McCrory Department Store, Blacks Department Store, Old Fish Market, the Miller Building and Kilgore Seed Warehouse.
Mr. Hawthorne originally hired Martin to complete work on his historic homes on Calhoun and East Reynolds streets. Hawthorne later asked Martin to join him on his new venture.
"It was a lot of work," Martin said. "We basically took it back to just walls and started over."
They worked for four years to transform the downtown.
"He was a walking calculator," Martin said of Mr. Hawthorne. "He and I would walk through a building, and he would ask me how much it would cost to do this or that, and would add it up in his head and know before we even walked out if it was even worth doing."
Martin said Mr. Hawthorne shared his love of history by renovating the buildings, but that Mr. Hawthorne was also in the business of making money.
Mr. Hawthorne's family settled in 1840, in Plant City. His family still has property north of Varn Road. When he was 18, he joined the U.S. Army. He attended the University of South Florida from 1972 to 1975 and earned a bachelor's degree in business administration. In 1977, he enrolled at the University of Tampa, where he earned his master's degree in business administration.
For 13 years, he worked for Gardinier Inc., a coalition of French companies. In Florida, the company bought phosphatic fertilizer. From 1986 to 1990, Mr. Hawthorne got his first dose of rehabilitating almost-lost causes, working for a couple of businesses that focused on revitalizing failing companies.
In 1990, Mr. Hawthorne took a job with Servico Hotels and Resorts, in West Palm Beach. There, he met Vicki. The two married in 1995. Mr. Hawthorne was serving on the board of directors and acted as chairman of the compensation committee for SuperMedia and was the owner of Black Angus Cattle Company when he died.
The family has not set a time and date for his service with Hopewell Funeral Home.AirCrack