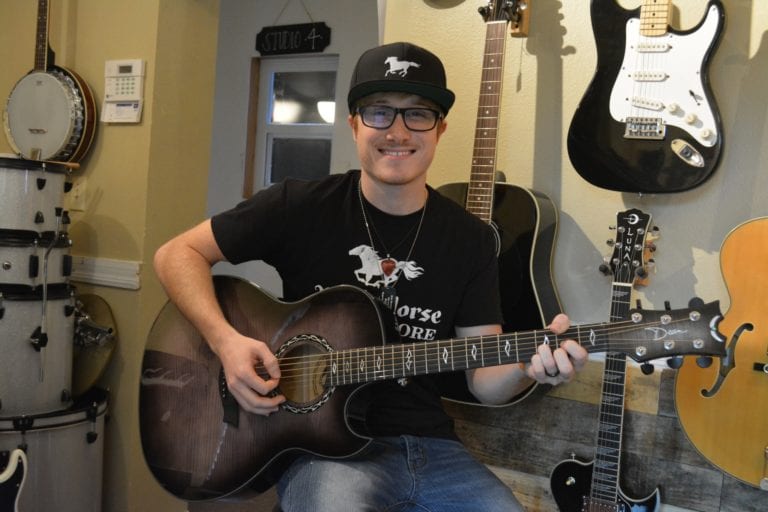 Plant City's very own music store drew a full lineup of talented artists during its inaugural talent show on Saturday.
Dark Horse Music Store drew a packed house Saturday night for its inaugural talent show. Local talent from across the entertainment spectrum showed off their skills in hopes off winning the $500 worth of prizes.
Michael Wilson, founder of Dark Horse, said the store is branching off on a new journey and is ready to dive into
uncovering talent in the local community.
"We felt like it was something the community needed and our goal as a store is to find undiscovered talent and give them a platform," Wilson said. "This is the first step in us kind of moving forward in the direction we want to go as a store."
Just a handful of months ago Dark Horse Music Store transformed from being a standard music shop that also offered lessons and rentals to becoming a full-fledged music venue. Wanting to kick-off the new trajectory with a bang, Wilson said they created a talent show that would let the public glimpse the talent he and his staff see every day.
While audition tapes were rolling in his staff was "literally screwing the stage together" in the front of the store. Wilson said the idea for the public show came to him three weeks before the set date. Never ones to twiddle their thumbs, the entire staff threw everything they had into breathing life into the new event.
"Without my staff and our judges we never would have been able to put this show together," Wilson said. "They are truly the backbone behind this. We put a lot of hours into three weeks."
More than 20 people applied for a spot in the show and when Saturday came the house reached capacity with more than 150 attendees. Jennifer Morgan, public relations and media representative for the Florida Strawberry Festival, and Amanda Drawdy, Drawdy's Dance School, were the judges for the event and had the difficult task of narrowing the talent down to three winners.
"We had a good idea of the level of talent that is here in Plant City and I think that's what motivated us to do this," Wilson said. "People didn't know that Plant City is just full of raw talent. There are some really serious performers here. Even though we see it all the time, I was still blown away Saturday night."
Some performers played and sang their own songs, others did ethereal covers of classic hits. There was even a puppeteer showing off his skills as his puppets lip-synced to classic hits.
Embi Royal ended up winning the $500 worth of prizes. Jacob Whitmer came in second and Benji Padgett came in third. Deanna Hoy won the people's pick. Due to the high turnout, Wilson said Dark Horse is hoping to make this at least an annual show, if not a quarterly event
Eventually, Wilson said he hopes to make this a partnered event so the massive amount of participants can get to know the other businesses downtown.
For future events, anyone interested in auditioning need only email a cell phone video of their act to the store and they will shortly be told if they made the final cut. Dark Horse is a Christian based business so Wilson said all acts must be family friendly.
The company has only been in Plant City for a little more than a year and a half and they already have begun to make an impact on the local community. It provides lessons, rents products, repairs instruments and works with studios for recording time. It even has a local band service. Wilson said Dark Horse has essentially evolved into a booking agency.
"Our goal is that when people think, 'Where do I want to start or go with my talent?' I want them to think of Dark Horse," Wilson said. "I want them to know that we are a great place to get started, to build their talent and to get discovered."