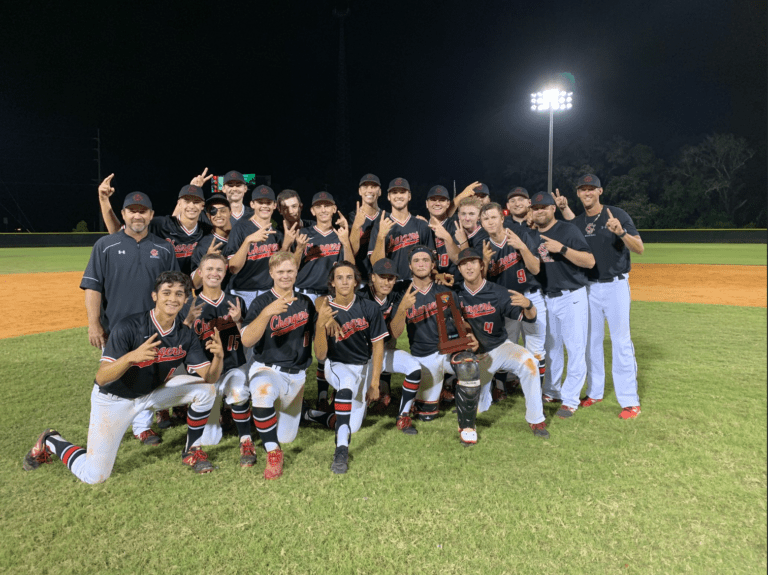 Strawberry Crest picked up an 8-0 win over Wiregrass Ranch on Thursday night.
On April 24, 2018, Strawberry Crest's baseball team took its last loss of the regular season and went on to start a winning streak that carried them all the way to Fort Myers for the FHSAA state semifinals.
On April 25, 2019, the Chargers took their last regular-season loss and went on to start another winning streak, most recently staying red-hot Thursday night and posting their second 8-0 win in as many games — this time against Wiregrass Ranch for the 8A-4 championship.
Heating up at virtually the same time as last season, the most successful in program history, is a good look for this Chargers team as it attempts to get back to states and try to top last year's semifinal appearance. If history really does repeat itself then this Chargers team has a real shot at getting back to Hammond Stadium later this month.
Now is the perfect time for Crest's offense to heat up, as its next opponent will be the Lake Minneola Hawks. Lake Minneola has scored four or more runs in each of its last three games, including a six-run effort in a 7-6 district finale loss to Ocoee that saw the Hawks score all six of their runs in the last two innings, nearly pulling off a wild comeback win.
The Hawks have an 18-9 (3-6 district) overall record and have had little trouble getting on base this season, reaching about 41 percent of the time. The offense is capable of doing some serious damage at the plate (Lake Minneola has scored 13 or more runs in seven games in 2019, two of which were 20 and 22-run efforts), but the team also gives up a lot of runs: their 139 runs allowed trailed only Forest (153) in regular-season action, but in 8A-3 play they gave up a district-high 86 runs. The team ERA is 4.47 and of the team's workhorse pitchers only sophomore Parker Fenton has an ERA below 3.59.
The Hawks-Chargers regional quarterfinal will be played at SCHS at 7 p.m. May 15 and the winner of that game will play the winner of Wiregrass Ranch-Ocoee at 7 p.m. May 18.
The 8A-6 championship game between Bloomingdale and Plant City was postponed due to weather and, skies permitting, the teams will play ball at 7 p.m. tonight at 1 Raider Place.