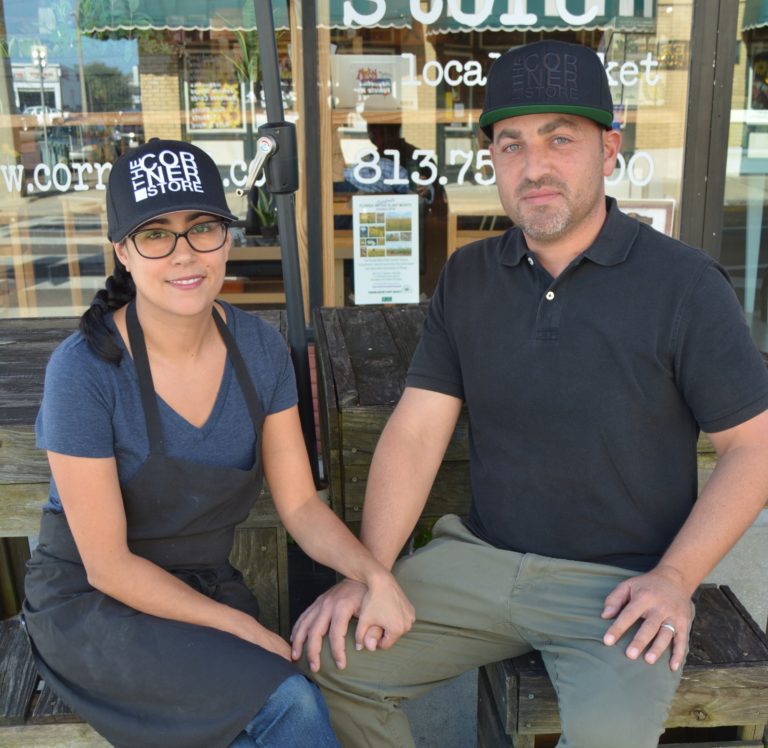 Known for its "Eat Well or Die" mentality, a shop is now open in Lakeland.
The rich flavors of Spanish cuisine, the sizzling spices of India, gourmet cheeses and delicacies from around the globe — that's what Corner Store owners Cynthia and Joe Diaz are offering at their new location in Lakeland.
A fixture on Reynolds Street in Plant City's Historic Downtown, The Corner Store was opened in the Winter Strawberry Capital of the World eight years ago.
Over two years ago, its owners began their next endeavor: creating a specialty, pop-up grocery store in neighboring Lakeland.
The new establishment, at 801 E. Main St. in Lakeland, opened in November. The store offers a variety of gourmet goods and specialty foods, different from items sold at Plant City's location.
The cozy store, which Joe Diaz built out of a pod, will not feature the Corner Store's typical menu items, but will instead focus on selling unique ingredients from Mexico, India, Thailand, Spain and more. A variety of local products also will be available. In addition to ingredients, the shop will sell dips, spreads and prepared salads and sandwiches.
"The gourmet specialty market in Lakeland was our goal, and I think we've done it," Cynthia Diaz said. "We want people to think of us first."
The Diazes decided to open the new pop-up shop after partnering with Jarrid Masse and Robyn Wilson, the owners of The Poor Porker in Lakeland, a specialty shop that started off as a beignet booth.
The Diazes first met Masse and Wilson at a Lakeland farmers market five years ago.
Now, The Corner Store will be located in a hub of other specialty shops that sell local and wholesale goods. and wholesale goods. Though the shops are located near each other, each shop is different. The Main Street spot includes food booths, pop-up shops and designer shop Bearcat & Big 6.
Joe and Cynthia Diaz are hoping to offer something new to Lakeland's cultured palette, without the long lines of big-chain grocers.
"We're really trying to claim that first gourmet grocer in Lakeland," Joe Diaz said.
Cynthia Diaz equates the new store to going to a specialty boutique shop instead of a department store. Shop visitors can enjoy buying unique ingredients for their meals, such as whole vanilla beans and local pickles.
"(Items) won't be found at larger corporate stores," Cynthia Diaz said. "I specifically looked for things that Publix doesn't carry."
Though the new shop will continue to have The Corner Store's mantra of "Eat Well or Die," the Diazes don't view the shop as a health food store. It will not sell vitamins or supplements, but will focus on quality ingredients.
"The food is the medicine," Joe Diaz said.
Contact Emily Topper at etopper@plantcityobserver.com.
IF YOU GO
The Corner Store, Lakeland
Offers gourmet and specialty foods not sold at its Plant City location. Local products such as honey, jams and jellies are available, as are dips, spreads, salads and sandwiches.

Where: 801 E. Main St.
Hours: 10 a.m. to 7 p.m., Thursday to Sunday
Web: TheCornerStore.co