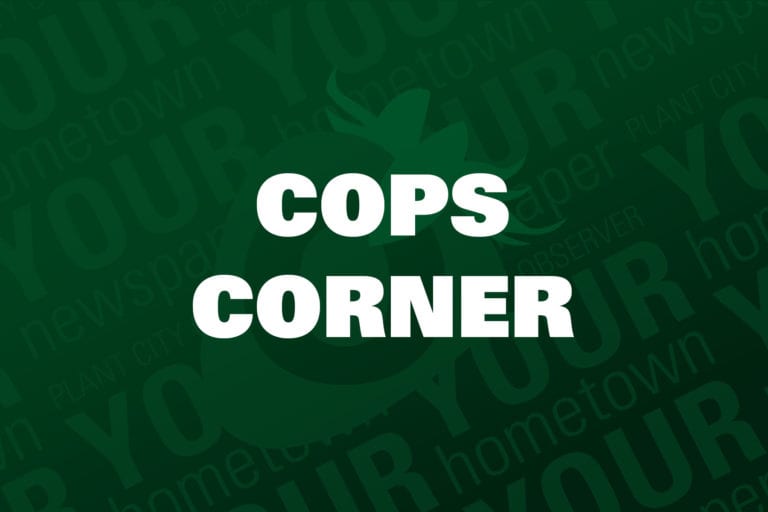 This week on Cops Corner: Plant City Police Department investigated a missing ATV, a swiped wallet, stolen sunglasses, identity theft, a stolen lock box with apartment keys and more.
Sept. 13
Spice up your life
2600 block of
James L. Redman Parkway
Drug investigation: Officers made contact with a man who was arrested for both panhandling and possession of synthetic cannabinoids (spice). He was transported to Orient Road Jail without incident.
Sept. 14
Roaming raptor
1100 block of
North Johnson Road
Theft: This complainant told police that during an unknown time within the past few weeks, someone entered his backyard and stole a black Yamaha Raptor 660R limited edition ATV with faded red flames on the side.
Sept. 15
Aim the asphalt
1200 block of Nosleda Street
Criminal mischief: This complaint reported that during the night of Sept. 14, an unknown suspect busted the windshield of her vehicle with a large piece of asphalt. The complaint requested an incident be documented and signed a waiver. A criminal mischief report was completed. Sept. 16
two for one
2700 block of
Walden Woods Drive
Vehicle burglary: Two victims reported that during the night of Sept. 16, someone entered their vehicles. A Bersa .380 handgun was stolen from one vehicle and a wallet was stolen from another.
Shades for days
2800 block of Holly Bluff Court
Vehicle burglary: This victim was shocked to find two of his sunglasses, Oakley Jupiter Squared and Ray-Ban Wayfarers, were swiped from his vehicle during a burglary on the night of Sept. 16.
road rage
1000 block of North Park Road
Criminal mischief: This victim reported someone poured paint on her car and slit a rear tire.
Sept. 17
slightly off-key
100 block of North Pearl Street
Theft: This victim reported that after placing a lock box with three keys for apartments upon a door, she returned on Sept. 17 and found the box and keys were stolen.
one thing leads
to another
Baker Street/Michigan Avenue
Found property/marijuana: Officers conducted a traffic stop on a black Nissan Sentra that was driving the wrong way on a one-way street. A small amount of marijuana was found in the car and removed.
Sept. 18
Argument gone wrong
300 block of Park Spring Circle
Criminal mischief: This victim said she and her boyfriend got into a verbal argument. He jumped on the hood of her vehicle, causing damage, and put his foot through the front windshield. He then kicked the rear driver's side door in. However, she decided she did not want to press charges.
Sept. 19
Late for work
1 Police Place
Identity theft: This complainant reported he discovered his Social Security number and identity had been used for employment at places he had never been employed by.
fake it till you make it
2400 block of
Roberts Ranch Road
Employee theft: This complainant reported that the termination of an ex-employee of their business did not stop them from continuing to use a work-provided gas card.