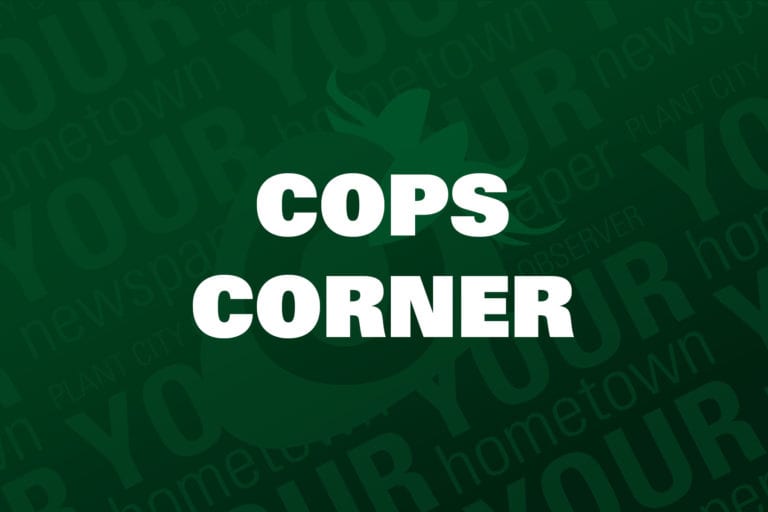 This week on Cops Corner: Plant City Police investigated a stolen gun, a stolen radio, a house fire with a burglary, stolen cash, cashing a stolen check and more.
July 19
Left unattended
1500 block of Gotham Court
Vehicle burglary: This complainant told officers that sometime during the night of July 18, someone entered his unlocked vehicle and removed his 9mm CPX1 Carbon Black handgun and its black leather holster from the center console.
Toll-fare
100 block of North Pearl Street
Vehicle burglary: During the night of July 18, someone entered this complainant's unlocked vehicle and removed a jar of change, which was valued at $25. The complainant requested the incident be documented and then signed a waiver of prosecution.
Jukebox hero
2600 block of
James L. Redman Parkway
Grand theft: An unknown subject went into the store and removed a radio and a set of speakers from the shelf, which were valued at more than $300. They did not pay for the items and simply walked out of the store.
July 20
Blaze of glory
1000 block of East Ohio Street
Burglary: Officers responded to a delayed structure fire and met with the victim and homeowner, who reported that after the fire was extinguished, she checked the home over and realized a television and a .38 revolver were missing from the home.
Caught with a flat,
how 'bout that?
300 block of West Grant Street
Criminal mischief: This complainant reported to officers that, during an unknown time during the night of July 19, someone came up and punctured all four tires on his vehicle, causing all of them to go flat.
Truck envy
1800 block of
East Calhoun Street
Grand theft auto: This victim told officers their teal 1997 Ford F-150 with a Florida tag was stolen.
Full of hot air
1400 block of
East Calhoun Street
Counterfeit: This victim received a $100 counterfeit bill for a private sales transaction for an airsoft pistol. The victim signed a waiver of the incident and the bill was placed into evidence.
July 22
Weekend heist
1400 block of South Evers Street
Business burglary: An employee of the coin laundry business at the above address reported that an unknown suspect broke down an interior door within the business between the days of July 19 and July 22. They stole a 32-inch television and fled the scene.
Robbing the Diamond
1300 block of
West Dr. MLK Boulevard
Grand theft: An employee at Diamond's Farmer's Inc. told officers that an unknown suspect entered the business and stole $1,712.50 in cash.
July 23
For fear of roaches
1400 block of
South Collins Street
Retail theft: Family Dollar employees reported to police that on July 20, an unknown man stole two cans of Ant & Roach spray from the store.
Tool theft
1900 block of
James L. Redman Parkway
Vehicle burglary: This victim told officers six black DeWalt 3×1 tool boxes, which contained $6,000 worth of miscellaneous tools, were stolen from the inside of his van.
July 25
Finding Nemo's home
1000 block of Redbud Circle
Theft: This victim told officers that aquarium equipment was stolen from her front doorstep the week prior to the report.
Not so brilliant plan
2300 block of
Thonotosassa Road
Uttering forged check: Officers responded to an in-progress call. Two subjects were attempting to cash a stolen check at Regions Bank. They were both arrested and transported to Orient Road Jail.
McFlurry rage
2600 block of
Thonotosassa Road
Aggravated assault with a deadly weapon: Officers rushed to the scene after receiving word a customer had pointed a gun at a McDonald's employee.