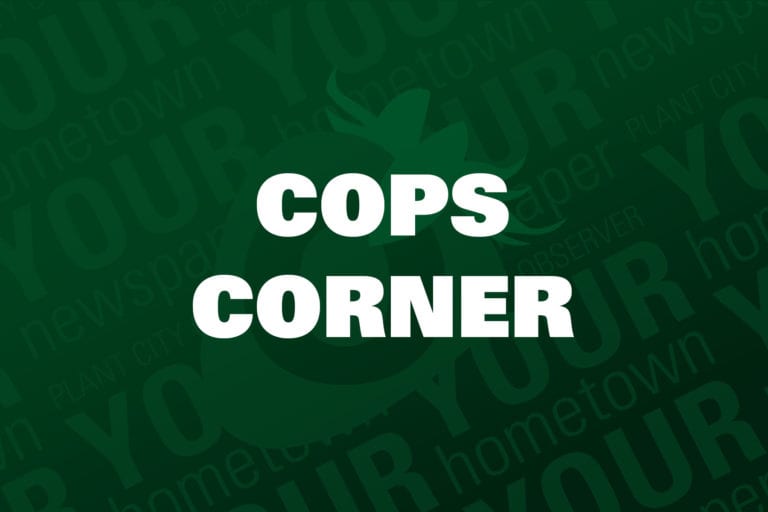 This week on Cops Corner, police investigated fraudulent family members, a slew of bullets, swiped PlayStations, multiple car burglaries and more.
June 22
Bump in the night
700 block of West Warren Street
Criminal mischief: This complainant told officers that during the night of June 21, an unknown suspect broke a 36×24 glass window in her apartment.
Splintered family tree
1400 block of
West Dr. MLK Boulevard
Fraud: A man continuously called this complainant and told her he was a relative. He was requesting she send him $900 for help. Eventually the complainant sent the money only to discover the person was not a relative and that the calls were a scam.
Caught in the act
100 block of East Collins Street
Vehicle burglary/Theft: Officers responded to a report that a vehicle burglary was in progress. A man was found and placed under arrest. He was transported to Orient Road Jail without incident.
Cashing in
2000 block of
North Wheeler Street
Information report: This victim told officers they had given a subject payment for a vehicle. However, the person took the money and left without giving them the vehicle in question.
Raining bullets
600 block of Wiggins Court
Shooting into occupied dwelling and unoccupied vehicle: An unknown subject fired approximately nine shots into an unoccupied parked vehicle in front of the above address, which was occupied at the time of the incident.
June 23
Car crazed
3000 block of
James L. Redman Parkway
Criminal mischief: This complainant told officers that during an unknown time the night of June 22, someone broke the rear passenger side window out of her vehicle and caused damage to the passenger side door.
Treasure shed
1100 block of
East Dr. MLK Boulevard
Theft: This complainant reported to officers that during the evening of June 22, someone entered her unlocked shed and stole a PlayStation 4.
Drug run
West Baker Street/
Alexander Street
Felony drug arrest: Two men were arrested for possession of meth, pills and paraphernalia. They were transported to Orient Road Jail without incident.
June 25
Hefty raid
600 block of Knight Street
Vehicle burglary: During the night of June 24 someone broke out the driver's side window and stole more than $400 worth of items that were stored inside the car.
Rental mayhem
1300 block of
East Dr. MLK Boulevard
Criminal mischief: This person told officers that someone keyed her rental vehicle while it was in her possession.
Rocky road
1900 block of Wood Court
Theft: An employee of Quickcrete reported sometime during the night of June 23 two unknown men unlocked the business gate and drove a white Ford F-350 delivery truck onto the property. They stole $544 worth of rock and fled the scene.
Call the doctor
800 block of East Baker Street
Fraudulent bill: A Share Sun employee told officers a customer attempted to pay for a doctor visit using a fake $10 bill.
June 27
Rough night at the Holiday Inn
2100 block of North Park Road
Grand theft and vehicle burglary: Officers met with the victim who was staying at the Holiday Inn Express. He told them his vehicle had been burglarized. Two suspects were arrested for the incident.