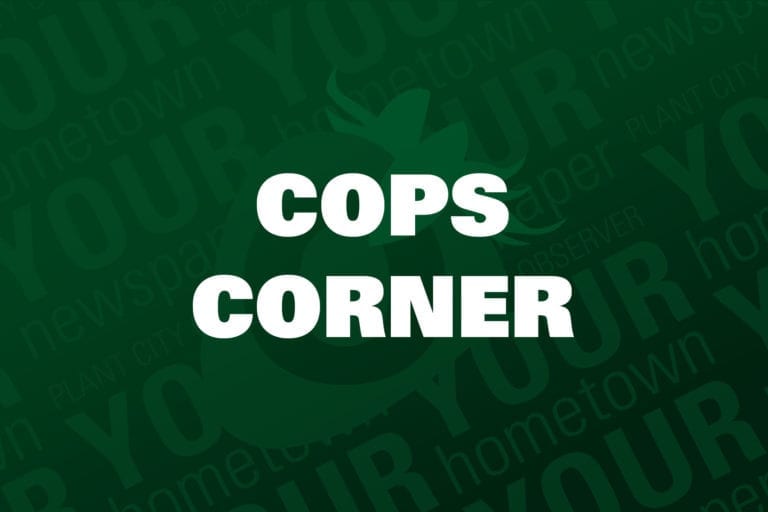 This week on Cops Corner: Plant City Police investigated a swiped ID, a stolen trailer, slashed tires, bike bandits, stolen coins and fraudulent phone calls.
June 28
Swiped id
2000 block of
Greenwood Valley Drive
Vehicle burglary: During the night of June 27, someone entered this victim's vehicle and rummaged though her center console. Upon finding her license and debit cards, they swiped the plastic and disappeared.
Tailing the trailer
1400 Plantation Circle
Trailer theft: This victim reported to police that her black trailer with a ramp on the back was stolen from her home sometime during the last week.
Panhandling pickup
2400 block of
James L. Redman Parkway
Trespass after: Officers responded to a call at 7-Eleven in reference to a subject panhandling. Once they arrived, they realized the man in question had been actively trespassed from the business. He was arrested and transported to Orient Road Jail without incident.
June 29
Cracking the Cloud
1 Police Place
Extortion/Fraud: This victim told officers someone compromised their Cloud service information and the suspect was threatening to disperse it.
On radar at the range
700 block of South Collins Street
Recovered stolen gun: Officers responded to the Plant City Gun Range after receiving a call a man entered the range with a stolen handgun. The gun was recovered.
July 1
Porch pirates
800 block of West Risk Street
Petit theft: This victim had ordered an Apple watch band and a side view mirror for her vehicle online. The total value of the two items was $63. When delivered, the packages were left on the victim's front porch by the mail service and an unknown subject stole them.
Here's Johnny!
300 block of
South Frontage Road
Criminal mischief: This victim parked her vehicle outside of the hotel at the above listed location. When she returned she found three of her tires had been slashed.
Bike bandits
1900 block of Avon Street
Grand theft: A black Giant brand bicycle, valued at $300, was stolen from the front of this residence by an unknown suspect.
July 2
Rental gone wrong
3400 block of North Lake Drive
Scheming to defraud: This complainant told officers he paid a subject for a rental property only to later find out they were not the owner.
Boy, that
escalated quickly
1700 block of
East Alabama Street
Aggravated assault by firearm: Officers responded to the scene after receiving word an argument had taken place that led to a firearm being pointed at the victim.
July 3
Filling up the coin purse
4600 block of West Highway 574
Criminal mischief: An employee of the store at the above listed location told officers an unknown suspect had broken into the company's vacuum machine at an unknown time and stole an unknown amount of change.
Busted on Baker
North Park Road/
East Baker Street
DUI: Officers made contact with a man who was passed out in his vehicle in the middle of Baker Street. He was arrested for Driving Under the Influence.
July 4
Gifting the fraudulent
1 Police Place
Fraud: This victim told officers he was contacted via cell phone by a person claiming to be DEA working with PCPD. The caller told the victim to purchase gift cards and provide the caller with their serial numbers.
A meth-y Fourth
3500 block of West Baker Street
Drug possession: Officers received a call regarding a suspicious person at the laundry mat. Upon arrival, they made contact with a man who was found to be in possession of meth. He was arrested and transported to Orient Road Jail without incident.