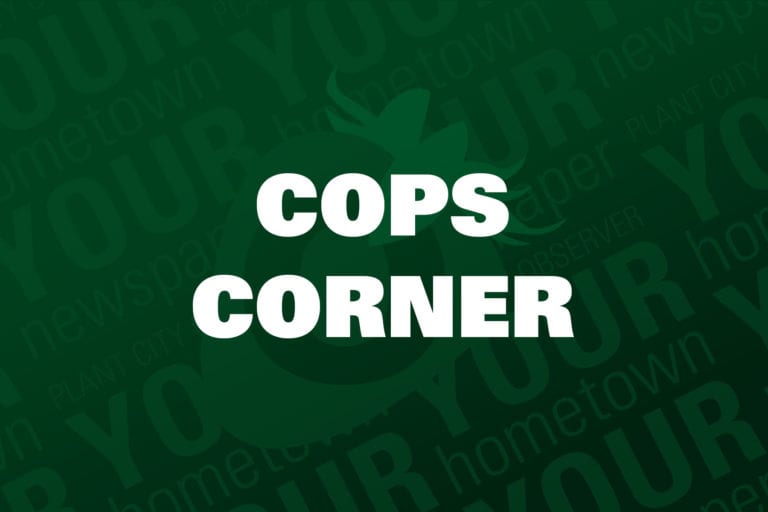 This week on Cops Corner: Plant City Police investigate a fleeing suspect, thousands of dollars in stolen lawn care equipment and a lost cell phone.
May 21
FIRST ROUND'S FREE
2200 block of James L. Redman Pkwy
Theft: Officers responded to a business following the report of a delayed theft of alcohol that had occurred the previous day.
May 23
CRIME IS A FLAT CIRCLE
N. Frontage Rd. / Frontage Park Place
Warrant arrest: Officers noticed a vehicle circling a hotel parking lot. The vehicle then left the parking lot and headed eastbound where officers observed the driver commit a traffic violation. As the officers attempted to conduct a traffic stop, the vehicle quickly turned down a dead-end dirt driveway and the driver attempted to leave the vehicle when he was met by the pursuing officers. The suspect was placed under arrest before suffering a medical issue. He was then transported to South Florida Baptist Hospital and ultimately Orient Road Jail after he was released from the medical facility.
MISSING TAG
W. Baker St. / N. Alexander St.
Drug arrest: Officers conducted a traffic stop on a vehicle with no tag attached. The suspect was then found to be in possession of an illegal substance, was arrested and was transported to Orient Road Jail without incident.
BOLD AND BRASH FOR HARD CASH
1300 block of Crum St.
Robbery Strong Arm: Officers made contact with a victim who claimed that she had been struck before having $2,000 stolen from her.
May 24
TAKE HOME DEPOT
2000 block of N. Frontage Rd.
Burglary: The representative of a lawn care company reported that while their trailer was parked on a car dealership's property over the weekend, an unknown suspect broke open the door and stole over $6,000 worth of lawn care equipment.
HOME RENO-VACANT
1900 block of Johnson Pointe Dr.
Residential Burglary: An individual reported that an unknown suspect entered a home that was under construction and stole nearly $2,000 worth of appliances.
LOST, BUT NOT FOUND
2600 block of James L. Redman Pkwy
Theft: The victim reported that she had dropped her phone without realizing it while shopping at Wal-Mart the previous day. The phone was then taken.
May 25
YOU'LL NEVER CATCH ME, COPPER
700 block of N. Park Rd.
Business burglary: The victim reported that sometime since the previous Saturday, an unknown suspect had broken into the building and stolen multiple pieces of copper.
GRAND THEFT AUTO: PLANT CITY
2800 block of James L. Redman Pkwy
Grand theft auto: Officers responded to a victim that alerted them that her GMC Yukon had been stolen.