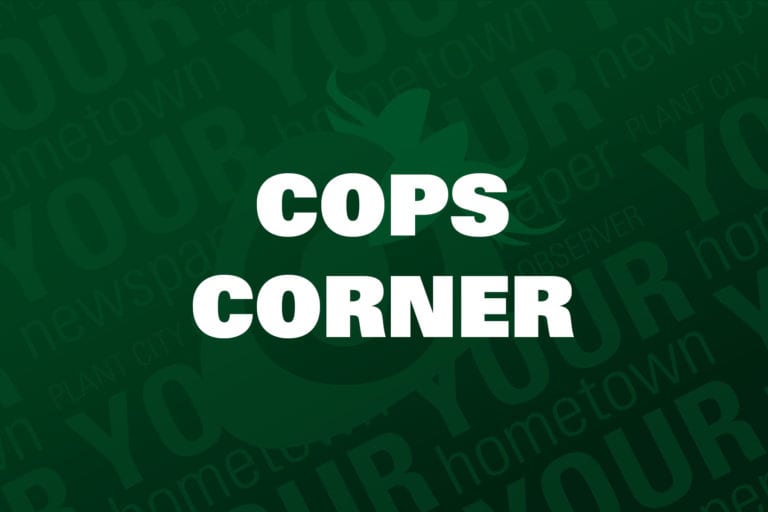 This week on Cops Corner police investigated the case of the missing grill, an unexpected lodger, stolen suitcases and more.
Apri 26
Missing Lincoln and Washington
1700 block of James L. Redman Parkway
Theft: This complainant told officers someone stole $6 from the business. A waiver was signed and no further police assistance was needed or requested.
Midnight snacker
1100 block of East Warren Street
Theft: This complainant told police that sometime between April 25 and April 26 someone snuck into his property and stole his barbecue grill.
No Goodwill in sight
2800 block of James L. Redman Parkway
APAD petit theft: A suspect concealed $55.88 in merchandise from the Goodwill store with an attempt to deprive the victim of their property. The suspect was caught and qualified for APAD.
Cracking the case
2600 block of James L. Redman Parkway
Theft/Criminal mischief: A white man entered Walmart and removed a gold Apple iPhone 6s from the display counter. While he was removing the phone he caused damage to the display counter.
April 27
Airbnb for free
3000 block of Azalea Bloom Drive
Unlawful trespass (waiver report): This complainant told officers someone entered a vacant rental property through an unlocked window. The house was not damaged upon entry and the unknown suspect appeared to only have slept in the residence. The complainant requested to have the incident documented and signed a waiver.
Have suitcase, will travel
200 block of West Alexander Street
Vehicle burglary: This victim told officers someone broke the front and rear passenger window out of the victim's vehicle between 1 and 4 p.m. and removed two suitcases, which were filled with clothing. The vehicle had been parked behind a business out of public view. A criminal report was completed, documenting the incident and the victim signed a waiver.
In need of air
1100 block of East Baker Street
Attempted strong armed robbery: Around 9:40 p.m. this victim stopped at Sunoco store to add air to his vehicle's tire. While he was there an attempted robbery occurred.
Door's open, no one's home
500 block of Plant Avenue
Business burglary: Around 3:40 a.m. the front door of the CITGO quick stop store was pried open and the power was shut off.
April 29
String of break-ins
4300 block of Sterling Commerce Drive
Vehicle burglary: Officers came out to the above location in reference to a string of vehicle break-ins.
Spice up your life
10 block of South Merrin Street
Possession of Spice: Officers made contact with two men in a vehicle in the area. During the encounter both men were found to be in possession of spice and were arrested and transported to Orient Road Jail without incident.
May 1
The need for control
2600 block of James L. Redman Parkway
Petit theft: An unknown white male suspect entered Walmart and stole five PlayStation controllers, which were valued at $234.80.
May 2
FOUL FRIEND
1 Police Place
Waiver theft: This complainant reported the loss of a firearm years ago. However, he recently realized the gun had been stolen by a friend. He wanted to document the incident and provide a serial number. A theft report was completed and he requested no criminal charges be filed. A waiver was signed and he was issued a case number.
JUST FOR KICKS
500 block of South Lake Street
Burglary residence/criminal mischief: This complainant said that someone kicked the rear door open to her residence. They then entered the home and stole a 32-inch LCD television.