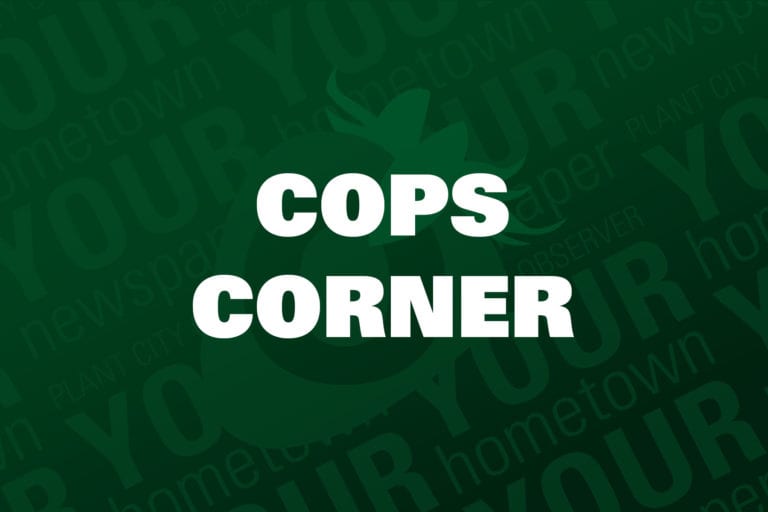 This week on Cops Corner Plant City Police investigated missing passports, Facebook harassers, stolen wedding rings, BB bullies and more.
May 4
Pelicans and passports
3900 block of
Creek Woods Drive
Vehicle burglary: This victim told officers an unknown suspect entered his vehicle on the night of May 3 and stole a Dell 7510 laptop computer, a Pelican hard case with $1,000 worth of hand tools and his passport.
mystery shopper
2900 block of
Forest Hammock Drive
Fraud: An unknown suspect charged $895.05 at a Walmart after utilizing this victim's banking information.
May 5
Plastic problems
1000 block of Fairwinds Circle
Fraud: This victim was checking her Credit Karma account and discovered someone had opened a credit card under her name without her permission.
Facebook frights
300 block of
North Alexander Street
Information: PCPD met with a man who said another man was harassing him due to a relationship with a mutual friend. This other man repeatedly contacted him via Facebook Messenger and made hostile comments toward him and his children.
May 6
Swiped wedding rings
800 block of Whitehurst Road
Residential burglary: This victim told officers someone entered their residence and went into several rooms, leaving them all in complete disarray. After conducting a search, the victim realized a wedding ring, an engagement ring, a black iPhone and a set of keys were missing.
May 7
The case of the empty box
1500 block of
Plantation Grove Court
Theft: This victim came home to discover a Zeki brand tablet, which was valued at $200, had been delivered by UPS to the front of the apartment. However, when they picked up the box they realized someone had opened it and removed the item before they were able to get home.
May 8
Good Samaritan
2200 block of
James L. Redman Parkway
Found property: The manager of this business stated a large sum of cash was found near the produce section on May 7. No one claimed the money so the manger wanted to have it turned in to the police department.
A suspicious account
3900 block of
Reynolds Creek Drive
Fraud: This victim told officers they realized an unknown subject had opened a credit account in their name through Cash Net USA.
Shattered shenanigans
4000 block of Jensen Drive
Criminal mischief: Officers met with this victim who told them the windows on his vehicle had been broken sometime on May 8 while he was at work.
May 9
WINDOW PAINS
100 block of E. Dr. King Blvd.
Criminal mischief: The Power Shop's storefront window was shot several times with a BB gun by an unknown person on May 2.
Catching a snooze
2300 block of
James L. Redman Parkway
Information/possible trespass: This man reported he witnessed on his video surveillance that vehicles that were in his custody waiting to be repaired were entered by an unknown person. However, it didn't appear as if the subject was taking any items. Instead they fell asleep inside the vehicles. As a result the vehicle owners hadn't been contacted and they wanted the information report completed.
playing with power
1300 block of Louisiana Street
Theft to a structure: This victim told officers that during the night of May 8 someone broke the locks off of his sheds, entered them and then stole a gasoline generator, which was valued at $250.
Wired up
2000 block of
South County Line Road
Theft: Materials Life Management Company reported to officers that someone had stolen two pallets of copper wire from the loading docks.
Lost pot
2000 South Frontage Road
Found property: Officers located a small bag of marijuana in a parking lot. The weed was taken to PCPD for destruction.