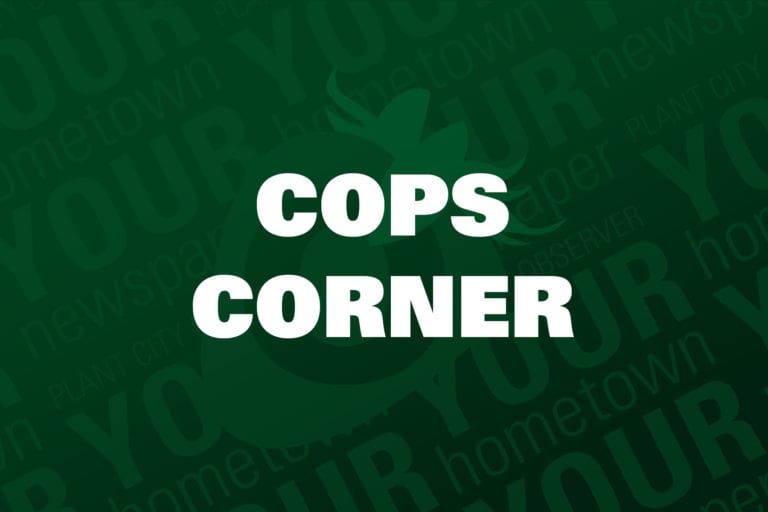 This week on Cops Corner: Plant City Police investigated a stolen or missing wallet, an abandoned Purse, a stolen F-150, an "IRS" scam phone call and more.
Nov. 22
camera caper
300 block of Park Springs Circle
Theft: This complainant reported to officers that a wireless camera installed near the dumpsters had been removed.
there for the taking
900 block of Waller Street
Theft: This complaint reported that she left her purse on a bench and when she realized it and returned, her purse was nowhere in sight.
explains a lot
1800 block of
James L. Redman Parkway
Fraudulent use of a credit card: This complainant reported earlier in their shift that her wallet was missing and possibly lost. Later in the shift, it was determined the wallet was taken in a vehicle burglary. A card inside the wallet was also used fraudulently.
Hidden in plain sight
2000 block of Via Napoli Street
Vehicle burglary: An unlocked vehicle was burglarized. The thief took a Samsung Galaxy tablet with a black cover, which was valued at $200, as well as a black North Face backpack which contained miscellaneous items valued at $40 and two electronic chargers valued at $30.
Nov. 23
tool time
1600 block of
East Calhoun Street
Residential burglary: During an unknown time between Nov. 20 and Nov. 23, someone entered this complainant's shed and removed a 12-inch Ridgid chop saw valued at $200. They also took a 10-inch Ryobi chop saw valued at $80 and a Gorilla yard cart valued at $150. The complainant requested the incident be documented and then signed a waiver of prosecution.
all gas, no breaks
2600 block of
James L. Redman Parkway
Vehicle theft: This complainant reported his silver 2006 Ford F-150 extended cab pickup truck was stolen at the Murphy USA gas station at 4:30 p.m. Nov. 21.
Nov. 24
Tag! You're it
North Franklin Street/
Sunset Drive
Battery (waiver): This complainant reported he was standing near the street when a man reached out the rear window of a passing vehicle and smacked him in the back of the head. The man was identified by the officer and located in the area. The complainant advised they did not want to press charges on the man and signed a waiver of prosecution. No injuries were reported or observed.
Porch pirates
600 block of Coronet Street
Stolen bike (waiver): This complainant reported an unknown suspect removed a bike from his front porch. He wanted the incident reported but did not want to pursue criminal charges, so he signed a waiver of prosecution.
that's how they get ya
Reynolds Street/Franklin Street
DUI Arrest: A vehicle was observed driving the wrong way down Reynolds Street. The vehicle was stopped and a woman was placed under arrest for Driving Under the Influence.
Nov. 26
Thanks for sharing
1 Police Place
Stolen vehicle recovery: This victim reported to police that an unknown person returned her stolen vehicle to her home. Someone swiped their Cadillac SRX on the prior day. Since it was returned, the victim signed a waiver of prosecution.
Nov. 27
curious choice
900 block of
East Alsobrook Street
Vehicle burglary (waiver): This complaint reported at an unknown time during the evening of Nov. 26, an unknown suspect entered her vehicle and removed her vehicle registration and insurance information from the glove box. They didn't take any other items. The complainant requested the incident be documented so she could have the papers replaced.
Whoopsie Daisy
2700 block of Thonotosassa Road
Fraud: This complainant reported he left his wallet on his vehicle and pulled away from the pump after getting gas. Eventually he realized he left his wallet on the car and turned around to go back to the pump for the wallet, but he was unable to find it when he returned.
'Tis the season of fraud
1900 block of Cedar Run Court
Information report: This victim fell for an IRS phone scam and went to Walmart and CVS to purchase gift cards. The victim was scammed out of $3,074.