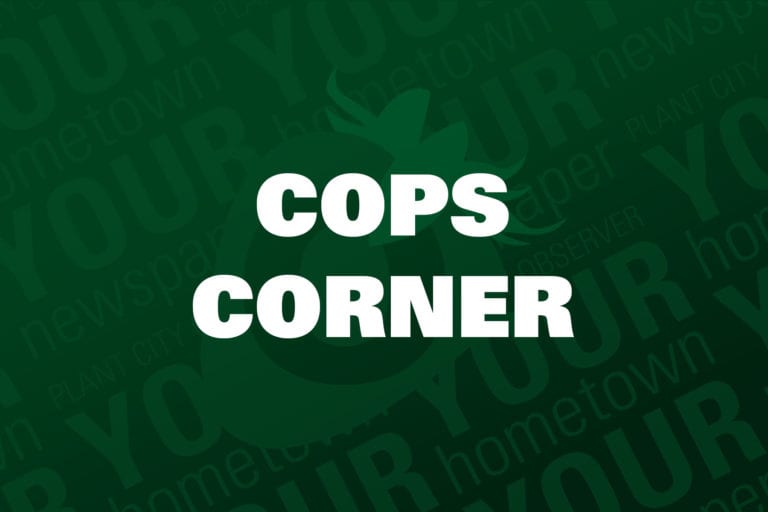 This week on Cops Corner: Plant City Police investigated a pumpkin attack, a borrowed/stolen truck, a stolen generator and more.
Nov. 29
Powered up
1300 block of
South Frontage Road
Theft: A site supervisor reported someone entered the above listed location and stole a 6,500-watt gas generator.
gotcha
1600 block of Teakwood Drive
Drug possession/Warrant arrest: Officers responded to the above listed location in reference to a man having outstanding Hillsborough County and Indian River County warrants. When they made contact with the man, they found he was in possession of one gram of meth and 0.8 grams of heroin. He was arrested on all charges and later transported to Orient Road Jail without incident.
Nov. 30
Fall brawl
500 block of West Lee Street
Criminal mischief: Officers responded to the address listed above in reference to criminal mischief. When they arrived they made contact with the victim, who told them an unknown suspect threw a pumpkin at their vehicle, which caused damage to the car.
Dec. 1
sir, this is a McDonald's
1200 block of Townsgate Court
Battery w/waiver: Officers met with a man who advised he had been in a verbal altercation with three unknown men at McDonald's in the drive-thru. Once he left the drive-thru, the three men followed him to RaceTrac where one of the men approached his vehicle and punched him through his open window. The victim got out of his car and was struck again by one of the subjects, at which point he said he defended himself against the subjects. His story was confirmed via security camera footage and he elected to sign a waiver of prosecution.
Open invitation
1300 block of Mendonsa Road
Stolen vehicle: This victim reported the theft of his gray Toyota Tundra after he realized he left his phone in the house and ran inside to grab it while leaving the keys in the ignition and the truck running. Hours later, police were able to recover the vehicle with front end damage in Hillsborough County.
Dec. 2
Searching for the GPS
1100 block of North Gordon Street
Vehicle burglary (waiver): Sometime between Nov. 29 and Dec. 2, this victim's vehicle was unlocked and subsequently entered by an unknown suspect. They stole an unknown brand GPS, which was valued at $20, and an unknown brand Bluetooth speaker, which was valued at $10. The victim did not want to pursue charges and only wanted to let the police be aware of the situation.
You're a mean one,
Mr. Grinch
3000 block of Boot Bay Road
Criminal mischief/Burglary residence: This complaint reported that between 11 a.m. and 2:30 p.m., someone forced entry into her residence through the front door, which caused damage to the door. They then took an unknown make, model and size flat-screen TV as well as $2,500 in cash from the bedroom dresser drawer.
Dec. 4
You walked right
into that one
1 Police Place
Warrant arrest: A man arrived at the Plant City Police Department to collect property. The evidence custodian realized the man had a warrant and notified officers. After confirmation was made, he was arrested and transported to Orient Road Jail without incident.


Dec. 5
out on the tiles
1600 block of East Calhoun Street
Theft: This victim reported that during the night of Dec. 4, an unknown suspect stole more than $150 worth of tile from his property.
Borrowed, not stolen
3200 block of West Baker Street
Theft recovery: A man reported his F-650 Ford truck was stolen by a man he knew in another county. The man in question later returned the truck and said the reason he hadn't brought it back was because he had been in the hospital. The owner of the truck signed a waiver of prosecution and the case was closed.
It's doughnut powder,
I swear
James L. Redman Parkway/
Maki Road
Possession of Cocaine: Officers made contact with a man during a traffic stop. They then realized he was in possession of cocaine. He was arrested for possession of cocaine and tampering with evidence.