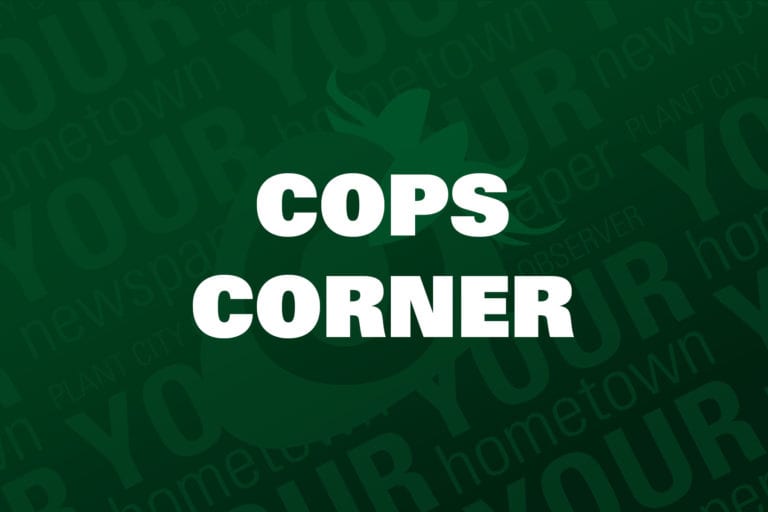 This week on Cops Corner: Plant City Police investigated TV theft, a vehicle fire, stolen money from an unlocked car, a broken rear window and more.
Nov. 8
easy target
2300 block of Maki Road
Vehicle burglary: This complainant told officers that on the afternoon of Nov. 7, an unknown suspect entered his unlocked vehicle and removed his wallet along with a Marlin .22 caliber rifle.
Friday blues
1100 block of
Northwest Drake Street
Criminal mischief: A rear window valued at $500 was broken out of this vehicle. The victim signed a waiver, closing the case.
Nov. 9
Ghost tour
400 block of Hemlock Drive
Criminal mischief/Unlawful entry: Officers responded to the vacant residence at the above location, which is up for sale. They were told the front door had been left open.
Nov. 10
Who needs an ATM?
800 block of Russell Drive
Vehicle burglary: An unlocked vehicle was entered at the above listed location. Someone then stole $20 in cash from inside the car.
Nov. 12
jackpot
1300 block of
West Redbud Street
Grand theft: This victim's vehicle was parked at the above listed location when she made a startling discovery. Someone had entered the car and taken $49,933 from inside and then fled the scene.
unpleasant surprise
1500 block of East Ohio Street
Information report (fraud): Officers met with this complainant who advised she had lost her Suncoast Credit Union debit card while living in Pennsylvania. She couldn't remember the last time she had used the card, but guessed it was probably in Aug. 2018. When she contacted Suncoast Credit Union to request a new card since she recently moved back to Plant City, she was told her account had been closed and that she owed the bank more than $4,000. She told officers she didn't know who used the card or where it had been used.
victory lap
3500 block of West Baker Street
DUI: Officers saw a man driving eastbound on Baker Street. He then completed a circle and stopped in the grass in front of a business at the above listed location. They made contact with the driver and he showed signs of impairment. He was arrested and transported to Orient Road Jail.
hothead
1000 block of
East Alabama Street
Information (Arson): Officers responded to a vehicle fire at the above listed location. Upon the fire being extinguished, Hillsborough County Fire Rescue suspected arson and contacted the State Fire Marshal, who responded and took over.
Nov. 13
been caught stealing
1500 block of East Baker Street
Theft: Two men stole a stereo from the Dollar General, which was valued at $40.
Wawa heist
2700 block of
Thonotosassa Road
Grand theft auto (later recovered): A victim told officers their 2019 Toyota vehicle was stolen from the Wawa at the above listed location. The vehicle was later recovered.
Nov. 14
this week on 'cops'
600 block of Spruce Street
Burglary: Officers responded to a delayed residential burglary. An unknown suspect broke in and took a $100 bill and two flat-screen TVs, which were valued at $200 each.