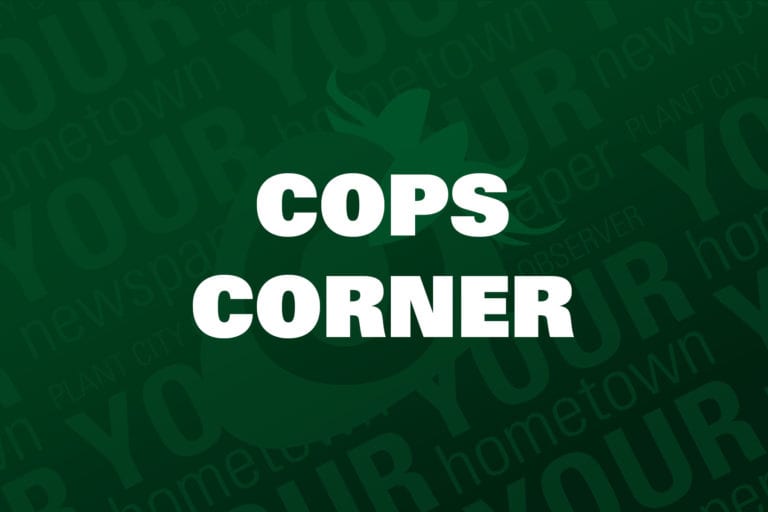 This week on Cops Corner: Plant City Police investigated a hit-and-run at Applebees, a stolen credit card, fraudulent Checks, a stolen fridge and AC unit and more.
Nov. 1
It's gettin' hot in here
500 block of South Hunter Street
Residential burglary: This victim told officers an unknown person entered their home and stole both an air conditioner and a refrigerator. However, the victim signed a waiver and did not pursue charges/investigation.
Nov. 2
Tipped off
500 block of
South Wheeler Street
Petit theft: Officers responded to the scene and met with an employee of a food truck, who told them the tip jar had been swiped.
Nov. 3
Pool pirate
4700 block of Breeze Avenue
Trespass w/waiver: Officers responded to the residence in reference to a report of vandalism to the rear screen room. Contact was made with the homeowner, who told them someone cut the screen and entered her closed-in pool area. It appeared as if whoever entered the area then took a swim inside her pool. She wanted the issue documented and signed a waiver of prosecution.

Captive audience
2400 block of
James L. Redman Parkway
Trespassing after warning: Officers responded to the business and found a man yelling at customers. It was discovered he had been trespassed from the business on Sept. 22. He was arrested for trespass after warning.
Whose gun is this anyway?
James L. Redman Parkway/
Maki Road
Felon in possession of firearm: A traffic stop was conducted after a driver failed to obey a traffic control device. Contact was made with the man, who was found to be in possession of a handgun. He was charged with felon in possession of a firearm and transported to Orient Road Jail without incident.
one bad Apple
1200 block of Townsgate Court
Hit and run: Officers responded to Applebees in reference to a hit-and-run. A man was arrested for leaving the scene of a crash.
Nov. 4
In search of credit
100 block of West Ball Street
Vehicle burglary: This complainant reported that at an unknown time during the night of Nov. 3, someone entered his unlocked vehicle and removed his Suncoast Federal Schools credit card. He signed a waiver of prosecution.
Nov. 5
Pole saw swipers
East Laura Street/
North Michigan Avenue
Theft: This complainant reported that while working in the area above, an unknown suspect removed a Husqvarna pole saw valued at $800.
Nov. 6
Old-fashioned crooks
800 block of
West Madison Street
Fraud: The victim told officers that a checkbook was missing and then discovered that several fraudulent checks were written.
Nov. 7
sneak peeks
500 block of East Baker Street
Criminal mischief: Representatives from Halls Bonds and Baskin Tax Accounting found their doors had pried open, but that there was nothing missing from the businesses interiors. Both businesses signed waivers of prosecution.
Your word or mine?
800 block of
West Madison Street
Battery-Waiver: A woman reported to officers that after she became involved in a verbal argument with another woman, she was struck in the face and then threatened with a knife. The other woman denied both accusations. The first woman ultimately signed a waiver of prosecution.