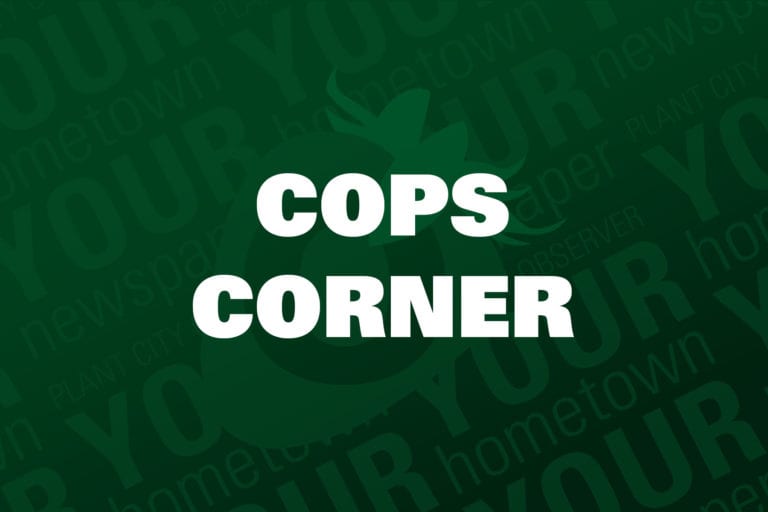 This week on Cops Corner: Plant City Police Department investigated driving on a suspended license, stolen purses, a counterfeit $20 bill, a missing car, fraudulent check and more.
Sept. 20
Revoked, wrecked
Jim Johnson Road/Park Road
DWLSR/Crash: Officers responded to a vehicle crash and found a man was operating the vehicle with a suspended license. He was arrested and later transported to Orient Road Jail without incident.
come Sail away
2100 block of Village Park Road
Stolen boat: This victim reported to officers his Tidewater center console fiberglass boat with a 70hp outboard motor and trailer was stolen.
Sept. 21
Unlocked opportunity
10 block of North Lake Street
Vehicle burglary: This complainant told officer between 9 p.m. Sept. 20 and 7 a.m. Sept. 21, someone entered her unlocked vehicle and removed a black Michael Kors purse, which contained $60 in cash, multiple gift cards and her Florida ID.
Sept. 23
Tracking the trailer
600 block of Hitchcock Street
Theft: This complainant reported that during an unknown time between Sept. 20 and 22, someone removed a black dump trailer with an attached Florida tag from the property.
Splintered attempt
1400 block of
Drake Street Southeast
Criminal mischief: Officers were dispatched to the scene after an active alarm went off. Upon arriving, they discovered the door and door frame were damaged, but entry had not been made into the residence.
Double trouble
2800 block of Brook Pines Court
Vehicle burglary x2: This complainant told officers that during the night of Sept. 22, an unknown suspect entered his two unlocked vehicles and removed $15 from one car and a pink Coach purse, which contained all of his wife's credit cards and personal identification, from the other vehicle. He stated he wanted to document the incident in the event his wife becomes a victim of identity theft or fraud.
finders keepers
North Wheeler Street/Interstate 4
Grand theft auto: This victim said his vehicle broke down off of Wheeler St. near I-4. He left the keys in the vehicle and, upon his return, the car was gone.
Failed fraud
1500 block of East Baker Street
Fraud: A suspect attempted to cash a fraudulent check in the amount of $567.56 at Felton's. The suspect fled the store prior to police arrival.
Sept. 26
Midnight soak
500 block of North Daniels Street
Criminal mischief: Officers made contact with this victim, who told them that sometime between 5 p.m. Sept. 19 and 11 a.m. Sept. 21, an unknown subject cut the screen around the pool deck in an attempt to gain entry.