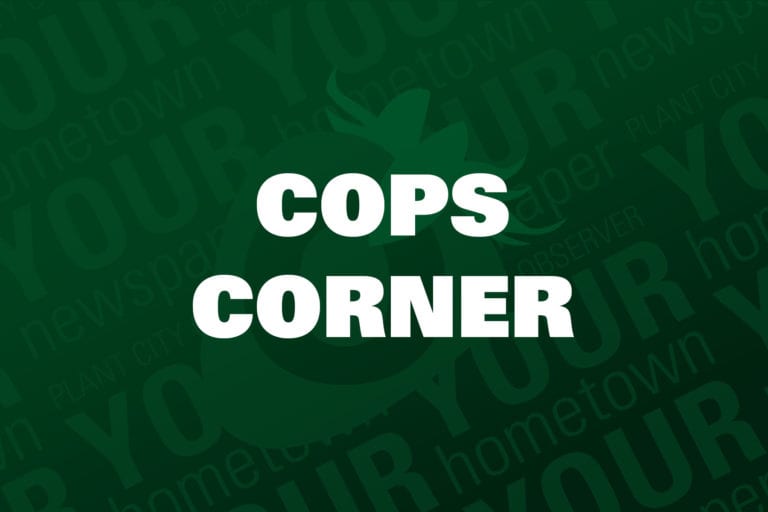 Plant City Police investigated a stolen green Kawasaki dirt bike, stolen catalytic converters, a stranger in a car, stolen vehicle registration and more.
Dec. 28
Registration woes
4400 block of
Country Hills Boulevard
Vehicle burglary: This victim reported that during the night of Dec. 27, an unknown suspect entered his vehicle and stole a blue pouch which held his vehicle registration.
Dirty Deed
3000 block of Forest Club Drive
Stolen dirt bike: This victim reported the theft of a green Kawasaki KLX140 dirt bike from their garage.
Can I Get a Witness
1900 block of
North Frontage Road
Business burglary: A representative of the Jehovah's Witnesses Church reported someone broke into a secured building and stole a variety of items. They took three backpack blowers, a pole runner, a hedge trimmer, an edger, two Stihl chainsaw trim, a Stihl chainsaw medium and a Stihl chainsaw large. The items totaled a value of $6,094.
Sneaky Sneakerhead
200 block of
West Alexander Street
Business burglary: An unknown suspect entered an employee-only office at Famous Footwear on Alexander Street and stole approximately $250 worth of merchandise and the personal belongings of an employee.
Dec. 29
One too many
Waller Street/Ball Street
DUI: An officer made contact with a man while conducting a crash investigation. The man was charged with Driving Under the Influence and Refusal to Submit.
Dec. 30
A Good Hunch
500 block of North Palmer Street
Warrant arrest: Officers responded to a suspicious person seen at City Pointe Church. A man who matched the description was located in the area. The man had Hillsborough County Sheriff's Office warrants for theft and burglary. He was arrested and transported to Orient Road Jail.
Dec. 31
Out of sight, out of mind
2600 block of
James L. Redman Parkway
Theft: This victim reported to officers that she had left her purse in her shopping cart and it was taken while she was not looking. The purse and its contents were valued at $775.
Who are you?
2200 block of
North Johnson Street
Battery, Domestic: This officer responded to the parking lot and met with the victim who reported a subject was inside her vehicle. A man was taken into custody and transported to Orient Road Jail.
Jan. 1
Aspiring 'John Wick' Villain
1000 block of North Wills Street
Grand theft: Officers responded to the above listed location in reference to a theft of a dog. A man was arrested and transported to Orient Road Jail without incident.
A grand affair
110 block of
West Alsobrook Street
Stolen recovered vehicle: Officers made contact with the victim, who advised his blue Mercury Grand Marquis was stolen from his residence at approximately 8:45 p.m. A man was later arrested and brought to Orient Road Jail without incident.
Wanted for… Everything
1400 block of Plantation Circle
Warrant arrest: Officers made contact with a man who was arrested on an outstanding Polk County warrant for FTA burglary conveyance, two counts grand theft motor vehicle, six counts grand theft and resist officer without violence.
Jan. 2
Snip Out and Dip Out
400 block of East Baker Street
Grand theft: This victim reported the theft of three catalytic converters valued at $1,500. They had been cut and stolen from the victim's work vehicles, which had been parked at the above listed location.