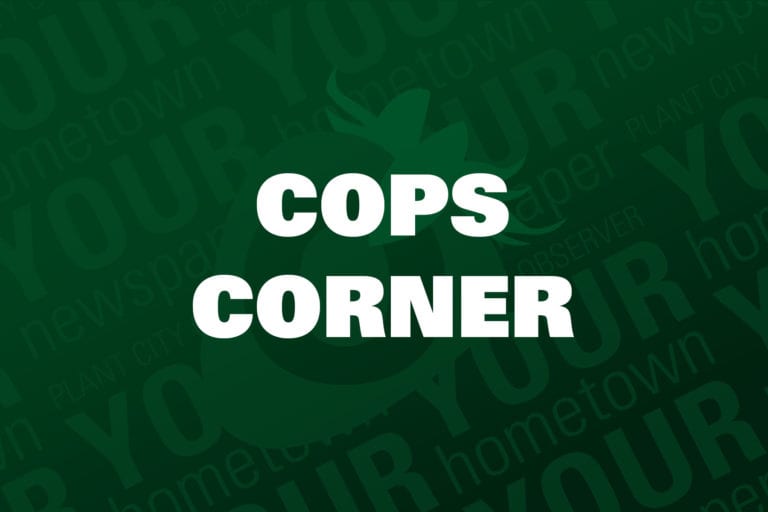 This week on Cops Corner, Plant City police investigated missing firearms, a battery at the hospital, the case of the missing backpacks and more.
Jan. 3
Whatcha doing there?
200 block of N. Mobley St.
Vehicle theft: Officers resounded to an in-progress vehicle theft of a Nissan Versa with Magnum Pest Control decals. A man was arrested and charged with RAWOV for fleeing from officers.
Now where did I put that?
1200 block of Nosleda St.
Theft: This victim told officers that she could no longer locate her firearm so she believed it had been stolen.
Jan. 5
Throw down at the hospital
300 block of N. Alexander St.
Battery: A battery occurred at South Florida Baptist Hospital between two subjects who knew each other.
Jan. 6
Tripping in the tent
2600 block of James Redman Pkwy.
Theft/possession of narcotics: Officers responded to Wal-Mart in reference to a man attempting to steal a $56 tent. He was arrested and also found to be in possession of narcotics. They transported him to Orient Road Jail.
Check please
1400 block of E. Warren St.
Vehicle burglary: During the night someone entered an unlocked white Jeep and stole a money order from the car, which was made out for the amount of $412.
Backpack blues
200 block of E. Knights Griffin Rd.
Vehicle burglary: Two unknown men entered a labor worker's bus and stole 11 backpacks, which belonged to 10 of the workers/victims.
Jewel thief
1200 block of Sandalwood Dr.
Grand theft: The victim in this case came to the Plant City Police Department to report a grand theft of jewelry from her home.
Anger management
1000 block of W. Alsobrook St.
Criminal mischief: This resident told officers that a suspect kicked the front of his door over and over again and ultimately caused damage to the door jam.
Jan. 7 
The kids are alright
300 block of S. Franklin St.
Criminal mischief: Officers responded to the above listed location in reference to an unknown suspect, or suspects, breaking two of the rear windows of a child's bedroom during the night of
Jan. 6. 
Holiday reading
2800 block of Turkey Creek Rd.
Trespass on school property: It was determined that over the holiday break from Dec. 19 to Jan. 7 an unknown suspect entered the Walden Lake Elementary School's library without consent of the school.
Jan. 8
Ousted at the Outback 
1200 block of Goldfinch Dr.
Vehicle burglary: A Commercial Fire and Communications employee reported that at 3 p.m. on Jan. 7 his white Ford work van was burglarized in the parking lot of Outback Steakhouse.
Charmed, I'm sure
1400 block of Plantation Cir.
Theft (waiver): This victim told officers that her Pandora bracelet had been stolen. The bracelet was valued at $300. The victim decided to sign a waiver of prosecution.
Meds and jewels
900 block of N. Mobley St.
Vehicle burglary (waiver): A vehicle was broken into and jewelry, along with medication, was stolen from within. The victim signed a waiver of prosecution.
Jan. 9
Peeking around
700 block of E. Madison St.
Trespassing: This victim reported that someone opened his window and entered the residence. A waiver was signed.