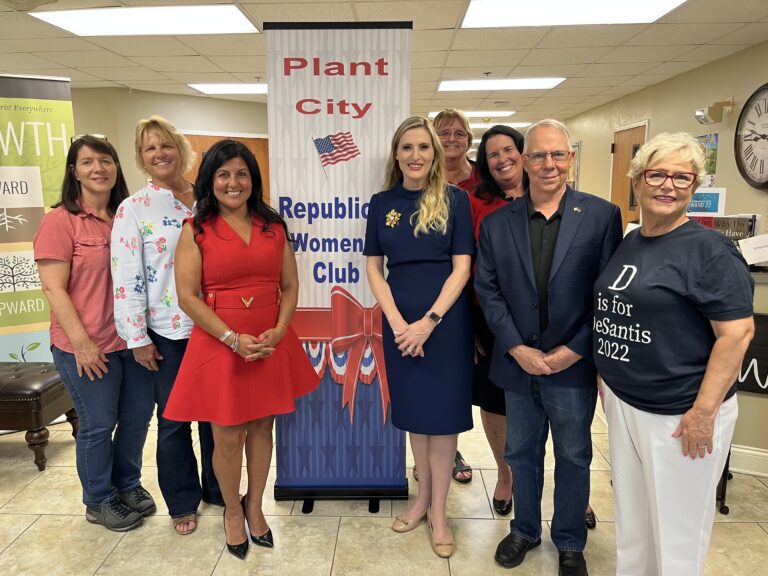 Republicans running for District 15 seat, for Plant City
Four Republican candidates running for Florida's 15th Congressional District, each made their case before Plant City residents as to why they should be voted into office, on June 16.
Laurel Lee, Kevin "Mac" McGovern, Jackie Toledo, and Kelli Stargel were four of the six contenders present at the forum held at Grace Pointe Church and hosted by the Plant City Republican Women Federated club.
Jay Collins and Demetries Grimes are the party's other two conservatives vying for the seat for the primary election.
U.S. Rep. Scott Franklin currently holds the seat that serves not only Plant City, but other regions of Hillsborough County as well as Polk County.
The primary election will take place on Aug. 23.
The Republican winner will then face off with the primary winners from both the Democratic and Independent parties leading up to the Nov. 8 general election.
Laurel Lee
Lee is the former secretary of state for Florida. She was appointed to the position by Gov. Ron DeSantis in 2019, and served until May 16 of this year, when she resigned.
She announced her candidacy for the 15th Congressional District the next day.
Her father is a retired two-star general from the Air Force and her mother has served as a public-school teacher.
From 2013 to 2019, Lee served as a judge for the Florida 13th Judicial Circuit Court.
Prior to that, she was an assistant U.S. attorney and assistant federal public defender in the Middle District of Florida as well as a law clerk to Judge James S. Moody.
In court, she prosecuted illegal immigrants charged with crimes and vowed to continue taking on the issue from Washington D.C.
"It is imperative for the safety of our community and the security of our country, that we secure our borders, and that will be a key priority for me in any capacity going forward," Lee said.
In her time on the bench, she served as a family court judge. Seeing homes being torn apart taught her the importance of supporting and protecting families, she said.
With being the Florida secretary of state, came the role of chief election officer.
"We worked even harder to go back and find the places that we could do even more in our laws and elections process, to ensure that all of our processes were going to be accurate, transparent, open to the public, and that our voters here in Florida have confidence in the results they were seeing," she said. "Together we worked to ensure that Florida was the standard by which other states measured their own elections. In 2020, Florida was, in fact, the leader and standard-bearer on having an election that was secure, that was accurate, timely, and reliable. Despite having over 11 million voters, we had our results on election night."
Lee mentioned her time on the board for the Pepin Academies Foundation when asked if parents should have a say in what type of school is suitable for their children.
Pepin Academies are not-for-profit, tuition-free, public charter schools for children with learning disabilities.
She said that she assisted parents in getting their kids in the right classes where they were able to thrive at their level.
In regards to the second amendment, she told the crowd, "I believe that right is fundamental and is not to be abridged. Red flag laws often do that, and so that is something that, in general terms, I don't support."
Kevin "Mac" McGovern
McGovern is retired from the U.S. Navy and came from a military family as his father served in the Pacific during World War II. He joined the Navy at 17 and was based in Orlando. After his time in Japan, he returned to the states, received GI Bill benefits and graduated from Purdue University with an engineering degree. For 40 years, he has worked with NATO, in Washington D.C., and was a senior officer to Gen. David Petraeus.
"We need leaders who actually have that proven leadership, integrity, and the right experience to go to D.C. and get that done," McGovern said. "If you elect me, I'm going to take your voices to D.C."
His first priority will be to help stop the "out-of-control" spending that is being done from the executive branch and give the power back to the legislative branch, he added.
He explained that he wants to uphold the 10th amendment by eliminating the Department of Education and allowomg the state of Florida and parents to make the best determinations for what's best for students.
While McGovern said he supports immigration in the U.S., it still needs to be done in a legal fashion.
Addressing the economic hardship that many Americans are currently facing, will also be a priority, he said.
"I want to investigate," McGovern said. "I want the American people and the people of the district to understand why we have this inflation, why we have gas prices out of control, why are our shelves becoming empty."
Getting rid of special interests and limiting congress members to three terms is also a part of his agenda.
Jackie Toledo
Toledo is currently a member of the Florida House of Representatives for District 60. Her term began on Nov. 8, 2016 and ends on Nov. 8 of this year.
She was born in Lima, Peru and her mother was able to bring her to the U.S. at a young age.
Toledo received an engineering degree from the University of South Florida, and is a civil engineer with a private practice – Florida Engineering and Consulting.
She got into politics because of her frustration with the state of transportation and Housing, and ran for city council in Tampa. She lost the race but was able to gain a seat in the Florida House of Representatives in 2016.
To put a stop to inflation, she said she will try to balance the budget and help make the U.S. more energy independent, relying less on diesel from out of the country.
"We're going to look at ways for technology to cut the cost, which we can," Toledo said. "That is the root cause of why all of the goods are rising."
She also made a case for why she is competent enough to close the U.S. borders.
"Human trafficking, fentanyl (and) opioids – that's coming through our borders," Toledo said. "I've been a champion of anti-human trafficking issues for many years, even before I got elected. I've had a lot of legislative success. My last year, I filed a bill to increase penalties…"
She is a "staunch supporter" of the second amendment, backing the police as opposed to defunding them, and standing up for parental rights.
Standing up to big corporations that don't support parental rights, and working to audit the Federal Reserve, are issues she said need to be addressed.
Kelli Stargel
Stargel has served as a Florida State Senator over District 22 from 2020 to 2022. She was a member of the state House of Representatives over District 64 from 2008 to 2012.
She first took on the role of state senator in 2012, overseeing District 15, until 2016.
She is a sixth generation Floridian, born in Tampa, raised in Lutz, and attended Tallahassee Community College.
Her husband, John K. Stargel, is a judge on the Florida Second District Court of Appeal.
Prior to taking office, she was a homeschool mom who had no interest in going into politics, but it was a gradual shift.
"I saw what was happening in our schools," she said. "I saw what was happening in our communities. My husband had been in office and he was leaving to become a judge and I thought 'I need to do something. We need to do something.'
She has spent her time in office trying to prevent abortion in any way possible by supporting the Unborn Victims of Violence Bill, the Parental Consent Bill, and the 15-Week Abortion Ban.
She also made a case that she has been fiscally conservative enough to help Florida stay in a good financial position.
Stargel has served as the chair for the Senate Appropriations Committee.
When Florida accepted grant funds from the federal government last year, she and her committee did what she refers to as "one-and-dones," by investing in construction and buildings, increasing the minimum wage for government employees, and helping to pay off Florida's debt.
Although, she is a firm believer in the state having its independence from the federal government.
"The federal government continues to meddle within the State of Florida and that was one of the things that encouraged me to run for Congress," Stargel said. "I'm going to take what I've learned and what I've done within the State of Florida and do that in Congress."