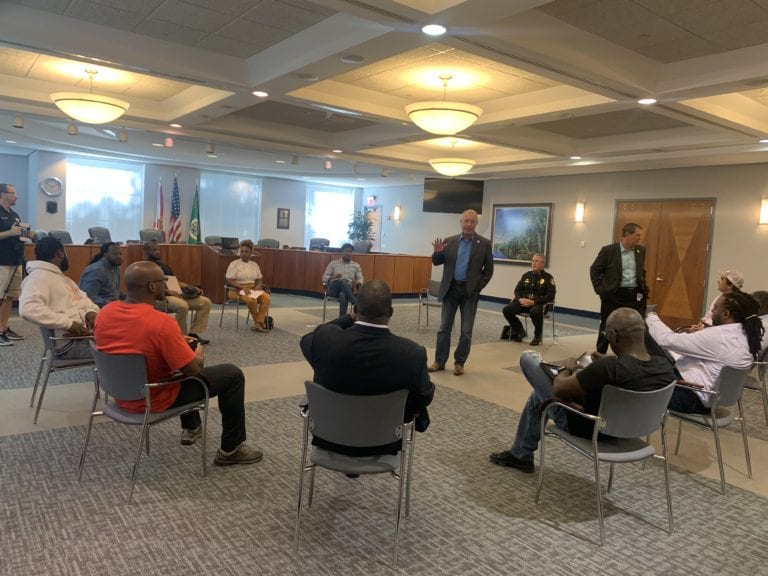 Members of the community met with city leaders to discuss concerns regarding the police's interactions with the public, learn about Chief Duncan's line of thinking behind his decisions over the years and begin taking the first steps toward seeing change in Plant City.
Rising leaders in the community sat down with Mayor Rick Lott, City Manager Bill McDaniel and Plant City Police Chief Ed Duncan Thursday morning for a roundtable discussion regarding concerns in the community.
Approximately 12 people gathered in the commission chambers for the discussion. Lott opened the conversation by sharing his heart with the group and reminding everyone that data and facts are the only way to move forward. In a spirit of camaraderie and learning, the group then launched into an open conversation on its concerns, ideas and hopes for moving forward.
The entire conversation was live-streamed on the City of Plant City's Facebook page and had more than 16,000 views.
"As long as we have data and facts we now have a basis upon which to discuss, a basis for us to be able to find common interests and common ground," Lott said. "I know sometimes you have to use your gut decision on things and your emotions, but if we stick to data and facts then we have the opportunity to do anything… At the end of the day, our goal is if we are going to change the world, we have to make sure that we have a shining field in our backyard."
Roderick Henderson was the spokesman for the group and kicked things off by bringing up the topic most prevalent throughout the community following the recent Black Lives Matter protests sparked by the death of George Floyd in Minneapolis, Minnesota.
"I called this meeting with Chief Duncan because there are concerns going about the public and of course nationally, and we live here so the one way we can have any change in our city is dealing with our local government, and you are our local police chief," Henderson said. "Last time we talked, he gave us the three policy files that were there and we were able to go over those files. There is some things that we do see that are kind of loopholes inside our policies that we want to bring up and concerns… One of the questions that was brought up — and I've heard it from a countless amount of people — is body cameras. I think that's a question to the city manager as well as to you guys and the commission as well. What are we doing when it comes to body cams on our police officers?"
Duncan took a moment to explain his line of reasoning for not jumping on the train of equipping his officers with the cameras. He said he's been in law enforcement since 1974 and when the technology first came out, there were a lot of issues and controversy. It is constantly evolving and advancing, but when the city looked into cameras a few years ago, he felt the cost to store the massive amount of data was far too high to make them a reasonable purchase for the department. However, he said time has passed since then and he is not opposed to "having that conversation."
"I don't think the camera is something that is the answer to all of our concerns," Duncan said. "If you look at a lot of the agencies and jurisdictions that have had challenges with the trust within their community, they've had body cameras. I've always said this: it's not about the equipment you put on the uniform, it's about the person that wears that uniform. It starts with the integrity of the officer. If you've got a camera on you and you lack character and integrity you can manipulate, like anybody else, can manipulate data. You can turn your camera off. Those are not answers to all questions. Those are the things that we as a community have to decide. If it is something this community feels would make them feel more comfortable, would make them feel as if they have better confidence within our community, I'm open to that discussion. It's not something I'm adamantly saying 'no we're not going to do that,' but again I want people to realize it's not the answer to all your questions."
Lott jumped in and said that he would definitely do research into the best technology and cost, and said they should have something concrete they can begin talking about by next year's fiscal year budget.
Hillsborough County commissioners approved the purchase of full-time body cameras for use for the county's sheriff's office deputies on Wednesday morning. The vote was 6-1 with Commissioner Stacy White (District 4- Eastern Hillsborough) being the only "no" vote. He cited privacy concerns due to Florida's massive public record laws.
It's a change sweeping the nation and protesters across the country are calling for the purchase of body cameras to keep police accountable and increase transparency. Several of those gathered explained it wasn't just about keeping an eye on police, it was a way to help those approached feel settled as well.
"The body cams don't mean the same thing in the white community as it does in the black community," Angelo Murray said. "That's the first thing that we've got to realize. Because in the black community when the cops are dispatched they've got a different attitude, so I think what it does for us as the black community, it gives us just a little bit more assurance that things are not going to go left because the cop that is wearing that body cam, he's got to think."
Murray said the cameras offer one way for them to feel safe, but they also make people realize they are being filmed as well, which he said helps calm them down and keeps everyone involved on their best behavior. He said this protects both the cop and the person.
Duncan spent some time running through his strict requirements on hiring officers and also touched on the fact that applicants are shifting all over the country. Other local law enforcement agencies are offering appealing contracts and benefits as well, so they have to work hard to hire great applicants and keep them with the department.
Several in the group were interested in what constitutes as a level one through seven offense for police officers and how complaints were handled. Duncan walked them through the process and said he knows that young officers learn from their mentors, so he has high standards for everyone on his force. Every complaint comes across his desk and he evaluates each one. He also explained there is no such thing as a verbal reprimand. Even when paperwork says there is verbal counseling, all of that is recorded.
The public can always complain or voice concerns about an officer via a blue form available at PCPD and at City Hall. In the lobby of the third floor of City Hall is a bin with forms, including the blue form. Anything can trigger a complaint, Duncan said. It could be a phone call, an email or even a conversation on the street. The blue forms are merely one method of getting the process started.
"A lot of times I will call people and I encourage anybody in the community, if they have a problem with an officer or they have a question about why we are doing something or how it's being done, I am always available," Duncan said. "My executive assistant takes messages all the time for me and I tell you, I try to return every phone call I get. I do know there are some members of the community that may not be comfortable walking into the police department and asking 'Oh, hand me this blue form because I want to complain on officer so and so.' I've heard all of it that they're worried about, 'now they'll retaliate,' and all those kinds of things. I will not stand for that. I refuse to allow that in this city and this department. I am very proud of Plant City. There is no way that I'm going to jeopardize my reputation or the reputation of (McDaniel) or (Lott) to have someone be afraid to come to my police department."
He said he let someone go just this month that on paper was a shining star, but on the street simply didn't live up to the strict standards Duncan expected his officers to comply with. He emphasized that the "8 Can't Wait" policies that have gone viral to help decrease police violence are things his department is already utilizing.
Those gathered expressed their thankfulness for that statistic, but also explained knowing how to file a complaint and feeling comfortable doing so are two very different things. One idea floated by Henderson was to form a Citizens Review Board or some other group that would act as a buffer between the general public and the police.
Hasani Jackson also spoke to that sentiment. He said he believes there are many who feel nothing will happen if they file a complaint because those who have voiced concerns before see the same issues repeatedly happening with no alteration. Jackson said he believes people don't take the initial step because they truly believe nothing will come from it.
With the review board, or another similar group, a resident can show up to the board and give their complaint without worrying about facing repercussions from the police. Then the board can pass the message on to PCPD and can track to see how the report is handled. It's a level of assurance for the community.
Duncan said he had no experience with a Citizen Review Board. There was a survey done by Florida police chiefs over the last few weeks that inquired into how many agencies operated with a Citizens Review Board. There were more than 150 responses and only 15 agencies across Florida had them. He said there are a lot of issues that need to be resolved with policemen's bill of rights and all of the other issues. He agreed the concept was good but wasn't sure how well the committees actually serve because non-professionals are critiquing law enforcement. However, if the city officials thought it was a need, he would be amenable to discuss it. He did mention an advisory board might better meet that need.
Murray voiced another issue. He said his community is not accurately represented within the city.
"The upper echelon, which is obviously commissioners or whatever, what tends to happen in Plant City over the years is they tend to pick our leaders, OK," Murray said. "They tend to pick the black people's leaders. Where they feel like, 'Well he's a voice of the black community.' But for instance that person is really not the voice of the black community because that person really has no ties to the black community because he's not out there on the ground. You understand what I'm saying? So the information is not being passed on. It may be passed on to Wayne, but Wayne really has no ties to the community. Wayne is not on the front lines, he really doesn't know what's going on. So you give the information to him and you may very well say 'Wayne, this is what happened on this case' and you give him the information, but guess what? Wayne is not the person that's out there on the front lines that's actually got the heartbeat of the community."
He called for Plant City's black community to unite and then move forward as one voice toward change.
"As long as we can discuss like this, this is powerful," Lott said. "But when we start raising tempers and getting mad, we start creating walls between us. Why do we have to build walls in our city? We don't have to do that. We're showing that we're meeting, we're talking, we're discussing and we're compassionate about it. I'm looking forward to moving forward… We will start working on coming up with the next step, the next action. This didn't take a year to happen it took less than two weeks, 10 days from the initial phone call to the second meeting. That's called action."