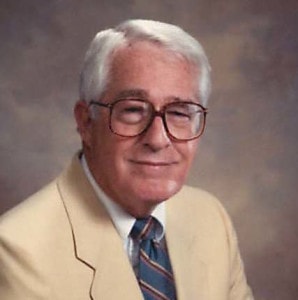 Hilman Bowden was known for many things:  quick wit, snazzy outfits and one-line zingers. But he will be remembered most for his unwavering dedication to the Plant City community.
Mr. Bowden, a longtime Plant City resident, died May 16, 2015 at home.
Mr. Bowden moved to Plant City from Enterprise, Alabama with his family during the Great Depression, later graduating from Plant City High School.
After Pearl Harbor, he joined the United States Navy and served during World War II and the Korean War.
After his graduation from Florida Southern College in 1948, Bowden began working for Hillsboro Bank in Plant City, now SunTrust. Throughout his life, Bowden and his wife, Barbara, donated to South Florida Baptist Hospital, University of Florida Foundation and Plant City's First Baptist Church. In his spare time, he enjoyed golf and weekly poker games.
While living in Plant City, Mr. Bowden also worked on the boards of a number of organizations, including those for the Florida Strawberry Festival and Hillsborough Community College. It was on these boards that he made lifelong friends in the Plant City community.
Bob Edwards, a retired attorney in Plant City, knew Mr. Bowden for fifty years. He met him in 1955, when Mr. Bowden was working at Hillsboro Bank.
"We were community friends," Edwards said. "We worked together for the good of the community. He was always smiling and glad to see you. He talked to everyone. He was an affable-type person."
Edwards worked on the Hillsborough Community College board with Mr. Bowden.
"He was well respected," Edwards said. "He worked for the good of the community constantly. He was always there and available to help."
Even during the last few months of his life, Bowden was still active in the ongoings of Plant City. While working on the board of the Florida Strawberry Festival, he met Robert Trinkle and Sandee Sytsma.
"His was a life that was well lived," Trinkle, an attorney for Trinkle Law, said. "He was a great gentleman. He did what he did on his own."
Sytsma, who is also on the Florida Strawberry Festival board, agreed. Sytsma drove Mr. Bowden to board meetings, which Bowden always dressed impeccably for. Mr. Bowden, Sytsma said, was one of her all-time favorite people.
"He was such a fun guy," Sytsma said.  "He was quite progressive. He never started thinking old."
She said Mr. Bowden always worked to make sure that the festival was moving forward.
Mr. Bowden is survived by many family members, including his wife of 64 years, Barbara, and sons, Bud and Charlie. He is also survived by his grandchildren, Katie Corby, and Chip, Chelsea, Bailey and Lindsey Bowden, and one great-grandchild.
"He was so proud of their accomplishments," Trinkle, who visited him a few weeks before he died, said. "He was loved by many and will be missed by more."
"He loved Plant City," Sytsma said. "He left it better than he found it."
Contact Emily Topper at etopper@plantcityobserver.com.