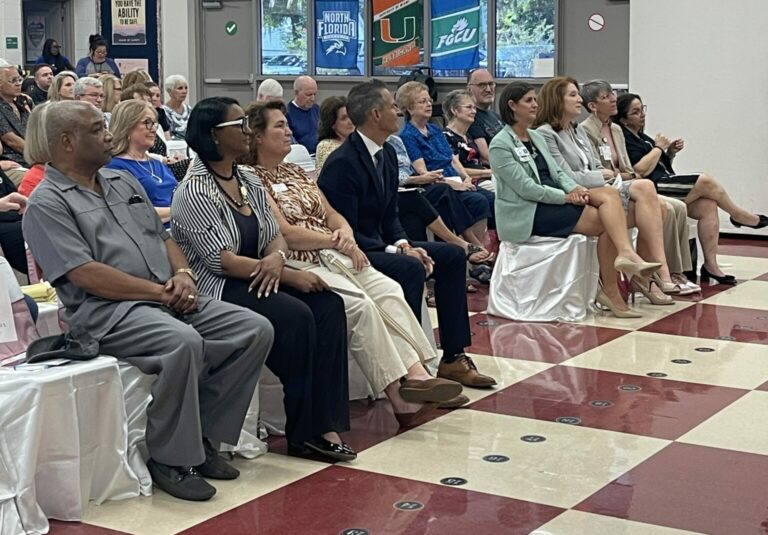 The celebration served as a reminder the impact a school can have on its citizens and the community.
Current and former Broncos, educators and community leaders came together to celebrate Burney Elementary School's centennial birthday celebration last week to honor its rich history and the pivotal role it has played in shaping young minds for the last 100 years.
The anniversary celebration kicked off with a program in the school cafeteria paying tribute to the school's namesake, Esther Dorothy Burney. Distinguished speakers included Principal Brooke Quinlan, Dr. Larry Sykes and Dr. Mary Knox.
Burney, who, with her husband Professor E.G. Burney, moved to Plant City in 1885 and were two of the city's earliest educators, teaching students in a one-room log cabin at a cost per student of $1.50 per month. Hillsborough County Public Schools constructed the school in 1923, naming it after Burney for her exceptional local contribution to education.
"This school stands on her shoulders and she was an exceptional woman," said Principal Brooke Quinlan. "She married later in life and never had children of her own but she was often considered the 'mother of education in Plant City' and while she never taught here her love for education reverberates in each and every room and each and every teacher at the school."
Over the years, the school site has seen several transformations, from its humble beginnings in a single two-story brick building to the expanded, multi-structure school it is today. It has served as an elementary school for grades one through six, a sixth-grade center, a "strawberry school", the temporary location of Tomlin Junior High School and an exceptional education and alternative education center.
To prepare for the ceremony, Quinlan spent months researching the school's rich history. "I've done more research for this event than I've done in my entire life, I have learned so many things about the school that I didn't know before," she said.
While the school's history is important and part of its legacy, what the school stands for and its impact on the community today are laying the foundation for future generations. In addition to educating students, the school's support system includes a full-time guidance counselor, social worker and psychologist, an on-site food pantry, reading and math coaches and intervention specialists to ensure all students reach their greatest potential.
Quinlan ended the presentation with an invitation to tour the original building, where students shared additional facts about the school's history. Student historians included Xyla Simmons, Lizmar Delgado-Figueroa, Marysarai Trujillo, Damien Quick and Maximo de la Luz.
Hillsborough County School Superintendent Van Ayres attended the celebration. "Our motto is Hillsborough Strong and building upon the strength and tradition Hillsborough County Public Scools has and I wouldn't have missed this for the world," he said. "What makes us great is our tradition and this is what it's about."