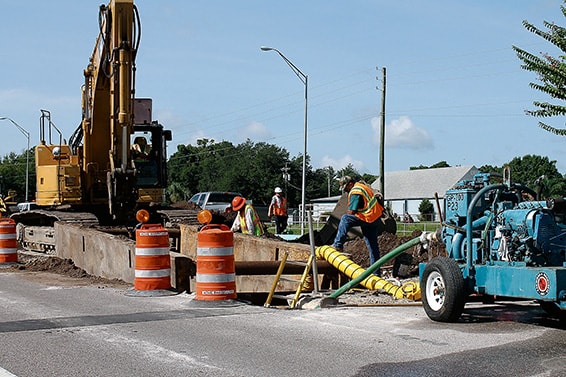 Because of an imminent safety hazard, Plant City commissioners approved the use of emergency funds for repairs to leaking pipes that have caused a depression in the center of Park Road near Interstate 4. Construction should end today.
The Florida Department of Transportation reported the depression to the Plant City utilities department July 23. After investigating, the utilities department determined that there were two leaks in the sewer system under the road. The pipes had to be replaced immediately to avoid a potential failure of the road.
The city already had contracted Kamminga and Roodvoets Inc., for sewer repairs on Syndney Road. The commission awarded a second contract with Kamminga and Roodvoets Inc., for the Park Road repairs. These two projects are similar and both include removal of old pipes, installation of new pipes, repair of the roadway, maintenance of traffic and by-pass pumping of wastewater.
City Manager Dave Sollenberger and commissioners will use city funds to provide Kamminga and Roodvoets Inc., with $117,797.90, which was available in the budget for the fiscal year ending Sept. 30, 2014.
"There's always funds set aside in the utilities budget," Sollenberger said. "You never know when an emergency is going to come up. I talked with both our engineers, and they felt that if this were not corrected, there was a good possibility of a cave-in. We don't want to risk that."
The existing pipes under Park Road are made of clay and were installed more than 40 years ago, but their replacements are much more durable. Members of the construction crew said there had not been any significant disruption to traffic flow, though the left lane of northbound Park Road was closed at the work site.
MIDTOWN
At the Aug. 11 meeting, the commission also approved contracts for construction in Midtown.
PPM Consultants will conduct environmental studies for Midtown properties. These assessments, drawing $51,481 from the Community Redevelopment Agency fund, will inform developers and property owners of contamination at each site or the potential for future contamination.
Four companies submitted bids for landscaping and irrigation, including the installation of a fountain, in Midtown Park. The commission accepted the bid of Tree Farm 2 Inc., at $143,723.50.
Walkways and other concrete construction will be completed by Antioch Contracting LLC, for $99,454.
The final contract will be for construction of a fountain in Midtown Park. WESCO Fountains, Inc., submitted a quote for this fountain at $129,421, as well as design plans. WESCO Fountains Inc. is the sole vendor available for this design.
Contact Catherine Sinclair at csinclair@plantcityobserver.com.
IN OTHER NEWS
• Mayor Rick Lott proclaimed August as Spinal Muscular Atrophy Awareness Month. SMA, a motor neuron disease, is the leading genetic cause of death for children under  age 2.
• The commission has approved an agreement with Hillsborough County for upgrades and enhancements to Ellis-Methvin Park, including the addition of lighting. The new lighting grant is for $650,000.
• Michael Cameron was reappointed as a member of the Board of Trustees of the Safety Employees Retirement System.