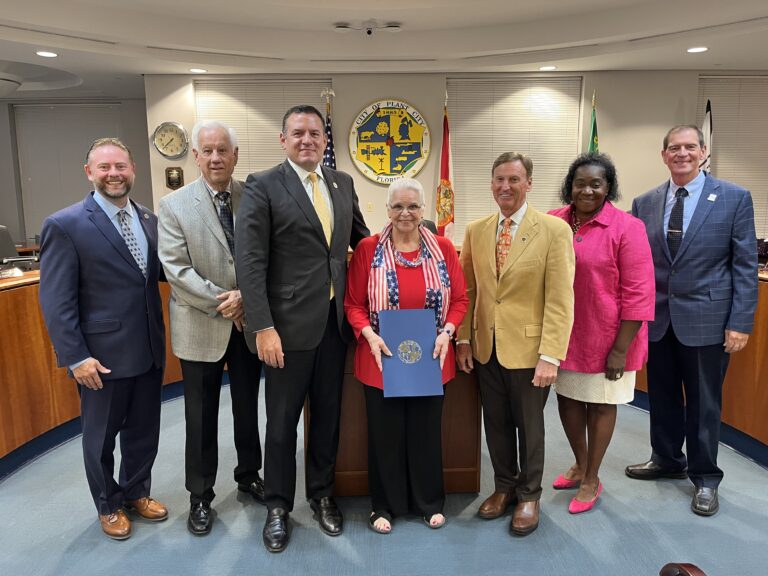 Plant City recognizes constitution week, EDC shows annual job growth
Proclamation for Constitution Week
A proclamation was presented recognizing Sept. 17 to Sept. 23, 2022 as Constitution Week in Plant City at Monday's city commission meeting.
Alice Jones, chaplain for the Echebucsassa chapter of Daughters of American Revolution was present for the proclamation.
"Issuing the proclamation every year from the City of Plant City is extremely important to us," she said. "A lot of times we fail to remember that Sept. 17 is Constitution Day. That constitution gave you the right to be here tonight. That constitution set up this form of government where we have a mayor, and we have a council that you can bring grievances to or ask things of. It is the constitution that guarantees us certain individual rights…"
Sept. 17, 2022, marks the 235th anniversary of the drafting of the U.S. constitution.
The U.S. Congress recommended to the president, in 1956, that Constitution Week be held from Sept. 17 to Sept. 23, in which the Daughters of American Revolution played a role in.
Plant City Economic Development Corporation (EDC) Annual Report
Jake Austin, president of the Plant City EDC was present at the most recent city commission meeting to detail the results the organization has had in the past year.
"Our first goal and first priority of the organization – Goal No. 1 is to attract, nurture, and retain major employers for Plant City," he said. "The main reason is because they contribute to either the local average wage or the tax base. It's kind of the bread and butter of the Economic Development organization…"
It's also meant to promote and enhance Plant City's quality of life focusing on key economic indicators. In addition, it promotes and enhances Plant City's workforce through strategic partnerships that focus on strengthening our talent pipeline and making connections between workers and employers.
The companies: Builders Best; Enchanted Christmas; Lowe's; West Rock; Famous Supply; USP Home; DASI; BodyArmor; Gerdau-Plant City; and Box Tech are all either manufacturing or distribution companies.
In the past year, they have provided 685 jobs combined, over $141,000,000 in capital, with over 2 million square feet in commercial space.
In 2015, Plant City caught up to the Florida and U.S. average employment growth and has maintained higher growth than the state and national levels for the most part.
During 2020, in the wake of the COVID pandemic, Plant City did substantially well in comparison to the state and nation.
"Since 2015, we quickly crept up to the state and national average for average wage growth for Plant City and we stayed consistent for the most part above that wage growth with a couple of differences in 2017 to 2018," Austin said.
In the last year, construction has had an optimistic outlook with an addition of 1.6 million square feet of new commercial construction, 2.1 million square feet of absorption (more leasing than new construction); vacancy rates are at 7.7%; annual growth for rent is at 18.6%. Vacancy usually rises 5.3% every year with less leasing, but has dropped by 3.5%.
With net absorption, Plant City has an average of over 327,000 square feet annually, which has risen to 2.1 million square feet this past year.
Deliveries have also gone up from its yearly average of over 382,000 square feet to 1.6 million square feet in the last year.
Rent Growth rose from 3% to 18% over the year, and sales volume jumped from its yearly average of $35.6 million to $43.9 million in the past year.
In regards to the cost of living, the annual average salary in Plant City is $63,554, slightly higher than that of Florida which is at $59,712. However, Plant City is trailing behind the national average which is at $66,637.
Plant City is also excelling with the Labor Force Participation Rate and Size (civilians age 16 and over) at 67%. That is ahead of Florida at 58.8% and the U.S. at 63.2%
As for the Prime-Age Labor Force Participation Rate and Size (ages 25 to 54), the city is ahead at 84.7%, with the state trailing behind at 81.5% and the nation at 82.4%.
The veteran population from ages 18 to 64 is ahead at 5.4%, compared to the state at 5.2% and the nation at 4.5%
Veterans Labor Force Participation Rate and Size between ages 18 to 64 are highest in the city at 80.2%, then country at 76.8% and the state at 74.6%.
Then there's the mean commute time where Florida is ahead at 27.9 minutes compared to 26.9 minutes in the country and 26.8 minutes in the city.
There are areas in which Plant City needs to improve on such as poverty which sits at 14.4%, higher than the state at 13.3%, and the nation at 12.8%.
Households receiving food stamps/SNAPS are at 15.5% in the city compared to 13.3% in the state, and 11.4% at the national level. Disconnected youth sits at 4.1% in Plant City, 2.8% in Florida, and 2.5% in the nation.
Also, the percentage of children from single parent families is 44.1% in Plant City, 38.5% in Florida, and 34% around the country.
Individuals that are uninsured are at 14% in the city, 12.7% in the state, and 8.7% in the country.