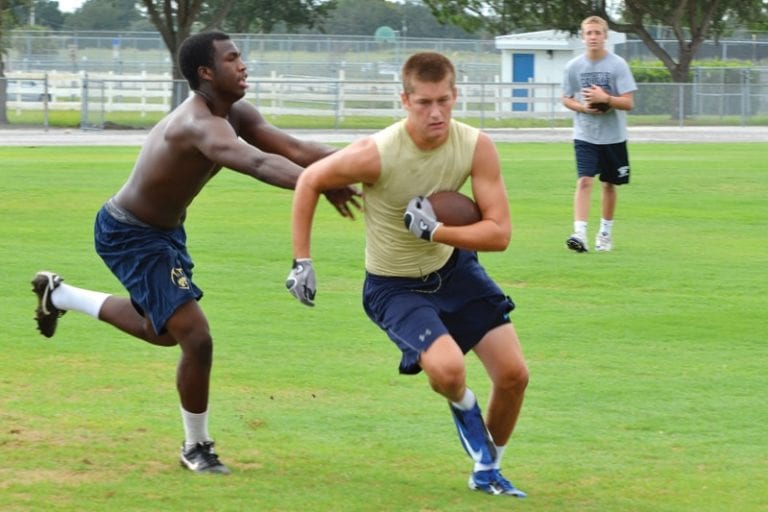 By Matt Mauney | Staff Writer
Although Friday-night football won't begin for another month, the skill players on area squads got an early chance to compete over the weekend at the Bright House Sports Network 7-on-7 Tournament July 14 and 15, at the Fishhawk Sports Complex in Lithia.
All three Plant City schools were in action over the weekend, as pass offenses and defenses were put to the test.
The 24 teams were split into four divisions (Chill, Solid, Freeze and Rock) and two conferences (A.C.T. and S.A.T.) and each played six games July 14, to establish seeding for the single elimination tournament the following day.
Durant had the best showing of area teams on day one, going 3-2-1 with victories over Boca Ciega, East Bay and Calvary Christian, before falling in the first game of the single elimination tournament July 15, to Boca Ciega.
"We started off real well and did some good things, but I think then the kids lost some confidence," head coach Mike Gottman said.
With Durant known for having more of a run-based offense bolstered by a big offensive line, Gottman said he wasn't too concerned with the results in the tournament, where more pass-heavy spread teams tend to thrive.
"We are doing some good things, but we're not ready to win a 7-on-7 tournament right now," he said. "It's great experience for us, but that's not really what we're about. We play football with pads on," he said.
Plant City High also had a strong showing, going .500 on the first day with a 3-3 record and taking the No. 4 seed out of the "Solid Division." The Raiders' three losses on day one came against Spoto, Gaither and tournament champion Lakewood. The losses against Spoto and Gaither came down to the wire, according to head coach Wade Ward.
With a team that lost key skill players now with Division I schools, including quarterback Bennie Coney (Cincinnati), receiver LaMarlin Wiggins (South Florida) and running back Dazmond Patterson (Ohio), Ward said he was impressed with the play of the guys charged with filling those voids.
Dontavious Johnson and Colby Diers were two guys Ward said stepped up to make some big catches. When it comes to the backfield, Ward said the competition remains open but said there are several guys competing for the job, including Jontavia Sykes and incoming freshmen Irvin Michael and Markese Hargrove.
Class of 2014 prospects Landon Galloway and Drequn Johnson are two guys Ward said could take the quarterback position.
"(7-on-7) allows our young guys to compete and play on a high level," Ward said. "We want to compete to win in everything we do. The way we played is a reflection of our youth. When we're on, we're on, and when we're off, we're off."
Strawberry Crest High also went 3-3 on day one, losing their first two games, before winning the next two and splitting the final two games, giving them the No. 3 seed out of their division. The Chargers won their first game Sunday over Tampa Catholic before being eliminated by Tampa Bay Tech.
"We let a few games slip through our fingers that first day, but it was good experience for our young guys, giving them a chance to compete," said John Kelly, the new head coach at Strawberry Crest.
Like Gottman, Kelly views 7-on-7 tournaments as a chance for offensive skill players to work on timing and a chance for defensive backs to work on backpedaling and coverage.
This tournament was also beneficial for the new cast of quarterbacks at SCHS, as previous starter Trey Vandegrift has transferred to Durant. According to Kelly, rising sophomores Tristan Hyde and Austin Carswell performed well in the tournament, receiving some quality reps.
"Those two have strengths in a lot of areas and it's good for them to be able to compete and work on their timing," Kelly said.
The Chargers will stay busy with seven-on-seven action the next two weeks, as they will head to Tampa this weekend for the two-day Sling and Shoot Tournament at the University of South Florida, followed by a tournament at Lakeland Christian the following week.
Contact Matt Mauney at mmauney@plantcityobserver.com.