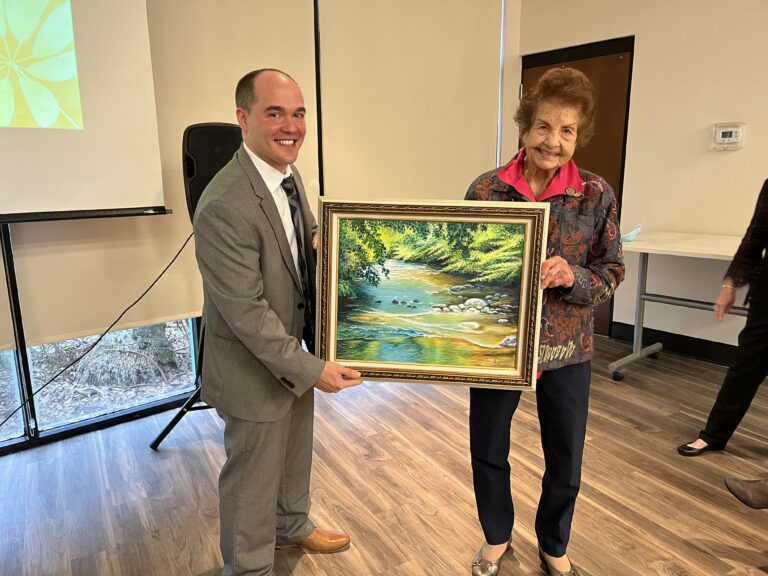 Woman's Club event celebration for 100th anniversary
The Woman's Club of Plant City held a final ceremony to close a week-long celebration for its 100th year anniversary on Sunday, Jan. 23.
The community came out to help the local Woman's Club recognize its centennial milestone, held at Bruton Memorial Library.
The Plant City branch belongs to the larger General Federation of Women's Clubs (GFWC), which serves nationwide.
Among those in attendance were Woman's Club district members and GFWC Florida President Dianne Foerster. The club also took the time to recognize several of its past presidents who were seated in the audience.
"We have great people, and I'm very proud of you," said Patricia Wolff, president of the Woman's Club of Plant City.
She went on to recognize Cookie Smith, a club member who has given her services to Bruton Memorial Library for almost 60 years.
"For 58 years, she dedicated her life to volunteer here in the library," Wolff explained. "We don't have words to thank you. It's amazing."
In fact, Smith has a room in the library that is dedicated to her – the Marion Cook (Cookie) Smith Reading and Conference Room.
Vice Mayor Michael Sparkman gave the proclamation and spoke about the club's crowning achievements throughout its first 100 years. U.S. House Representative Scott Franklin, of the 15th Congressional District of Florida, sent a letter congratulating the local Woman's Club.
He stated that, "One hundred years ago, the club's original 93 charted members felt strongly about the idea of service to the community and for that reason, laid the foundation for the club in the auditorium of Plant City High School. Today the club continues to bring new ideas and fresh enthusiasm to a tradition of community service that has spanned a generation."
The local Woman's Club's origins were further expanded upon as a history lesson was presented by Gil Gott, former executive director of the Plant City Photo Archives and History Center.
Since it was established on Jan. 29, 1922, the Woman's Club of Plant City has made contributions for the betterment of its town. This includes helping to keep Plant City aesthetically pleasing, organizing the Plant City Garden Club, and providing students with scholarships. Donations to veterans and hospitals are several ways in which it has also given back to the community. And it has helped lay the foundation for a Plant City library.
On June 21, 1929, the club opened the first library with only 317 books, but still needed adequate space.
In 1933, the club moved the library to the Miller House, which is now known as Bruton Memorial Library.
Many club members played a pivotal role in getting their first library operating, including Annie Schneider, Mary Noel Moody and G.B. Wells.
"Annie was the driver of the whole concept of a library…of civic activities," Gott said.
Her home served as a meeting place for women at the corner of Wheeler Street and Reynolds Street.
Gott went on to state that Moody was a diligent worker and an advocate for suffrage and equality.
"We are so proud that…our greatest accomplishment is building libraries all over this country," Foerster said.
The Plant City club still continues to support Bruton Memorial Library.
It's tradition that when a member passes away the Woman's Club gives the library a donation, so that a book can be purchased in honor of them.
Club member Jossie Azorin is an artist who celebrates 58 years in the club. At the ceremony, not only was she recognized, but she donated one of her paintings to the library.
On Sunday, Jan. 16, the Woman's Club had a ribbon cutting for a little free library -a house-shaped bookshelf placed outdoors. Its purpose is to encourage more reading. Kids can place a book on the shelf and take out a new one in exchange.
"The Woman's Club of Plant City has a history of continual service to this city in every area," Foerster said.